The 2018 One Acts – An Emotional Rollercoaster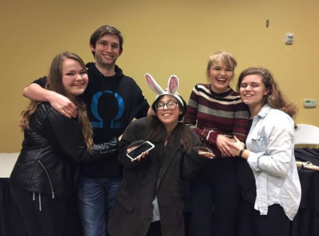 When Hamlet said "to be or not to be," he was contemplating death, but I think the real question is to be or not to be a part of the DHS Drama Department. The Drama Department performed their one acts from January 18th to January 21st, kick-starting another great year. With the help of their talented casts, eight directors were able to put together a show that took you on an emotional journey, from laughing till your stomach hurt, to bawling your eyes out, all in a matter of seconds. The one acts, rated M for mature audiences, discussed important themes, life lessons, and discovering oneself. I've got to say that we have some extremely gifted students in the drama program. The feelings and emotions of the characters were phenomenally portrayed by the cast, especially when it came to the productions that were closely related to struggles that people could sympathize with.
Opening night of the one acts had a relatively large turn out. The Center for Performing Arts was full of people excitedly flipping through the playbill to find their friends and read the mini reviews of each play. To start off the night, director Trevor Haar came out to introduce his production, "The Wingman." In "The Wingman," Bailey, the main character, was trying to win over a girl, Jordan, so he asked his brother Hayden for help. His brother sadly gave him a lot of bad advice. Through numerous dates, Bailey realised that the only way he could find true love was by being himself. Consisting of lighthearted comedy, this production was a wonderful way to start the night. The second one act was "Love and Light," which was directed by William Burgess. It was about a woman named Tania, a recently widowed wife, who went to a medium in order to talk to her dead husband. This short act brought up themes of loss and understanding through comedy, pulling at the audiences' heartstrings. Next up was Collier Stafford's "Polly Wants a Cracker," which was a hilarious comedy about two workers trying to sell products and discovering love when they weren't looking. I have no idea how the cast kept a straight face through this, because I couldn't stop laughing. The final act before the short intermission was "Lost Satellites," directed by Noah Bradley. This act was about two siblings traveling across the country with their GPS, dealing with the death of a parent and discussing the different hardships they each faced.
The first one act after the intermission was "Write for the Job," which was written and directed by Nicole Butler. This one act discussed the inequalities that working women in the 1900s faced, and showed how Amelia, a young writer, worked to prove that she was equally as capable as men. The second one act was "Confrontation," directed by Simone Campos, which was my personal favorite. This act was about two boys struggling to keep their friendship alive as they learned more about their sexuality and identity. This act hit close to home because most people can understand the hardships of trying to keep a friendship alive while changing and drifting further away from each other. After the previous tear-jerking play came "Sad and Glad," directed by Kaitlyn Hamann, which was about an awkward encounter at a bar between Jimmy and his ex-girlfriend Sandrine, along with an eccentric bartender who played an unrealised important role. This one act discussed the impacts of a failed relationship and what it takes to move on. Last but not least was "Almost Watershed," directed by Rosemarie Hughes, which explored the development of a couple from when they first met to their marriage. This one act talked about how relationships need to be watered and nurtured in order to grow.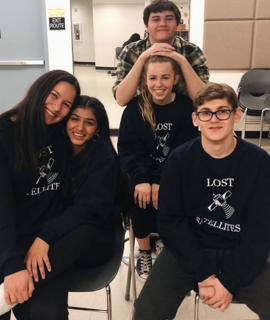 The one acts were just a small sneak peak into the talents of the students in the drama productions at DHS. The one acts were all directed in their own creative and unique way, using lighting and props to bring their story to life. This year's one acts had more life lessons and deeper meanings behind every word, which just goes to show the maturity and dedication that these actors have towards acting. Priyanka Kedia, who played Ally in Lost Satellites, stated that "drama room is like a second home. Our department is super close to my heart as I've met some of my best friends through it and have gotten a space to grow as a performer and find my passion." The cast and crew clearly can't help but acknowledge that the drama department has helped them more ways than we realise. Audience members were in tears by the end. "They covered topics that needed to be covered nowadays" says Manasa Ayyala who was completely surprised by the emotional performances.
While the cast and directors deserve to be congratulated, there are many other people behind the scenes who deserve to be praised for their hard work as well. Ms. DeLapp, the tech crew, and the Drama Department Parent Boosters also deserve a special shoutout for being an active part of keeping the arts alive and giving their all to this production. The 2018 One Acts are definitely a production to remember and they wouldn't have been possible without the support and hard work of everyone involved.