Drama Department Kicks off 2020 with One Acts
While the Dublin High Drama Department is primarily known for its larger productions, there is one smaller annual show that has become a favorite of students. This year's One Acts, which ran the first week of the semester, featured eight short plays, all of which were directed by DHS students. The One Acts are always praised for their variety of content and sentiments, and this year was no different; the stories depicted ranged from a casual comedy about the romantic stumblings of a man who feels no physical pain ("This Hurts", directed by Arsh Goyal) to an intense glimpse into the relationship between a father and son tainted by grief and alcoholism ("Blind Spots", written and directed by Connor Diaz).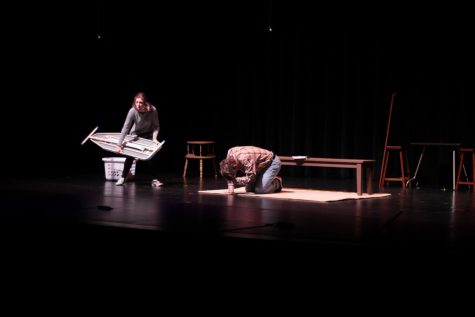 The One Acts are an exciting prospect for many students who are actively involved in the Drama Department, as it allows them a chance to develop new skills. DHS junior and director of "A Smart Alec and Two Idiots Walk Into a Closet" Akhila Bordag agreed, explaining how "directing is such a different process, but it's a really rewarding one because you can really watch your actors grow and develop their characters." She emphasized how she "wanted to use this experience to help [her] actors feel more comfortable with their basic skills and really boost their confidence, because a confident actor is a good actor." In addition, she expressed excitement at the fact that "the nature of the One Acts brings so many new faces to the department," saying that she loves watching these newer cast members perform. 
The talents involved in producing the One Acts sometimes go beyond directing, acting, and producing—this year, two pieces were original scripts written by DHS students. Connor Diaz's "Blind Spots" and Colby Parada's "A Bank Robbery" were among the most engaging plays in the show. Parada spoke in detail about his process for creating his comedy about two bank robbers attempting to carry out a heist in sign language. Inspired by his own experiencing taking ASL at Dublin High, he noted that this one act "has been something I've been thinking about since freshman year." Originally intended to be a short film, he also considered animating his script before eventually settling on making it a stage play. This creative process is just one of many involved that helps students branch out, and this exciting variety is exactly what lies at the heart of the One Acts. 
About the Contributor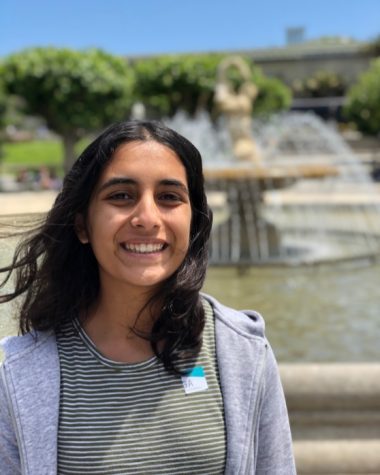 Riya Chopra, Editor-in-Chief
Riya Chopra is a senior at Dublin High and one of this year's Editors-in-Chief. She enjoys writing about everything from school board meetings to the opinions...