"Guys and Dolls" Opens on April 21 At DHS Performing Arts Center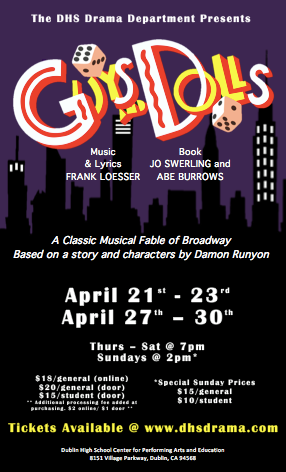 Dublin High Drama Department's spring musical, Guys and Dolls, opens on Friday, April 21st at 7 PM in the DHS Center for Performing Arts and Education.
This 1951 Tony Award-winner for Best Musical is based on two short stories from author Damon Runyon, and was made into a successful film adaptation in 1955 starring Frank Sinatra and Marlon Brando. A notorious New York City crap game organizer, Nathan Detroit, challenges gambler Sky Masterson to a $1,000 bet that he is certain he cannot lose: to take a mission girl, Sarah Brown, out to dinner in Havana, Cuba. Sky accepts and ends up hopelessly falling in love with Sarah, while Nathan's 14-year fiancée Adelaide becomes increasingly frustrated with his failure to commit to a wedding. Both men ultimately end up reconsidering their priorities to set things right.
The DHS production of Guys and Dolls will run from April 21-23 and again from April 27-30. Tickets and showtimes are available at www.dhsdrama.com.