The DHS Student Directed One Acts Begin with Big Success
Over the past few months, the DHS Drama Department has been tirelessly working in order to prepare for their one acts, and it is very clear that all of that practice has paid off.
"It's very entertaining and intense,"  said freshman audience member Meghan Van Lare.
"The actors worked so hard and I'm happy that I got to see the performances," said freshman Katherine Stafford.
Audience members of all ages were entranced by the acting and music.  The One Acts grabbed the audience's attention from the first second, and didn't let go.
"I was really impressed by the One Acts.  It was clear how much time and effort that the cast members and directors put in.  It gave me chills!"  exclaimed Kinsey Ellis, an 8th grader at Fallon Middle School.
Since the themes of the acts were so diverse, everyone found an act that they could connect with and enjoy.
"I loved In Memory of Calvinball!"  said Audrey Voit, a freshman at Dublin High School.
The One Acts are all directed by students of DHS, and the directors themselves worked really hard in order to make the show engaging to their audience.  Cast members worked diligently with their directors, and formed some lasting friendships as well.
Some of the cast members took on challenging roles. Junior Danica Bastress learned how to speak in a fake lisp in order to act as her character.  She said, "For me, it was a little out of my comfort zone, so it was a cool experience to go crazy.  Life is pandemonium!"
Another cast member, senior Michael Zapawa, acted in two of the eight One Acts. He said after the show, "I'm glad I didn't mess up.  My voice didn't crack. Good stuff."
With the audience crying both tears of joy and tears of sadness, the One Acts really pulled at the audience's heartstrings.
"I think it's amazing. Everyone worked really hard.  I've been a big mix of emotions the first half." said sophomore Chloe Kanoho.
"Everyone in the show started off kind of scared or timid, especially the new people to the drama program, and you get to see them grow into an actor and join the family that we have here.  It's a beautiful show and I'm glad that other people can see it," said junior Rhiannon Coiner.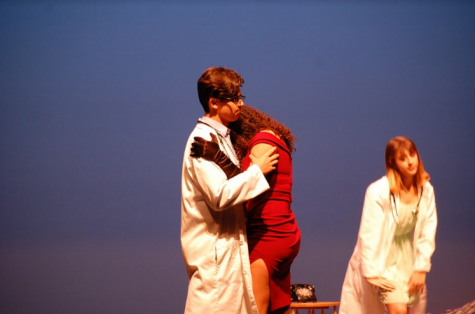 With eight different performances throughout the night, the One Acts has something that will appeal to all audiences. With performances still to come, and an admission fee of only $5, the One Acts are definitely a show that you do not want to miss.