Following Pressure to Close Schools DUSD Board Discusses COVID-19
During a special extension to the regular meeting on Tuesday, March 10th, the Dublin Unified School District board discussed the COVID-19 and the procedures in place to prevent transmission of the disease within Dublin. District communications have maintained that while COVID-19 is an evolving situation, they're not currently planning on closing schools unless a DUSD student or member of their household is diagnosed with the virus; an approach supported by the current recommendations of the CDC. While they're not anticipating an immediate closure of schools, on Monday, March 9th, district updates also indicated that in addition to the immediate precautions being taken by teachers, all DUSD teachers were directed to create two-week lesson plans for students to take home in the event schools are closed.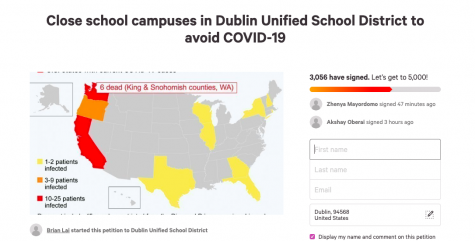 During the past few weeks, as cases of COVID-19 have increased in the United States and California, with a total of 157 cases and 3 deaths within California, there has been pressure from Dublin parents and students to close schools as a preventative measure.  In the past few weeks, over 3,oo0 petitioners have called on DUSD to close schools to prevent an outbreak. During the meeting, a Dublin parent articulated these concerns, explaining her fears that her children's health was being placed at risk as schools remained open, even as the St. Patrick's Day parade had been canceled by the city council. 
Following public comments and updates from district officials, the board members expanded on their individual perspectives as well as contemplated potential solutions and associated concerns. Considering that this agenda item was classified as information-only, indicating there was no intention for a vote or immediate action following discussion. Though several parents that ardently supported the closure of schools were unsatisfied with the conclusion of the meeting, perceiving it as the complacency that could enable an increased public health risk. Others contended that it served to clarify the perspectives of board members and dispel media depictions that had encouraged a dramatization of the situation. 
Trustee Gabi Blackman echoed the sentiments of the public speaker, stressing the pertinence of proactively responding to the threat of the virus instead of waiting for the situation to escalate. While Trustee Blackman expressed her appreciation for the steps being taken by the district, she pushed for the consideration of "more extreme measures" as it is difficult to identify individuals infected by the disease before they spread it to others. In this regard, Trustee Blackman referenced the technology committee, hoping for more clarity in the upcoming days as to the logistics of moving to online classes. 
Dublin Teachers Association Co-President Roberta Krietz argued that it would be an unwarranted escalation to close schools, citing that public universities that have suspended classes have substantially larger populations than schools in the district. Furthermore, it's worth noting that the school district has an obligation to ensure that all students are receiving an equitable education and some students could suffer if they lack access to wi-fi and the technology that shifting to online classes would require. 

Though he stressed that suspending classes was a solution that merited further exploration, Board President Dan Cherrier also recommended that schools adopt unconventional practices to limit the likelihood of transmitting the virus, including staggering bus times. However, the shortage of drivers could complicate the execution of this idea. Trustee Blackman also proposed adjusting start times or passing periods to prevent large congregations of students. In regards to school-related events outside of the district's instructional minutes, Trustee Cherrier also suggested that athletic events could be closed to audiences as a way to decrease the likelihood of spread. On March 12th, 2020, students in several extracurricular programs, including badminton and color guard, were disappointed to learn that several statewide competitions had been canceled effectively discontinuing their seasons. It's uncertain how these decisions will affect special events, including Junior Prom on March 21st or Senior Ball on April 25th and other senior events.  
Responding to the concerns of other board members, Trustee Amy Miller expressed that she "doesn't feel strongly that we close the schools [but] doesn't feel strongly that we don't close the schools" stressing the difficulty of forming an opinion on this evolving issue. However, Trustee Miller agreed that "we need to implement unusual practices" while students are still in school to ensure we're proactively limiting transmission. Reflecting on the suggestions made by other board members, Trustee Miller digressed that she also wanted to prioritize the perspectives of administrators and teachers that were directly interacting with students instead of making unilateral decisions as a board. Trustee Rouse also emphasized that the board members shouldn't undermine expert directives, notably the guidance of local and state public health departments. 
Attendance policies were also explored during the meeting as board members addressed the importance of delineating when sick students should stay home and when they should seek a medical diagnosis. Furthermore, attendance exceptions for students that are at a higher risk are being made on a case by case basis but as Trustee Catherine Kuo underscored, families with elderly relatives visiting or parents with health risks may feel uncomfortable sending their children to school and discussed the possibility of implementing more flexible attendance policies to support these families. As Trustee Blackman addressed, there's also a concern that given current attendance policies, suspending classes could potentially impact teachers' salaries. 
Trustee Kuo reflected that even as the board discussed closing schools for two weeks, it's unlikely that the risk of the virus would substantially reduce in this time frame, emphasizing that COVID-19 is a developing situation and DUSD needs to be receptive to adopting solutions proportional to the evolving risk. Overall, the school board's discussions underscored the difficulties in finding a solution to mitigate the transmission of COVID-19 that balances a proactive approach and a nuanced understanding of all potential repercussions. The Shield will continue to publish updates as this discussion continues and the situation evolves.
About the Contributor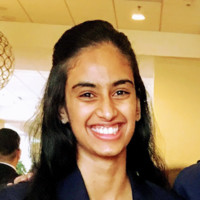 Kaushikee Nayudu, Editor-in-Chief
Kaushikee Nayudu is a senior at Dublin High and the Editor-in-Chief for the Dublin Shield where she enjoys writing articles covering a diverse range of...