Board of Trustees Strikes Down Credit/No Credit Grading Policy in 3-2 Vote
At the regularly scheduled Board of Trustees meeting on Tuesday evening, the Board struck down staff's recommendation for a district-wide  Credit/No Credit (C/NC) grading system in a 3-2 vote. The meeting was adjourned at 11:30, following an hour of technical difficulties and disagreements that prevented a clear decision from being reached. The board will reconvene this evening at 5:30 to establish grading policies. Before the meeting ended, Board President Dan Cherrier introduced an amendment to the original motion which excluded the high school, and reconsidering the original motion given Superintendent Marken's comments following its failure was also encouraged by trustees. Trustee Blackman favored a policy that allowed students to choose between letter grades and C/NC, and it is likely that this will be further discussed. 
Opinions on these grading policies varied drastically, with different aspects of the problem brought up by students, teachers, parents, and board members. Throughout the six-hour meeting, which included the reading of nearly 80 public comments, two general positions tended to emerge: those who favored a C/NC system, and those advocating that students should be given a choice between C/NC and a letter grade based on third-quarter grades. 
Those who supported the C/NC system insisted that it was the only equitable way to proceed, citing the difficult circumstances that students are facing during this pandemic. In his staff presentation, Superintendent Dave Marken noted that the vast majority of neighboring districts are moving to C/NC, including San Ramon, Livermore, Palo Alto, and Fremont. He argued that due to differentiating resources, access to technology, and home environments, letter grades would simply be measuring a student's privilege and environment instead of actual academic proficiency. Concerns were also expressed about how letter grading would impact student wellbeing during these difficult times. Sarah McCarrick, a DHS senior, explained that in these unprecedented times, "health experts are already acknowledging that this will be a traumatic experience for many people, adolescents in particular. It's only worse for those in unsafe homes, impoverished families, or for those who were already suffering from mental illnesses." Many DHS students have agreed with this position on social media following the meeting, arguing that maintaining high letter grades cannot possibly be expected when so many students are dealing with intense personal, familial, and financial stress. Since last night, a Change.org petition to adopt a C/NC policy has received nearly 2,500 signatures from students, teachers, and parents alike.
Proponents of a choice-based system tended to agree with the importance of alleviating stress for students, acknowledging that many students will be compelled to choose C/NC and that they should not be penalized for doing so. However, they expressed that students who are in a position to keep working should still be allowed to earn the grades they have been working towards and supplement their GPAs for college applications. Trustee Gabi Blackman said that when DHS students apply to universities in the future, especially out-of-state colleges in regions where C/NC policies are not being adopted as widely as in the Bay Area, they will be substantially disadvantaged in comparison to students from other schools who still have letter grades to present for spring 2020. While many colleges, including both private colleges and the UC and CSU systems, have maintained that they will not penalize students for lacking letter grades for this semester, Trustee Blackman pointed out that ultimately, admissions officials are forced to make a decision based on the information presented to them. Therefore, denying willing students a chance to have their hard-earned grades on their transcripts could put them at a disadvantage. President Cherrier agreed with Trustee Blackman, advocating for a system where students can choose between letter grading and C/NC. Trustee Catherine Kuo, while seemingly apprehensive about the choice system and primarily discussing the shortcomings of a C/NC system for students seeking articulation, joined Blackman and Cherrier in voting "no" on the motion. 
Dublin High teachers presented a united front in the public comments of last night's meeting, overwhelmingly arguing for a move to C/NC. They cited many of the same misgivings about prioritizing academic assessment over student wellbeing during this global crisis, but they also made it clear that in addition to the question of whether or not letter grading is equitable under these circumstances, assigning meaningful grades at this time is simply impossible. Rebecca Briggs, an AP Lang teacher, argued that any letter grade given in spring 2020 would not be representative of actual student achievement. Noting that she was speaking on behalf of the English department, she said that "students are not doing the same type of work that they would be in the classroom. We cannot replicate the same classwork online, especially without proper training. We cannot assess students the way we normally would." She went on to note that third quarter grades are not an accurate measure of subject mastery, as third quarter is primarily full of practice while fourth quarter contains more assessments. Ms. Briggs also maintained that students with IEPs and 504 plans are unable to receive the same support through distance learning that they would under normal circumstances. Katina Lewis, the AP Physics teacher, and an active DTA official, similarly expressed that students are doing far less work than they would usually complete during fourth quarter, and that without cumulative assessments, there is no way to assign meaningful letter grades. Moreover, she pointed out the flaws of a choice-based system, as "having a choice would put a target on the back of students who choose No Credit, because the assumption will be that they got a D," when in reality the student may have chosen to receive a Credit grade for any number of circumstances. Mrs. Lewis maintained that assigning letter grades would be unfair, stress-inducing, and ultimately pointless, as "most colleges have said they will not look at semester grades from spring 19-20 AT ALL as there is no way for that to be an equitable way to compare students."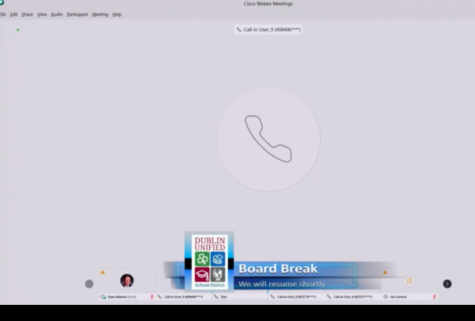 Ultimately, the board struck down the proposal for a C/NC system, with only Trustees Amy Miller and Megan Rouse voting in support. DHS student representative Tinni Mukherjee also expressed support for the C/NC policy. After the vote, Dr. Marken addressed some of the concerns that Trustee Kuo had raised with a C/NC system regarding articulation classes that could affect students entering local community colleges. President Cherrier introduced a new motion to pass the original resolution at the elementary and middle school level. Perceiving that Dr. Marken might have addressed Trustee Kuo's corners, Trustee Rouse proposed reconsidering the original motion. Following discussion about the logistics of both an amendment and reconsidering a motion, a series of technical difficulties ensued, leading to the board adjourning the meeting and agreeing to reconvene Wednesday at 5:30 PM. 
Wednesday morning saw a flurry of activity from students and teachers alike, with many teachers imploring students to email board members and answer a survey sent out by Mrs. Byrne to express support of the C/NC option. The Dublin Teachers' Association also responded to the vote with a Cease and Desist letter. It remains to be seen how these developments will be considered at tonight's meeting. 
About the Contributor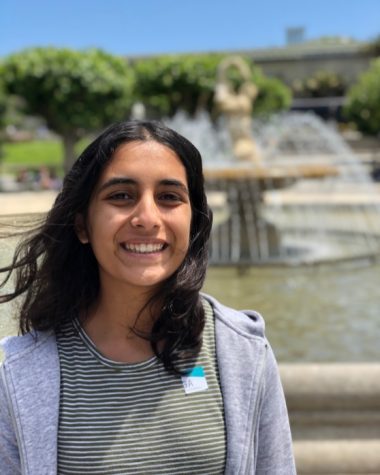 Riya Chopra, Editor-in-Chief
Riya Chopra is a senior at Dublin High and one of this year's Editors-in-Chief. She enjoys writing about everything from school board meetings to the opinions...