Views, Food, and Cafes: The Ultimate Holiday Guide to San Francisco
If you're in town during the holidays, a trip to San Francisco is a great idea. Ayla Teittinen loves photography and travel; with the experience of planning several trips to San Francisco, she's compiled a list of a few of her favorite places in the city. If you're interested in reading more, follow @thedublinshield on Instagram to receive updates about more articles.
Landmarks, besides the Golden Gate Bridge, because I feel like that's a given.
Palace of Fine Arts – If you haven't been to the Palace of Fine Arts, you gotta go. It's situated on the border of the Presidio and Marina District (which has a great selection of restaurants, by the way, if you're looking for a meal afterward) and its regal appearance was inspired by Greco- Roman architecture. Pictures don't do the size justice–it's likely bigger than you think it is. I've never brought someone here and had them be disappointed. Often in the front, you'll find a couple taking their wedding photos, and I've seen others propose here (they said yes, by the way). MUNI buses from downtown to here run pretty frequently, and the same bus route also continues to the Golden Gate Bridge if you're on your way over already.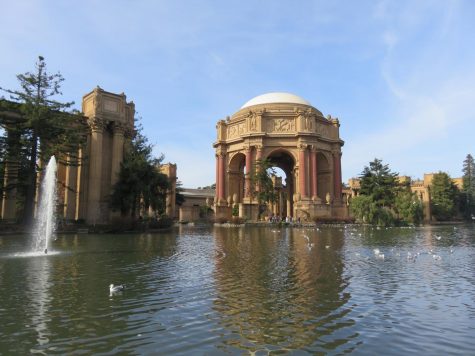 Lands End – If you prefer nature and beaches to a noisy, bustling downtown, Land's End is definitely worth a stop. Lands End is a park in the Golden Gate National Recreation Area along the seashore. Its edge is lined with beautiful cypress trees that some like to picnic at. The area contains Sutro Baths, which are ruins of an upscale spa from the 1940s, but because of the harsh wind and weather from the ocean, the ruins have been weathered to look almost like they were from ancient Greek times. If you take the short trail through the area, you'll eventually get to the Lands End Labyrinth, a stone-lined circular maze meant for meditation and relaxation. It's definitely a local and tourist favorite. I'd say the best time to get here is in the morning just so that it isn't as crowded (and parking is much easier if you're driving there). Nearby is also a Camera Obscura, which projects a large-scale image of the ocean using only light sources (according to Wikipedia)–if you end up in the area, I'd say it's worth a stop if you find that type of thing interesting.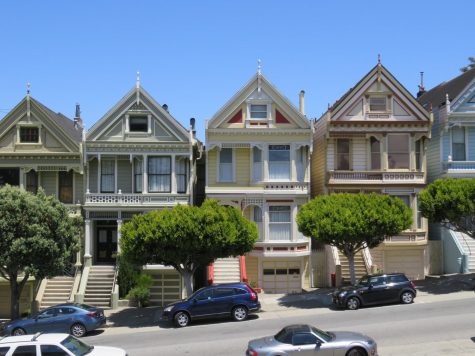 The Painted Ladies – How could I have made a San Francisco top landmarks list without mentioning the Painted Ladies? Unlike what my friend thought, the Painted Ladies are not a type of flower but rather a row of beautiful, historic Victorian houses right off of Alamo Square Park. I always love the walk through the neighborhood, and just a mile away is the Full House house if you're a fan.
Though even wandering around the city is enjoyable, San Francisco has a lot of great activities away from the typical tourist crowd.
Legion of Honor – If you're looking for a great museum in San Francisco, I would highly recommend the Legion of Honor. It's an art museum primarily filled with pre-modern paintings and sculptures that are designed to look similar to the Louvre in Paris–if you've ever been there, you know what I'm talking about; it even has miniature versions of the pyramids in the courtyard in front of the building. Famous artists represented include Van Gogh, Monet, and Degas (if I'm not mistaken), among many more. Admission is $15 for adults, $6 for college students, and free for youth (17 and under). It is located in Sea Cliff, above Land's End and southwest of the Presidio.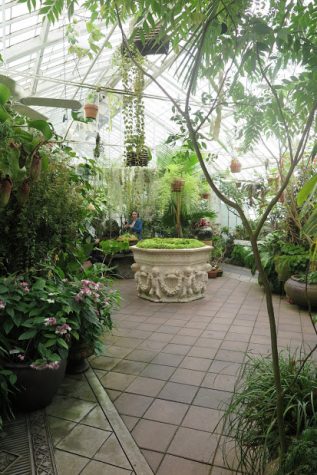 Conservatory of Flowers – The Conservatory of Flowers is a botanical greenhouse (well, technically 5 greenhouses if you count each room as its own) filled with a variety of plants and flowers. My personal favorites included a vast collection of carnivorous plants. On most days, you can find a few teenagers who planned their outfits to their last detail taking hundreds of pictures because of its aesthetic backgrounds. It's definitely a great place to relax and enjoy, and its location in Golden Gate Park allows easy access to other museums like the de Young Museum and the California Academy of Sciences. Admission to the Conservatory of Flowers is $9 for adults, $6 for students, youth (12-17), and seniors (65+), $3 for children (5-11), and free for under 5.
Musée Mécanique – Musée Mécanique is my favorite tourist-but-not-really activity to do. It's located pretty close to Pier 39 (which I personally have a strong distaste for) and is essentially a warehouse filled with vintage/antique mechanical games that are coin-operated. If you plan to go here, be ready with coins so that you can play with them! If you come with your family, this is your warning that your parents might see some games they used to play at Dave and Buster's or whatever was around back then and make remarks about how they "feel old." In any case, it's super fun to play around with them and it's a great activity for all ages.
Church of 8 Wheels – This one is definitely not a must-do if you're in the city, but if you want a very unique and very San Francisco activity, the Church of 8 Wheels is amazing. Its name comes from the fact that it's a church turned-roller-rink, which in my opinion is the coolest thing… ever? It's located pretty close to the Painted Ladies, so if you find yourself over there you can stop by here for a quick session. Fun fact: their DJ is obsessed with Bruno Mars, in particular, "Uptown Funk" and "24K Magic." They also call him the Godfather of Skate, which I haven't bothered to ask what that means. A roller session is $10 with an additional $5 for skates.
Cafes are my favorite part of any trip to San Francisco. When you need a delicious, albeit expensive, boost of caffeine to get you through or even a start day, the following cafes are great choices. They are expensive but I think the experience of eating there and the time you can spend unwinding or working, make it a worthwhile experience.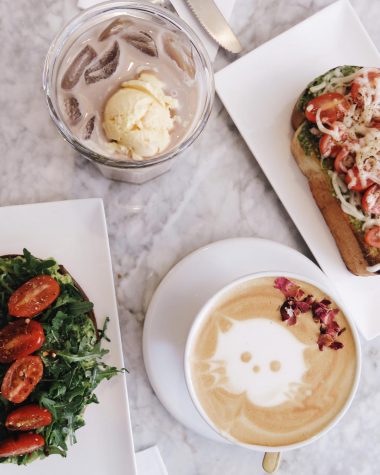 Home Cafe – Okay, the best latte I've ever had, hands-down. Also the most expensive latte I've ever had, hands-down, but that's because I ordered a seasonal specialty one, so maybe it's my own fault. Home Cafe, of which you have definitely seen their famous birthday latte on Instagram, is an award-winning cafe that serves hot and cold drinks as well as light bites (think avocado toast and its other commonly related toasts). They do killer latte art, which is where much of their hype comes from, but the quality of their drinks are genuinely amazing and their customer service is impeccable–everything is made shockingly quickly considering how busy it gets, and the woman who took my order was so cheerful and patient, recommending me different drinks based on the ones I seemed most interested in. When you go here, especially if it's your first time, I'd recommend a specialty latte- -I got their rose latte and loved it. Their original location is one Noriega Street in Inner Sunset, b I went to their newer second location on Clement Street, in the Central Richmond neighborhood.
The Mill – I finally visited The Mill! The Mill is probably the most famous San Franciscan cafe–if you come across any list of food recommendations in San Francisco, there's approximately a 99% chance that The Mill will be somewhere up there. And for good reason too! Their drinks are great, second in the city only to Home Cafe, and even that is a close call in my book. The Mill is famous for their toasts, so be sure to order one if you end up there. Also, pro tip: don't go at 10:30 am on a Saturday like I foolishly did; it is packed and you won't get a good seat if you even manage to find one.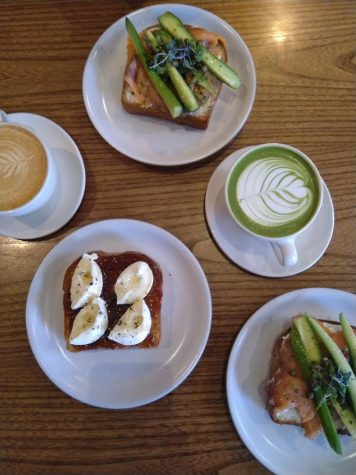 Mazarine Coffee – Ah, Mazarine. My first hipster coffee shop. It holds a special place in my heart and I always find myself back here, probably because it's so close to the Montgomery Street BART station downtown. On top of good quality drinks (and a great selection of them, too), they offer breakfast and lunch options. I recommend the salmon toast if you're there at lunch (but avoid their waffle if you're there at breakfast). The baristas are also trained exceptionally well in the source of their coffee beans, and all of their coffees (and teas as well I believe) are sourced sustainably in every aspect. If you can, try to sit facing the counter where they serve because it's so mesmerizing to watch them make the drinks. If you're looking for a good place to get work done, a lot of locals bring in and set up their laptops as well. Locals are also incredibly friendly there; I've ended in a conversation or two with the table next to me, which as an introvert does not happen to me very often.