"Singggg-aaaaa-Gramsss" – DHS Valentine's Day Special
This year, the Dublin High Choir Department performed their annual Sing-A-Grams for Valentine's Day on February 13, 2018, a day before Valentines Day. Over 400 Sing-A-Grams were sold and performed to the students of Dublin High in front of all their peers during class. Because of the sheer number of Sing-A-Grams bought, it was difficult to miss the walking groups of red, white, and pink that entered different classrooms to perform their songs. Here are some quotes from students who saw the Sing-A-Grams of Dublin Choir in action.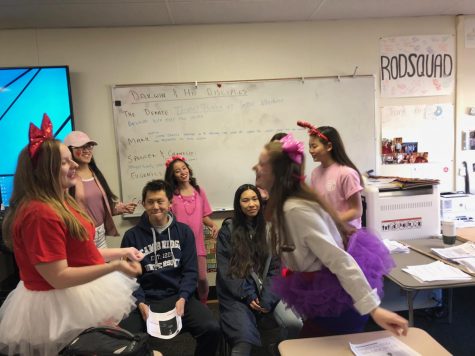 "The Valegrams were a great change to the typical school day, since seeing people sing to your classmates or teachers isn't really something that happens everyday," said freshman Patty Cruz.
"I didn't expect much from the Singagrams, but honestly, I thought they super-exceeded my expectations," said senior Abigale Kim. "Cute way to celebrate Valentine's Day."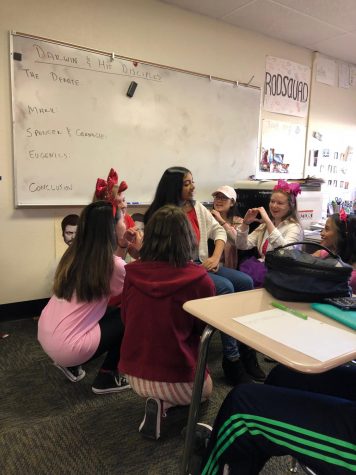 "I liked the Valegrams because they allow for us to all see what choir does and it provides us with a chance to support the arts," said sophomore Billie Chang.
Along with how the receiving students felt about the Sing-A-Grams, here is a statement from the choir members that sang the Sing-A-Grams.
"I was a part of the Sing-A-Grams and it was my first time because I'm a freshman, so I was really excited," said Jenny Nuo, a freshman member of Show Choir. "I've been looking forward to it all year and I loved seeing everyone's smiles when we walked into their classrooms. I made my day to see students being excited for something I was genuinely passionate about too!"
From both ends of the performance, the Sing-A-Grams were proved to be a resounding success. Whether they were bought to show a significant other some love, or to simply embarrass a friend, the monotony of school for most students was interrupted by the joyful singing of Dublin High School's choir. All proceeds from the Sing-A-Grams sale went to the DHS Choir Program in order to support our high school's flourishing music department. If you didn't get a chance to support our talented Gaels this time around, keep an eye out for the next Valentine's Day season to spread the love and laughs!