2018-2019 Winter Guard – Let the Games Begin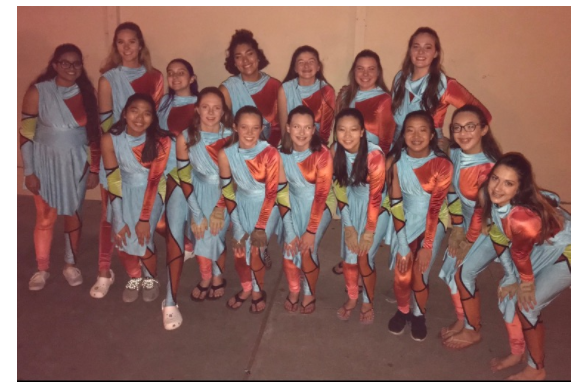 If you think dancing is hard, try adding flying rifles too, something the members of the colorguard team know all too well. On Saturday, February 10, the DHS colorguard team had their very first WGI Regional Competition at Bakersfield. WGI (winter guard international) is a performing arts organization that hosts regional and national competitions winter color guard and winter percussion. Bakersfield was the guard's second competition of the season but the first regional of the 2018-2019 winter season. Competing in Scholastic A division 2, the guard placed 7 out of 13 with a score of 65.770, qualifying them to compete in finals.
At this regional competition, the guard had the chance to perform twice. Once for preliminary review and once for a final score in the tournament. For the initial evaluation, the guard received a score of 62.910 which is 9th out of 13 groups. Luckily they improved by 3 points for their final competition. The fact that a 3 point improvement was made in a single day was incredibly motivating for their future success.
Many girls on the team believed that their performance in the preliminary review did not equate to their effort in final competition because of the rushed practice and warmups. After being on a bus for 3 hours, they were pushed for time and had limited time to reach their full potential and calm their nerves. It was a regional competition after all full of extremely skilled color guards coming from all over California, wanting to win. But for their final competition, the girls went full out with their performance, coming up with a much improved score.
A regional guard experience is generally, much different than any local competition due to the exposure to multiple guards with very many unique shows. According to a member on the DHS winterguard team, the entire experience was different because they "feel more thrilling…the fact that they're schools we don't usually compete with and these schools also giving their best to win gives Dublin student a better push to work hard." Many girls on the team believe that regional competitions are a learning experience that everyone should. It was all the more beneficial since it was the guard's second competition after their first competition the week before at Amador Valley High School. They got 4th out 5th, with a score of 57.52.
 Emiline Crowder, a freshman on the winter guard team, says that "the first competition of the season made so happy even though we didn't even get a high score, I felt so proud to show off what we had literally put our blood, sweat, and tears into." This statement is very much accurate by the way considering that the guard has over 10 hour practices a week and are sometimes forced to practice out in the parking lot or the cafeteria because they are not considered an actual sport. Regardless of all the challenges they face, the team continues practicing hard and continually improving.
  Overall, the DHS winter guard team might not have had an extremely strong start with their first competition, but they are slowly climbing their way up the ladder to a stronger score. Indeed moving up a class has made this all the more difficult for them. Hopefully in the future, more students go out to support the color guard team. Awareness of the talent at DHS might help make this team all the stronger and motivated.