Art Spotlight: Dance, Dance, Dance!
The DHS Dance program is the latest addition to Dublin High School's impressive array of arts classes. Founded by Mrs. Sabonis last school year, the program consists of two beginner level classes and one intermediate level class (with plans to have an advanced level added soon). A dance class with Mrs. Sabonis is perfect for anyone of any level of experience, as styles and skills covered are broad: from jazz to hip hop to soft shoe tap. Beginner level classes offer  PE credit, and the intermediate level offers performing arts credit.
When asked about the program's growth, Mrs. Sabonis said she would "love to see this dance program grow and flourish just as strong as [she has] seen drama, dance, and choir here," and remarked that she has already seen growth in the past year with the addition of another dance concert.
On a regular day, students can expect a thorough stretch or warm-up routine. They then spend the rest of class time practicing pieces choreographed by Mrs. Sabonis herself. Students are expected to participate in dance concerts; there will be two concerts this year,in the winter and in the spring. The first concert this year took place Thursday, November 30th.  
"Having the second show with only three dance classes and great content … [was] actually a good show," Mrs. Sabonis commented, "it was great quality. The students worked hard and were committed, so they are taking this seriously and that is the most important thing … to know that there were students in the audience not involved in the program and wanting to get involved after seeing it, that is really valuable and important as well."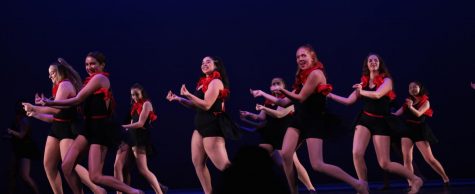 Harpreet Lacchar
"I remember feeling really nervous and intimidated about being in the class," said current senior Sydney Price, who has been apart of the dance program since her junior year. "Over time, I got more comfortable being in dance and I've learned so much and met some many amazing people! I can do the splits now after being in dance for two years."
Price had no prior experience in dance, and recommends the class to any and everyone, saying that it's "an experience you won't get anywhere else … everyone has something they can learn and take home with them."
"It [the class] is not an easy A, but it's a lot of fun," said Mrs. Sabonis. "there are a lot of life skills [such as focus and perseverance through new challenges,] that you'll learn in a dance class that will help you in your core academic classes, as well."
If you need a break in your day to shake (or pirouette) your problems away, consider taking a dance class soon!