Improv the Nation! An Impromptu Night of Fun and Games You Can't MIss
On Thursday, September 28th, Dublin High School's very own improv team had their first show of the year. Held in the Performing Arts Center, Improv the Nation invited its attendees to a night of sharp wit and quick thinking. The team, made up of Trevor "Chillaax" Haar, Colby "Cool Kid" Parada, Chloe "Babs" Nickels, Simonne "Raven" Campos, Emma "Chance" Nelson, Rosemarie "Flutter" Hughes, and Nicki "Beluga" Butler, started off the night with a hilarious introduction in the form of a reality TV show parody. The night continued with mini games where the audience could contribute prompt ideas and participate alongside the team.
There was no shortage of laughs as the night progressed and the actors had to find ways to instantly react to everything thrown at them. From the abominable brussel sprouts to unrequited love, the improv show was an event not to be missed.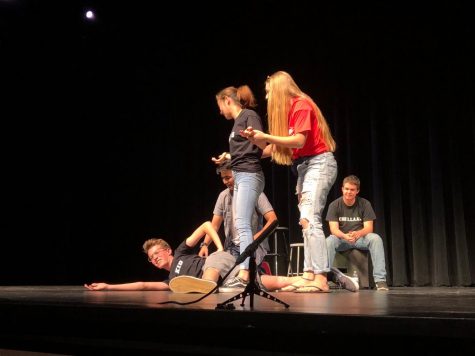 "All my life I've been… making up stories on the spot and being spontaneous, that's really what improv's all about, so hearing that there was an improv at Dublin High when I came here, I was like 'I've got to be on that'" says sophomore Colby Parada of his decision to join the improv team.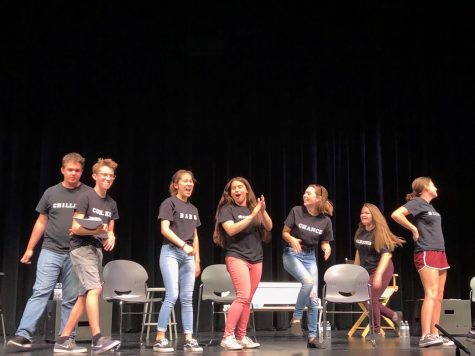 Improv has none of the careful planning and elaborate script-writing that comes with many of the other forms of theater. Instead, actors are required to adapt to whatever situation given to them on the spot. Each show is a different experience, and both the actors and audience walk in not knowing what they'll get and prepared to be pleasantly surprised.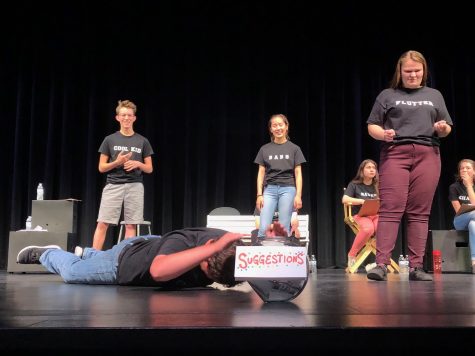 "It took a while for me to really get into improv because it took a while for me to reach out of my shell because being in improv takes another level of confidence, another level of skill, and I really wanted to test that," confessed senior Simonne Campos. "The best part are the memories and the… joke[s] that land, because not every joke lands, not every scene gets the greatest feedback, and the best thing about improv is doing whatever and the crowd loves it."
If you missed the show this time, no worries. The Improv team has planned four more shows later in the year, with the next one being on Thursday, November 2nd. Mark your calendars and prepare to expect the unexpected!