Dublin High School's New Choir Director, Mr. Adam Serpa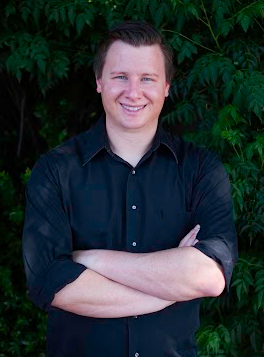 When did you first develop an interest for choir? How did this interest develop?
When I was in high school, I played in a couple different garage bands and through this process, I learned about songwriting, how to sing, and how to play guitar. And one of these garage bands turned into a serious group which turned into a part time job. We wrote all of our own music, recorded our own albums and toured the Western US. I learned how to add my own harmonies to the vocal melodies to each song and the more we recorded the more I realized I really liked this process and so I decided to finish my education at university. I was looking for a practical and enjoyable major and finally I realized that music was the only thing that was authentic to me so I changed my major to music and never looked back. It was a long roundabout way as I experimented with different majors but I think you'll find that a lot of music teachers have a crazy back story.
Do you have a preference for a favorite form of music?
Indie Rock and Choral music are my mainstays. I go back and forth between those two but since I've been teaching I've become more eclectic. Now I really appreciate jazz, traditional Indian music, folk music of America, African and Latin music. I mean that really the more I've thought, the more interested I've become about everything.
What brought you to Dublin High School? How did you discover this opportunity?
Well, I discovered the opening online and I did a lot of research on the school and everything that came back was really good. It was a well-known school and known to have a really good reputation. And all my choir director friends really encouraged me to go for it as well.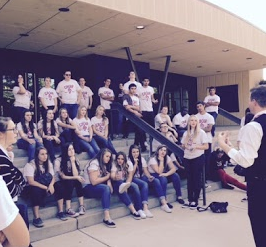 What appealed to you most about Dublin High and/or California? Do you see any similarities or differences with Ripon High School?
What appealed to me was how strongly the performing arts was supported –  just look at this giant performing arts center. When you're a music teacher in a school, investing a lot in your content area shows a lot about where the school's values are. I also was just really impressed by the new facilities, obviously, and also most importantly the other teachers I interacted with was very positive and supportive of students. In terms of similarities, there are some similarities, the positive atmosphere, the caring faculty, it seems like that is a common thread. But Ripon was a typical rural small town if you've ever seen Friday Night Lights, and it was a much smaller closer community. On the other end of that Dublin is very diverse and very huge. And also at Dublin, I like how there are so many more cultures. There are kids from all over the world and it's really cool to be a part of that.
What do you feel is the best quality, in your opinion, of Dublin High School's choir program? How are you looking to change this program?
In the fourth week, I can tell all of these students are really dedicated and for the most part, genuinely want to be here. There's already a good foundation here and my goal is to build on top of the culture that's already been established. Couple of things I'd like to add are travel, which I think would be a great experience for the students, and working with other choirs and choral directors. Really just exposing them to the choral world. Also, I'd like to give them more practical skills and really teach them to be more excited about music.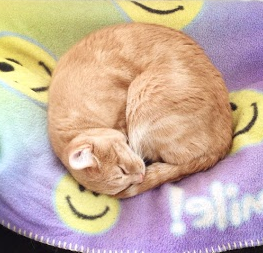 Outside of music, what are your interests or hobbies?
Let's see, I like to ride my bike. I like being active and doing that, I like camping, outdoor activities. I've joined the running walking teacher club they have here. I also love board games, Risk, Pandemic, things like that. I also like Netflix my wife and watch Parks and Rec, Bob's Burgers, other good shows. I also like animals, I have two cats at home, they're like my fur babies. Oh, I'm also like surprisingly into space, watching space documentaries like Cosmos.
Anything else you would like to add?
No, just that it's been a joy to work here and I look forward to consistently getting better and expect the same from my students.