Mr. Everts Resigns as the Dublin High School Band Director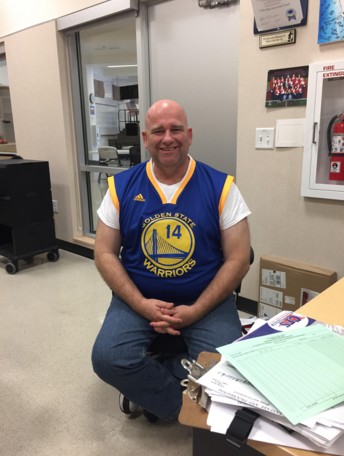 In late April, Mr. Everts announced that he was resigning as the band director of Dublin High School in a carefully spoken statement to his students. After detailing their successes as a musical program and restating how proud he was, Mr. Everts said simply, "I need to give the band to someone else."
When the students in each period heard this, they were shocked. The marching band, under the direction of head drum major Michelle Won, had won marching sweepstakes at Vintage High School in Napa. The color guard and winter percussion ensembles had both won championships at their respective competitions. Amidst these successes, Mr. Everts' resignation seemed so out of place.
Immediately, the students talked to Mr. Everts and among themselves about the situation at hand. Some students, particularly the juniors that chose to continue band, felt a hint of disappointment that Mr. Everts was not there for their senior year. Others felt excitement at the new opportunities that having a new band director gave them. Either way, every student that cared for the strong instrumental program that Mr. Everts developed felt something.
When asked for the reason that he chose to resign, Mr. Everts said, "All of us have strengths and weaknesses. My strength? Growing programs. When I started at Dublin High School, I was the only music teacher: band, jazz band, two music appreciation classes, and choir. Now… the school has two full-time music teachers, four choirs, an AP MUSIC THEORY class, three band classes, a jazz band class, and for the third consecutive year – STRING ORCHESTRA. Seeing how great the band and color guard have done this year, as well as how well all the ensembles have done this year, I have met the 'lid.' I have taken the music department as far as I would like and now, it is time to give this wonderful program to someone else to enjoy. With a lot of help and support, especially from Mrs. Everts, every program I have led has grown – in quantity and quality. Once there is a consistency in results, I tend to get complacent and bored. If I had stayed, I do know the program would reflect that complacency and boredom."
Mr. Everts has also stated that there are specific moments that led to his resignation, but they are too personal to be included in the Dublin Shield.
During his time at Dublin High, Mr. Everts grew the band program at the high school from about fifty members to over one hundred members. As mentioned earlier, the marching band and color guard were incredibly successful this year – winning marching sweepstakes and many more accolades. These accomplishments have led the students to become more proud of the band that they were a part of and to truly feel like a family.
On the reactions from his students, Mr. Everts said, "The reactions ran all emotions. There are several who are sad. Several who are confused. Several who are angry. And, yes… there are several who are happy to see me resign. All the emotions displayed reminds me that I do not do my work in the hopes of controlling and manipulating people to 'like' me. Hence, I stay focused on being consistent, being the example I would like the students to be, and making Mrs. Everts and God happy with me. In the end, all the reactions are really based on that person's reality. I am me and they see me as they want to see me. What stood out to me or what surprised me: the tears from people. I did not realize that folks would cry over my decision to resign. Those tears hit me pretty hard."
It was stated earlier that every student who cared deeply about the band program, who took its principles of cooperation and the ultimate goal to create music to heart, would have a strong opinion about the resignation of Mr. Everts. And that is incredibly true. Band has become a second family to many of its members and a community where they can always be themselves. Band is an opportunity for kindness to bloom, for leadership to exhibit itself, and for an incredible love for music to develop.
With that said, it is important to note the positive experiences that Mr. Everts has had with a group of students that care so much about their program and their director. He remarked, "There are students who were extremely kind and respectful to me. They knew that I truly loved all my students. Sure, there are times when I am challenged to like my students, but in the end… I LOVE MY STUDENTS. When working with my students, every action I chose was chosen with love in my heart, and there were students who understood that I wanted them to be wonderful."
Mr. Everts has made an impact on Dublin High School's music program in his nine years at DHS. From his field shows to concerts to football games to every performance that Dublin High has ever done, music with Mr. Everts was an experience that one will never forget. Under his program, one might feel challenged, disappointed, and upset at times – but more importantly, one will learn to never give up, to love one another, and to pursue a never-ending passion to make music.