Gael Force Robotics Takes Home Awards at VEX Robotics World Championships
Plus An Interview with Jaiveer Singh, GFR President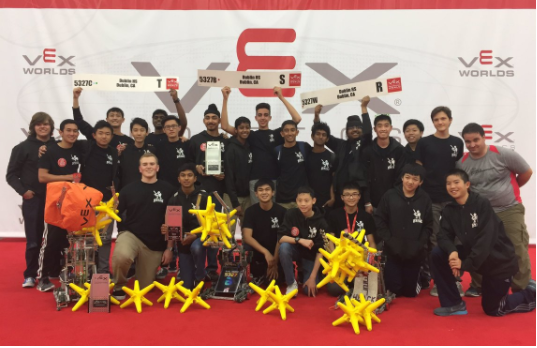 On April 19th, three teams representing Dublin High's Gael Force Robotics Club flew to Louisville, Kentucky to take part in the annual VEX Robotics World Championship. Using robots they had worked to develop and perfect since the beginning of summer, they faced off against the best teams from around the world with robots over a period of four days.
The DHS Robotics Club's hard work earned them recognition at the competition, with the three teams bringing home two international awards. One of the most outstanding achievements was Team 5327C's Tournament Finalists Award, which they received after advancing to finals in the Technology Division despite being seeded eighth out of eight teams at the start of the elimination rounds. Team 5327B merited the Think Award in the Science Division for their innovative use of quality programs.
Teams worldwide competed against each other in this year's challenge, called Starstruck. In this game, alliances of robots on opposing sides of a fence throw stars and cubes back and forth across a fence to score points. There is a 15-second autonomous period at the beginning of each match, and robots can raise themselves on a pole at the end of the match in order to earn bonus points. In order to succeed, teams had to come up with a design which was versatile and strong enough to throw the two types of scoring objects, a program that would allow their robot to score autonomously, and a strategy to outscore their opponents.
A total of 564 high school teams, split into six divisions of ninety-four, took part in the 2017 VEX World Championship. Teams represented high schools not only from the US, but from around the world. Each team brought their talent and fierce determination to the competition.
The multinational nature of the event also led to eye-opening encounters with different cultures. "We conversed with many teams from 40 countries around the world," said sophomore Wesley Wong, team captain of 5327W. "There were teams from the Middle East who were passionate about sharing their culture; it was cool to see them in traditional clothing and to try the samples of food they freely shared."
The three teams from Dublin High School worked hard for the privilege to attend such a major robotics event, and were well rewarded by the experience. "This was my first year in VEX robotics, and my team spent a countless number of hours working on our robot to make it to the World Championships," said Anish Kachinthaya, freshman and member of team 5327B. "At Worlds, I was awestruck by the size of the exposition center and the number of teams that had come to compete, all with their own unique robots that solved the problem in their own ways."
"It's an experience that will stay with us for the rest of our lives," he said.
"I would like to make a shout out to our club advisers Mr. Brown and Mr. Taylor, without whom none of this would've been possible," added Wong. "They provided the work space and gave up their time to allow us to have after school build sessions."
Interview With GFR President Jaiveer Singh
The Dublin Shield interviewed 5327B Captain Jaiveer Singh on being presented the Think Award and his experience at the championships. Singh, a junior, was recently elected club president for the 2017-2018 season.
CK: How did you feel upon being awarded the Think Award?
JS: When I heard the announcer declare our team the winners of the Think Award for the second year in a row, I was, mildly put, surprised. With a rocky start to our match schedule, I was concerned that failures on the playing field might make it difficult to win accolades like the Think Award, given to the team that best demonstrates the power of programming. However, our team refocused our efforts and delivered solid interviews to three different sets of judges, relying on hours of presentation practice to showcase our season and accomplishments. The fact that our team won Think despite our lackluster match performance truly astounded me, and made me very proud to be the captain of such talented engineers.
CK: What would you say led to your team's success?
JS: Of course, success for a team cannot come from any single source; every member of the team helps make the team win as a whole. If I had to pinpoint a single factor for our success, though, I would say it was our team's use of the Design Process. A topic covered in the foundation-level class Principles of Engineering, the design process provides a reliable pathway to the creation and improvement of solutions to novel problems. With a focus on research, testing, and analysis, the design process helped our inexperienced team accelerate the process of creating a high-functioning robot. Our attention to detail and focus on documentation won us numerous awards throughout the season, including the Design Award at the State Championships, and I believe that using the design process helped our members become better engineers.
CK: What was your favorite part about VEX Worlds?
JS: Competing at the 10th Anniversary VRC World Championships was an unforgettable experience. While there was an incredible variety of events throughout the week, my favorite part was the unveiling of the new game for the 2017-2018 season. After applying our combined brainpower to a single challenge for well over nine months, our team couldn't wait for the allure of a new challenge. The spectacular game unveil immediately launched a new cascade of ideas running through my head, sparking the familiar rush of curiosity and excitement that motivates every engineer.
CK: What is your vision for Gael Force Robotics regarding next year's season?
JS: Our club is heading into the 2017-2018 season after a great finish to the previous year. As President, I want our club to continue to compete at the high standard we have become known for. By working with incoming freshmen and our new captains, I seek to prepare the engineers who will be the club's future officers. At the same time, I hope to work closely with the rest of the officer board to develop local outreach for our club. I think that we've clearly shown our excellence on the playing field, and now the time is ripe for us to give back to our incredibly supportive community. There's a long season ahead, but I'm sure it will be rewarding for all of us.
CK: Is there anything else you would like to say to readers?
JS: I hope that reading about our club might have piqued your curiosity. Here at Gael Force Robotics, our club members are driven by a passion for STEM and a fundamental eagerness to explore new ideas. We take our experience from both the classroom and the arena to design, construct, test, and compete with world-caliber robots, but none of this happens alone – it's all accomplished by teams of high schoolers who are doing what they love. If you're a student out there who's interested in what robotics has to offer, I urge you to contact our club at [email protected].