Gaels play first football game of 2020-2021 season against Cal High
Over 16 months since their last football games, the Dublin Gaels traveled to San Ramon for their season-opener against California High School on Saturday, March 13.
The Gaels' Varsity team started off hot, leading 21-7 in the late first half, but the Grizzlies secured some momentum into halftime. They ended up closing out the contest by outscoring Dublin 56-12 en route to a wild 63-33 victory that took over three hours to complete. In the Junior Varsity (JV) game, Dublin fell to Cal by a score of 22-7.  Though the Gaels lost both contests, there were positive signs. 
In addition to Dublin's fast start, the game was not nearly as out-matched as the final score indicated—the Gaels only trailed by a touchdown late into the 3rd quarter before the game got away from them late. Quarterback Anthony Armendaris threw 3 touchdowns and did a great job of scrambling, running-back Jayden Petrus rushed for a touchdown, and TJ Costello burst off for a massive touchdown from 27 yards to try to revive some of the momentum from the first half. The JV team also displayed a strong effort against Cal in the 2nd half after falling behind 14-0 heading into the halftime break.
Saturday's game was quite different from traditional Winter Football. Due to the pandemic, the season was delayed until mid-March and was forced to shrink its regular season from 10 games to 6 games. Furthermore, there will be no North Coast Section Championship as is tradition. Yet, the Gaels remain motivated. JV Wide Receivers Coach and DHS graduate Jabari Jefferson stated simply, "We don't take COVID as an excuse. We will be ready." 
Assistant Coach Dom Revelez (another DHS grad and DUSD teacher) noted, even amidst the pandemic, "[the] boys stayed in touch [and built] chemistry" through Zoom. JV Players stood shoulder to shoulder cheering on their team, screaming "defense, defense, defense", in their excitement to be back. 
Parents and fans were just as happy to see teams return to the field. Offensive Lineman Vinny Bonato's mom Kim said she was "very excited and very happy" that football returned.
Cal High fans showed up in full force, bringing cowbells and megaphones. However, one of Cal High's biggest traditions is the ringing of the touchdown gong. The tradition started 2 years ago when a player's parent first crafted the gong to ring every time the Grizzlies score in Football and Lacrosse. 
Bob DeSota, Cal High's Wrestling Coach and the ringer of the Gong said, "We are so happy the kids are allowed to play. This is the lifeblood of our school. We love coming out supporting them."
Dublin is looking to fare better when they take on Granada in what will be both their EBAL and season home-opener next Saturday, March 20. The Junior Varsity game begins at 4:00 pm and the Varsity Game at 7:00 pm. Fans can watch the full broadcast at GaelsTV.
About the Contributor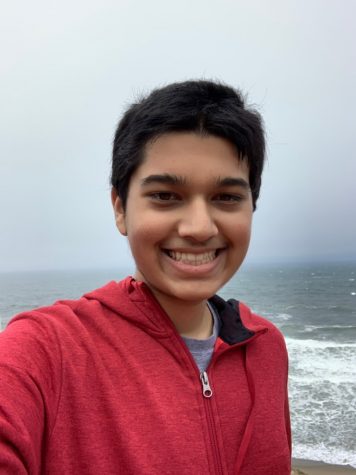 Pratham Dalal, Social Media Manager



Pratham Dalal is this year's Social Media Manager. This is his 1st year as the Social Media Manager and 2nd year writing for the Shield. He enjoys...