English Department Implements Readiness Tests to Factor into Course Placement
Every year at Dublin High, third quarter brings a rush of stressful decision-making and endless papers as scheduling and class selection for the next school year begin. While the DHS counselors and faculty make a point every year to remind students not to overextend themselves and to choose their classes carefully, many have found that a good deal of students still can't quite be trusted to make wise decisions. Such an observation has been made in the English department over the last few years, resulting in some changes to the way course recommendations are given.
In past years, student placement into English classes was based entirely on their current grade and their teacher's recommendation. Now, a readiness test is being administered as well. This test is based on the AP Language and AP Literature final exams, depending on the grade being tested. Mrs. Jennifer Angel-Diaz, an AP Literature teacher at Dublin High, noted that since this is the first year the test is being used, the department isn't yet certain how much or how little the test will factor into student placement.
This change was implemented because the English department has noticed a worrying amount of students taking Honors and AP English classes without necessarily being prepared, leading to poor performance. Teacher recommendations, Mrs. Angel-Diaz noted, sometimes aren't sufficient because teachers leave DHS and are unable to provide constant information on former students. In addition, new teachers sometimes don't have enough experience at DHS to fully assess the difficulties of the courses offered. While conversations with teachers are still incredibly important, she stated that the department wanted to give students the opportunity "to see what kind of questions are going to be asked in an AP or honors class, just so that people can decide if those classes are something that they want to do and think that they're prepared for." This need is notably prominent in regards to the rising juniors, who choose between English 3, Honors English 3, and AP Language; while "seniors can generally be trusted to self-select the classes that they can handle" and sophomores tend to make better selections because Advanced English 10 isn't a weighted class and there is therefore "less of a push to get in," juniors have a penchant for selecting too many advanced classes that they may not do well in.
The idea of testing students for their readiness for an advanced class isn't new to DHS. For many years class placement hinged heavily on an entrance essay exam, but this practice was stopped when Mrs. Shimizu was the principal of DHS. Now, Mrs. Angel-Diaz indicated that Principal Byrne was more receptive to the idea of re-implementing a readiness test.
While the true effects of this readiness test will have to be observed in the coming years, the idea certainly seems promising. In fact, there was very little disagreement within the English department as to whether additional recommendation factors were needed, with Mrs. Angel-Diaz acknowledging that the only aspect some teachers disliked was having to devote an entire day to administering the test.
With Dublin High's highly competitive academic environment, these small changes in course scheduling and recommendation may be indicative of more diligent class placements. While students are often more than eager to take a multitude of advanced, honors, and AP courses, this no doubt leads to many students falling behind due to the sheer workload they subject themselves to. These additional measures will hopefully prove useful in helping students make informed decisions.
About the Writer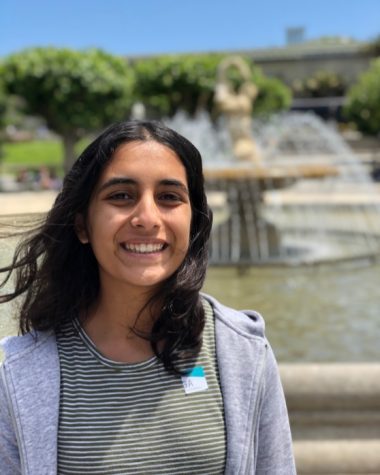 Riya Chopra, Editor-in-Chief
Riya Chopra is a senior at Dublin High and one of this year's Editors-in-Chief. She enjoys writing about everything from school board meetings to the opinions...