Faculty Spotlight: An Inside Peek on the HUB's New Programs, and the Person Who's Making it All Happen
Whether it be before school, during lunch, or any GAEL period, there is one destination that is practically guaranteed to have a few (if not a few hundred) Dublin High School students flitting about: the HUB. While initially appearing to be any other high school library, the HUB offers a number of additional programs that allows it to identify itself as more than just a popular area for students to hang out. These include, but aren't limited to silent study zones, passionate volunteers that devote their time to tutoring students, and an abundance of Chromebooks and computers as a last-ditch resort for any DHS students who need to print that 100-point essay due in 5th period. However, the HUB isn't quite done yet. With the commencement of the 2018-2019 school year, DHS introduced a new face to the HUB staff: Mrs. Adair Spence, DHS's own librarian. While she admits she isn't the first one the school has ever had, it's been a while since a staff member was given the privilege to hold this title, and Mrs. Spence is incredibly excited to see where the year will take her.
When asked to provide a brief description of her job, she explained, "As a teacher librarian, I am able to not only curate a collection of books for the Dublin High community, but work with students on classwork, proctor book club, go into classes and teach (soon I hope!), and be a part of a vibrant community."
A graduate from Saint Mary's College, Mrs. Spence is no stranger to working on a school campus – having taught a multitude of subjects at Wells Middle School for twelve years, including history, English, leadership, and yearbook. She defines herself as, "a self-proclaimed book nerd who loves buying books as much as reading them," and considers Young Adult contemporary as her favorite genre, although she is "a sucker for a good dystopian novel." Regarding her familial life, Mrs. Spence is a mother of two children as well as a loving wife. "I have two crazy children turning 4 and 2 this October," Mrs. Spence said, fondly. "Lennox is my oldest and she is confident and strong and loves coming to work with me to see all of my "friends" (students). My son William is hilarious and obsessed with Moana. I probably know every last word of the movie by now. I have an awesome husband who hasn't always loved to read, and I have had a lot of fun finding books for him that he will enjoy."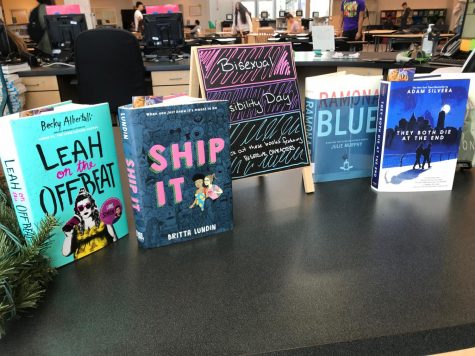 Mrs. Spence's desire to become a school librarian originally fostered a few years ago. She explained, "A few years ago I learned about SJSU's (San Jose State) Teacher Librarian Program and thought it sounded awesome but ended up starting a family and I knew it wasn't the time to start another degree. When I saw the posting for the job this summer, I knew I had to take the leap."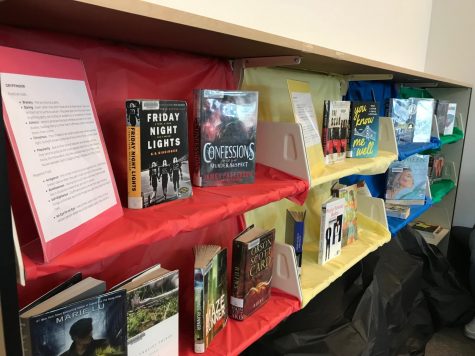 While it's only been two months into the school year, Mrs. Spence already loves her time on campus. Despite being one of the newest staff members, Mrs. Spence has already succeeded in implementing a number of new programs for DHS students to participate in. She has created an Instagram account for students to remain updated. "On the account (@dublin_high_hub), people will find monthly contests, new books being added to the collection, and general information. I urge everyone to follow!" Mrs. Spence exclaimed. "Wednesday, September 12th Hub Book Club [began] at lunch. The club will meet once a month and discuss books we have all read (or books that have common themes), hang out, and eat some snacks. I am excited to see the direction students want to take this club. I am open to whatever everyone wants! Soon, I will be partnering with the amazing Mrs. Bonde to reopen a section of the Hub as a De-Stress zone where different activities will be offered for all students to use before school, GAEL, lunch, and after school. I have a few more partnerships with clubs and classes offering different events that everyone will just have to stay tuned for. I am beyond excited for one that appeals to the Civics teacher part of me."
Overall, it is quite evident how hardworking and caring of a staff-member Mrs. Spence truly is. The HUB continues to be one of the students' most valuable resources, and Mrs. Spence is already doing her part in enhancing its programs. At the end of the day, she encourages students to swing by and offer a friendly greeting. " I have loved being at Dublin High," Mrs. Spence stated. "Everyone has been incredibly welcoming and all the fun things I thought I would be able to do in this position have been coming true. Both staff and students have made my days fly by and the energy on campus has been infectious. Never hesitate to ask for help on anything and follow the Instagram account to keep up to date with what is being offered. Thank you for being such a fantastic community!"
About the Contributor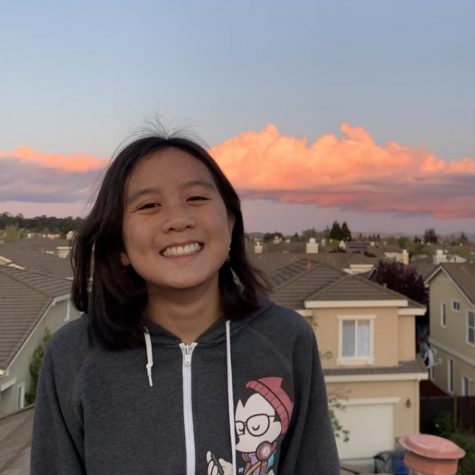 Danielle Tran, Editor-in-Chief
Danielle Tran is a senior at Dublin High and one of this year's Editors-in-Chief. She holds a deeply-rooted passion for writing, and has dreamt of becoming...