Student Spotlight: Willow Coughlan
A talented actress, diligent student, karate teacher, and now, a passionate activist?
Meet Willow Coughlan, a freshman here at Dublin High School, whose kindness and positivity brings smiles to just about everybody's faces. Coughlan is actively involved in the DHS Drama Department, having just worked as a House Manager for Urinetown: The Musical, and participates in karate outside of school. Although she tore her ACL a few months ago, an incident that prohibited her from physically engaging in karate ever since, that hasn't stopped Coughlan from attending the classes and helping those younger than her learn martial arts.
However, it was a project Coughlan recently organized that truly allowed her passion and heart to shine through. In light of the recent school shootings that have been occurring far too often, Coughlan decided to take action and raise awareness of those who had lost their lives. In a tedious process over the course of two weeks, Coughlan compiled a list of the names of all victims of school shootings since 1990. Then she called a few of her friends together, and, on pieces of paper with the resounding words #Never Again and #Enough, they calligraphed each name onto a paper, including their age and the location they were killed. In total, Coughlan and her friends recognized over 300 victims, ranging from elementary schoolers to high schoolers, to teachers who had sacrificed their lives for their students.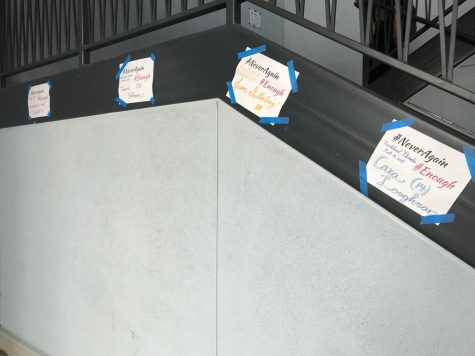 "I decided that it would be meaningful to honor the people who died in school shootings since we are trying to prevent future ones," Coughlan explained. "I wish that people would see that each casualty in school shootings is a human, a life, not just a statistic. I hope this shows that something needs to change before more names are added to the list."
Coughlan and her friends gathered after school on April 19th, when most other students had already left. They taped the papers all around the campus – on stairs, windows, and poles. In addition to the posters, Coughlan and her friends also used chalk to write the names onto the ground. The ultimate goal was for the names to be noticed and thought about, for each name to develop into an identity – a person whose life had been taken, some before they even had the chance to live it.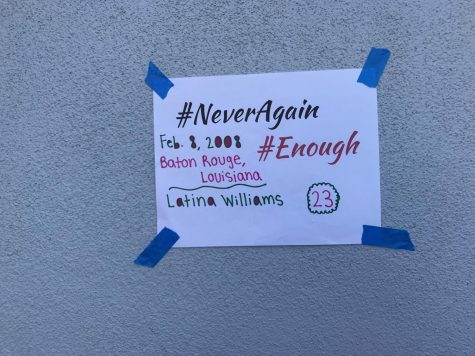 "School shootings need to end," Coughlan stated simply. "Hundreds of people have lost their lives; every one of them was someone with a life and a story. Every single one had a unique personality, passions, and aspirations. There are so many families who have had to live with the reality that someone they love will never come home."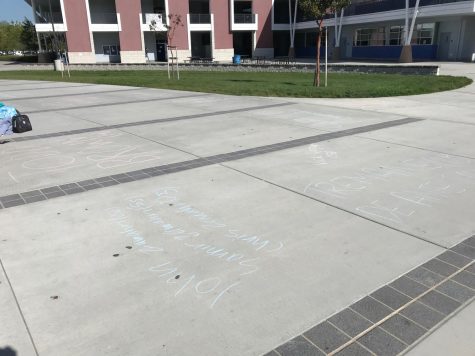 Coughlan admitted that the posters and chalk, in themselves, did not seem like much. However, in reality, they did matter. Every little thing matters to impacting the larger scale.
"I guess I know that there are people out there that think all of this is pointless, but doing nothing is worse," Coughlan insisted. "Doing nothing ensures that things will stay the way they are. Doing something, even as small as putting up posters, can start a bigger change."
About the Contributor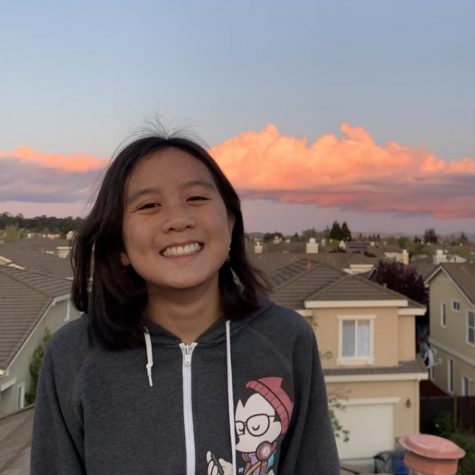 Danielle Tran, Editor-in-Chief
Danielle Tran is a senior at Dublin High and one of this year's Editors-in-Chief. She holds a deeply-rooted passion for writing, and has dreamt of becoming...