The track team bands together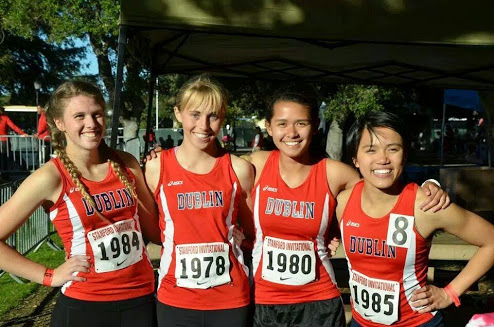 When participating in a sport, it is important to not only practice hard, but to also have a good relationship with your teammates. The DHS track team participates in team bonding activities throughout the season outside of normal track practice. By meeting with other team members and having fun, the team strengthens the bonds with each other.
"Before every League meet, we always have a team dinner or carboload where we eat dinner together and prepare an optimistic,competitive mindset for the next day's meet," junior Alicia Tran said. "This is a time where we can get bond and have some good laughs, which ultimately, help us relax and prepare mentally for the busy track meet ahead."
The carboloads are one of the most common places that a lot of track athletes will get to know each other. It is an event that the entire team can participate in. Other smaller groups, such as the throwing team, also participate in activities outside of track.
"At the end of every season, we have a team BBQ," junior, and throwing team member Lauren Cunningham says. "This year …we are also going paint balling."
The end of year barbecue is a great opportunity to have fun with the friends you have made. Opportunities to get together in outside events such as paint balling creates friendships between team members. The throwing team's plans to go paint balling is sure to be tons of fun. The throwing team have also engaged in team bonding activities throughout the season.
"This year I'm new to the team and everyone has already gotten to know each other, so I was kinda nervous on how I'd fit into the group," junior Julia Zavala says . "On the week my birthday, my teammate took us out to lunch, it was really fun and I felt really included, we're all big family."
By becoming more included into the team, team members will perform better. By welcoming in new members with outside activities, they become part of the big track "family." These friendships help students overcome the pressures of a track meet.
"Every track competition from the hurdles, sprints, distance, throwing, pole vaulting and jumps, can be nerve wracking for all of us," Tran said. "We can always overcome our nerves through the support that we have for each other."
The additional support given by the team makes track much more than just a sport. Track is a way to make friends and find a group of people with similar passions. People in track will always be able to turn to someone knowing that they have established great bonds with them.