Faculty Opinions on Block Schedule Remain Divided
The Dublin High community has become accustomed to a traditional, seven-period schedule. Over the last year, however, there has been much discussion of a possible transition towards a block schedule, which may soon become a permanent fixture in the lives of DHS students. Block schedules are alternative schedule formats wherein students typically attend each of their classes every other day rather than every day in exchange for longer class periods.
The implementation of a partial block schedule is a possibility as soon as the 2019-20 school year. When asked about administration's reasons for exploring the possibility of changing the schedule, DHS Principal Mrs. Byrne replied that "when we went to a seven-period day many years ago, we had a lot of teachers saying that they'd prefer to do a block schedule." She noted that "the two biggest proponents initially were science and the arts because having a longer period of time to do a lab or an art project is beneficial." The following years also saw the rise of Common Core, which, according to Mrs. Byrne, "asked students to go a bit deeper to show engagement," corresponding with a need for longer class periods. Similarly, she acknowledged that while the math and world language departments were traditionally against it because they place the utmost importance on daily practice, the world language department has started to focus on "more authentic language, which lends itself to longer periods, so that department is now mostly on board [with a block schedule]."
Mrs. Byrne explained that administration has been considering different options for a while — last year, a Block Schedule Committee met "about once a month and considered a number of different schedules." She explained that "the [format] that they've landed on, which we're assuming will be used if we do decide to implement [a block schedule], would have block schedule two days a week." While students would have normal, seven-period schedules on Mondays, Thursdays, and Fridays, they would only attend periods 1, 3, 5, and 7 on Tuesdays, and periods 2, 4, and 6 on Wednesdays (Wednesdays would still begin at 9:00 AM, and would end at 3:00 PM rather than 3:27).
The primary issue with this schedule is the GAEL period. Mrs. Byrne noted that concerns have been raised at the fact that a student with GAEL immediately before or after lunch would then have nearly two and a half free hours in the middle of the day. She admitted that the administrators in charge of the project are "still brainstorming ways that we can ensure students continue to utilize the GAEL period," saying that "one of the things we're thinking of is having students have to sign in twice rather than just once during the GAEL period so that there is more enforcement."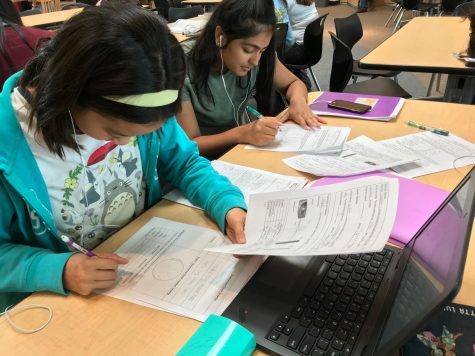 Mrs. Byrne emphasized the amount of planning that has been going into this project, emphasizing the importance of having the DHS faculty on board before progressing to the next. She noted that because of this, a faculty survey was conducted in the beginning of the 2017-18 school year. This survey found that while 20% of teachers were definitely against a block schedule, 34% were enthusiastic about it and the remaining were undecided. Throughout the year, however, she was happy to note that "many more staff members have come on board and as a whole, they would love to try it out in order to work out any kinks that may arise and see if it's something they want to commit to."
This lack of a true consensus among teachers was reflected when faculty members from numerous different departments were approached. Many teachers did certainly express enthusiasm at the possibility of a block schedule. The science department, for example, is generally supportive of the idea. Ms. Kaehms, a biology teacher, said quite ecstatically that "it's great to have an hour and a half to do a full lab." High-level classes especially could reap the benefits of an extended class period. Mr. Vereen, who has taught AP Chemistry at DHS for years, has found that "AP Chem students in past years have been asked to voluntarily come in before or after class for a couple of the AP Chem labs" due to the lengthy nature of these activities. He agreed with Ms. Kaehms, emphasizing that a block schedule would "make lab assignments much easier in terms of collecting and interpreting data on the same day."
The engineering department is also in favor of a block schedule. Engineering classes differ from other classes because they involve an extensive amount of hands-on work, even in comparison to science classes. Ms. Chou, a Principles of Engineering teacher and the Engineering Academy coordinator, stated that "specifically for engineering, I do feel like [a block schedule] would help because [with a regular schedule] we lose a lot of time with set-up and tear-down." Especially since engineering requires "working with hands-on materials, students can't complete their work at another time. The only place they can work on [their projects] is typically in [the engineering classroom]."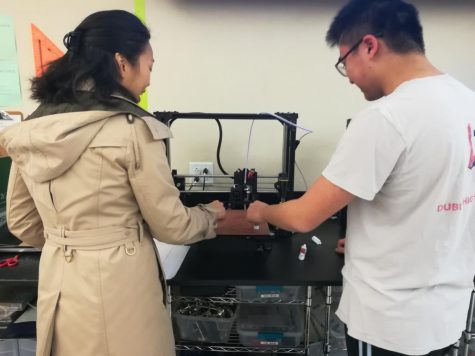 English and the other humanities also tend to view the block schedule as advantageous. Ms. Hollison, who teaches Advanced English 10 and Freshman Seminar, noted that while "there's definitely not a consensus among [the English department faculty], the majority of us like it." She explained that "especially with the increasing class sizes, we'd love being able to have the extra time to really go in depth with our students and have more time to discuss, especially in Socratic seminars."
However, not everyone is thrilled about the possibility of longer class periods. Ms. Maurer, who teaches Algebra II w/Trig and Trig/Pre-Calculus, expressed that "math teachers are apprehensive about the block schedule because students get saturated with math and can't really learn new material for ninety minutes." The math department's concern, she said, rested in the fact that in the long class periods of a block schedule, "it's going to require a lot of effort to keep students engaged and learning, especially at the lower levels."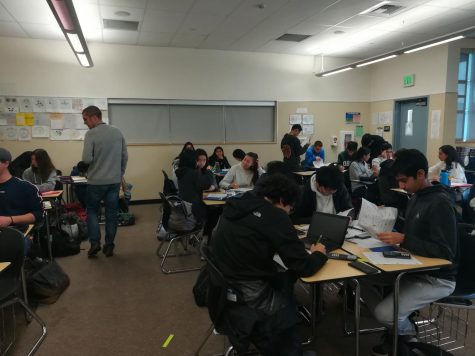 Block scheduling definitely has its pros and cons, but the limited nature of the plan being considered by administration seems to be the optimal compromise for DHS; with two days of block schedule a week, teachers could still plan labs, seminars, and other extended activities on Tuesdays and Wednesdays while saving normal activities for the remaining days. Other potential student benefits include that they would ostensibly have an extra day to complete homework on Mondays and Tuesdays. However, this should be taken with a grain of salt considering the possibility that teachers will continue using Google Classroom to assign due dates of their choice. Regardless, students would no doubt be pleased with the extra half hour early release on Wednesdays.
While the staff and faculty have definitely already formed opinions on the possibility of a block schedule at DHS, the students haven't yet had a chance to do so. A trial run was originally set for December 3rd and 4th but was postponed to January because, according to Mrs. Byrne, "the administration felt that more communication with the district office and others would be best." Student opinion on the change, therefore, remains to be seen.