How To Dress For Success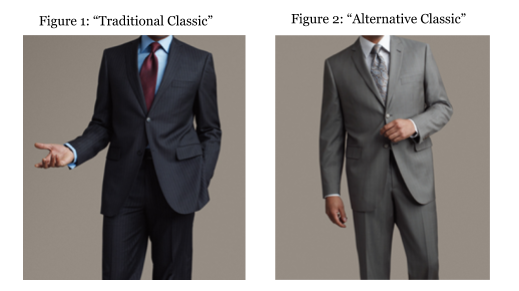 In business, there is a common rule that you have seven seconds to establish a first impression on someone. Though this is most commonly heard in the business field, this applies to everyone. Looking sharp for your first impressions can potentially lead to unique opportunities, or be the difference between you and your competitors in landing your dream job.
A well tailored outfit can mean more than professionality. To some employers, this could imply that you are serious and detail-oriented;  more importantly, you could be a potential candidate to represent their company.
"First impressions are often lasting impressions," explains Juanita Paez, a district formalwear manager for Men's Wearhouse. "This is why it is very important to dress in the right attire for a job interview."
But how do I know what to wear? Fortunately, the Dublin Shield breaks it down into simple tips that are considered the "right attire" to wear for a special event:
Men have two options that have persistently remained favorable throughout the years. I call the first one the (1) "Traditional Classic." This is where you are recommended to wear a dark colored, 2-button suit. This suit comes in either a solid color or a traditional striped pattern. The dress shirt underneath should also be a solid color. Your outfit is all tied together with a conservative tie. (See figure one below for reference.) The second look is what is called the (2) "Alternative Classic." The only difference between this look and the previous one is that you are recommended to wear a medium colored, 2-button suit. This choice is meant to stay chic, but have a calmer appeal.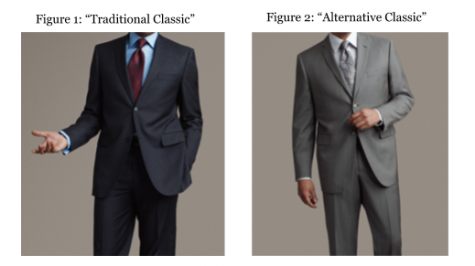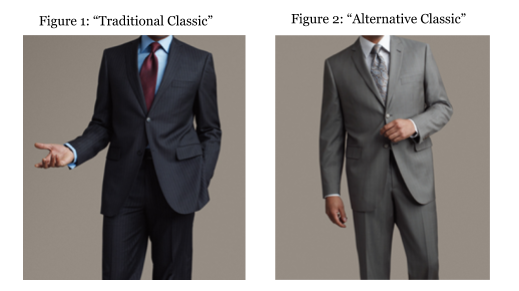 Juanita Paez
Different kinds of patterns, colors, ties, and shirts can keep your look refreshing and maintain interest. Even changing up ties and small accessories can transform your entire look. Accessories like cufflinks, dress socks, and pocket squares can add more sophistication to your look. Though black shoes are the classiest, brown and burgundy are versatile alternative colors.
Women have a bit more freedom in how they can dress for a job, but this freedom can also be confusing. As a general rule, if you are unsure about what is or isn't appropriate, feel free to scope out well-dressed women in the industry you plan on joining. You can do this by observing people at informational sessions, at career fairs, on the job, etc.
In most cases, when women are looking for ideas, it is recommended that you keep your outfit simple, tailored, and just the right amount of feminine. Though you want a feminine look to an extent, you want to make sure that it's not too tight in certain places. You want to be able to move freely. The free you feel, the more you'll be able to express yourself in the workplace.
For shoes, closed toes pumps are recommended, with a heel no higher than 2.5 inches. And for tops, always avoid plunging necklines.
For accessories, make sure to match your handbag with your shoes. A classy, go-to example would be to have a black portfolio go with a pair of black dress pump-shoes. Another fun look is having a versatile, grey cotton blouse. Additionally,  adding a scarf to your striped shirts can give you more style.
Juanita Paez
Tailored clothes should be made to not only compliment your body, but allow you to move around freely as well. It is recommended to make your coat shoulders snug but comfortable; your lapels flat against your chest; your sleeves to end at or below your wrists so your cuffs are slightly exposed;  your pants should rest comfortably around your hips at your waist; your seat and thighs should be comfortable but not baggy; and your pant bottom should barely break atop your shoe. Men are recommended to have their coat length cover the seat of their pants while women are recommended to have it at their hips. If you are wearing a skirt, the skirt should fit snug at the waist, form fitting but comfortable, and hemmed at the knee.
When going in BUSINESS-CASUAL, interviewers are still looking for someone who appears clean and neat. Though this is casual, this is still business, so avoid wearing miniskirts, sweatshirts, t-shirts, flip flops, sneakers, shorts, jeans, etc.
Men should wear a pair of medium to dark dress pants, with a button up shirt, and a pair of dress casual shoes.
Women should look for a pair of tailored dress pants or a conservative skirt, with a professional-looking blouse.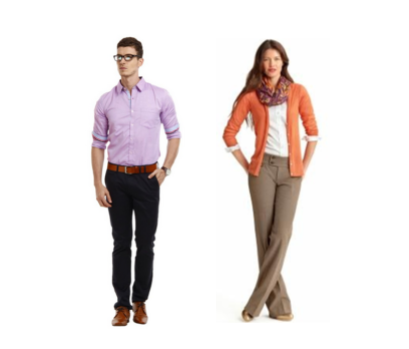 In general, there's a lot you should remember before the event. Your clothes aren't the only things that make you look sharp. But just in case, it's recommended that you do the following:
Always make sure your belt matches your shoes,  which should be  clean and polished. This ensures a cohesive outfit. Also, make sure your clothes are also clean and well-pressed. Use your outfit to cover up and conceal any tattoos, in the professional setting. And however fancy you might think your coat might be, if you include one in your outfit, be sure not to bring it into interviews or meetings. It's unprofessional, so leave it in the car or hang it up.
If you wear jewelry, try to keep it at a minimum or none at all. Some companies and workplaces have rules or preferences for jewelry.
If you wear make up, try to make your makeup look as natural as possible. But don't go out of your way to wear some if you normally don't. And if you're doing your nails, make sure your nails are trimmed and cleaned up. If you're wearing nail polish, make sure the nails are completely polished in one solid color, clear coat, or a french manicure. Steer away from nail art. Make sure there are no chips. As the theme goes, keep them simplistic. This doesn't just apply to makeup, but your look over all. Including your hair. Keep everything in a business-appropriate style and color. And men, if you have facial hair, make sure it is neatly shaven or trimmed.
To make sure you smell well, it is okay to add a little deodorant or other products. However, refrain from overindulging or using strong-smelling perfumes, colognes and other scented items. Using a breath mint prior to the meeting is also helpful.
And guys, it's perfectly fine to check yourself out in the mirror before walking into your interview! In fact, it's prefered. Use this time to polish off your look and make sure every little piece is perfect.
Paez even states that a general tip is to "always have someone (family member or close friend) examine your outfit on you the day before the interview. This way you have time to make any last minute adjustments if needed."
The more you practice and experiment, the better you'll be at finding the style that fits you.
So now that you know exactly how to prepare, dress and look for your interview or important day, go nail it!