Malala and Kailash Satyarthi Win a Historic Joint Nobel Peace Prize
On October 10, the Norwegian Nobel Committee announced that it had awarded a joint Nobel Peace Prize to Malala Yousafzai and Kailash Satyarthi for their work in the "struggle against the suppression of children and young people" (Nobel Peace Prize).
An avid activist for women's education and equality, Malala first gained recognition after blogging for the BBC Urdu language service about her life in Swat Valley, an area in northwest Pakistan. At the time, Swat Valley was under Taliban control and Malala raised awareness of life under their harsh regime. She was boosted into international spotlight after a Taliban gunman shot her in the head during a failed assassination attempt. Now living in the U.K. as an outpatient, Malala was at school when she was pulled out of class to learn she had won the Nobel Peace Prize. Declaring that she was "honoured" to win the prize, Malala was happy to learn that she had been jointly awarded the prize with Mr. Satyarthi, and spoke on the phone with him only hours after the prize was announced.
While many Americans know Malala from the Taliban's attempt on her life, many have never heard of Kailash Satyarthi, despite his thirty-four year career as an advocate for ending child labor. However, despite his low international profile, Mr. Satyarthi is well known to other supporters of ending child exploitation for his program Bal Mitra Gram, meaning child friendly village.
Bal Mitra Gram (BMG) is a program that campaigns for every Indian child's right to an education, and for an end to child labor in India. Since the beginning of the program in 2001, BMG has been a proponent of not only education but also gender equality within education, a decisive aspect that factored into the Nobel Committee's joint presentation of the prize.
The Norwegian Nobel Committee noted that it was very important that a joint prize was shared between a "Hindu and a Muslim, an Indian and a Pakistani," for this award comes at a time when the relations between the two countries are at all time low as a result of Indo-Pakistani border tensions (Nobel Peace Prize).
Because of the historic joint award, many people are accusing the Nobel Committee of issuing the prize as a diplomatic buffer. There was a similarly mixed reaction from Malala's Pakistan, as government leaders and citizens either congratulated her or ignored the announcement of only the second Pakistani prize winner.
On the flip side many of Malala's former schoolmates and women in the surrounding areas find the 17 year-old's win encouraging and are declaring it an inspiration in their own journey for education. Many hope Malala's win will provide a further spotlight for education and gender equality in Pakistan.
About the Contributor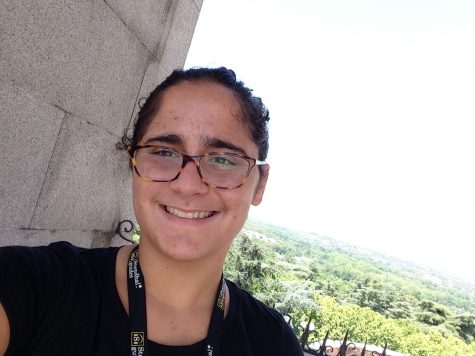 Alexandra Stassinopoulos, Editor-in-Chief
Alexandra Stassinopoulos was a senior at Dublin High School and the 2016-2017 Editor-in-Chief. She joined the Dublin Shield as a sophomore and worked as...