The DHS Concert Band wins Gold in Chicago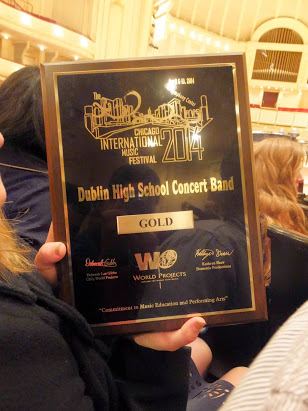 On April 8, 2014, Students from the DHS concert band traveled to Chicago to participate in the Chicago International Music festival. The band's playing earned them gold, the highest possible award. The band's hard work was what made it possible for them to win the award.
"All 76 of us had worked hard, both individually and as a group,"senior Andrew Europa said ."It felt so gratifying to see all of that hard work pay off with a standing ovation in one of the world's greatest symphony halls."
To many in the band, the experience of being at the symphony hall and performing was more important than the results of the festival. Just having the experience of playing among other great bands such as The Bay Port High School Orchestra from Green Bay, Wisconsin, The Harker School Orchestra from San Jose, California, and The University Of Chicago- Whitewater Symphonic Wind Ensemble, was extremely memorable. Students played in a professional and internationally known music hall with other great bands. In addition to this, many students enjoyed a new sense of pride.
"It shows the school that band is good and it always has been," freshman Vinootna KaKarla said. "It gives the sense of pride that can't be felt anywhere else on campus."
As a program that gets less recognition than many sports teams, the band's success was rewarding to the students who work hard to make the band great. To many others, the success at the festival showed them how skillful the DHS band truly is.
"Both the private school [The Harker School Orchestra] and us received Gold," junior Julian Wilkinson said. "We got gold just like the private school did, which proved to us that we can accomplish the same things as (if not more than) a $50,000 per year tuition private school."
The DHS band can accomplish as much as band with many more resources. As a public school, Dublin High would usually be assumed to be worse than an expensive private school. Despite this, the band was able to overcome this lesser amount of funding and show their true musical skill.
"It means that we've finally won something that we deserve," freshman Lily Hu said.