Tragedy At Boston Marathon
   Chaos. Hysteria. Panic.
   It has definitely been a tragic and rough week for Boston and for our country in general. It started on Monday afternoon, when two bombs exploded ten seconds and a hundred yards apart. The first one exploded near the finish line at the Boston marathon around 2:50 pm. Chaos erupted as terrified runners and spectators dispersed.  An 8-year-old boy, a 23-year-old graduate student from China and a 29-year-old woman were killed, and hundreds more were maimed and injured.
   "The first time I heard it was in choir, before a performance. I was shocked, upset would be an understatement," said Senior Noirita Saha.
   "We dedicated a song to the victims and the families. We tried to cover up hatred with music," added Saha.
   The bombs were made out of ordinary kitchen pressure cookers with explosives inside and they were hidden in backpacks and left on the ground.
   "It's scary that they can attack such a large event," said Senior Daniel Bassily.
   A massive manhunt was launched for two suspects seen in the surveillance video. Since the Boston Marathon is such a high-profile event, there was a lot of footage utilized to compile and gather evidence in the area.
   "I think they handled the situation very well, they kept everyone informed," said Senior Erin Gannon.
   Officials were able identify the brothers, Dzhokhar Tsarnaev, a 19-year-old student at University of Massachusetts, and Tamerlan Tsarnaev, 26. They were originally from southern Russia, and have lived in the United States for about a decade.
   On Thursday night, Dzhokvar was spotted at a gas station. The two suspects fatally shot a police officer at the Massachusetts Institute of Technology then stole a Mercedes, resulting in a car chase. As Dzhokhar was trying to evade the police, he ran over his dying older brother, Tamerlan. Dzhokvar escaped, until late Friday when they finally found him hiding in a boat. There is an issue since authorities decided not read him his Miranda rights because investigators wanted to discover if there is any other possible threat to the public.
   Saha finds it disturbing since she feels that "we're getting more desensitized to tragedies as they're occurring."
About the Contributor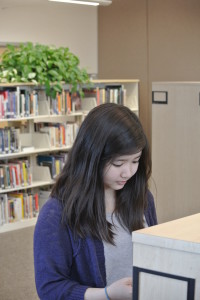 Ana Cruz, Entertainment Editor
My name is Ana Cruz and I'm a senior at DHS. I feel lucky to be a part of The Dublin Shield since it serves as a platform and outlet for me to write...