A Wrap-Up to Dublin Cross Country's Successful Season: Second at States
It was a cool and dusty fall day at Woodward Park in Fresno, California as the boys on the Dublin Cross Country team attempted to put an exclamation point on their historic season with a win at the state meet. With amazing performances throughout the season at major meets like Ed Sias (1st), Clovis (2nd), Woodbridge (3rd), EBAL (1st), and NCS (1st), the boys were poised and ready to achieve this auspicious goal.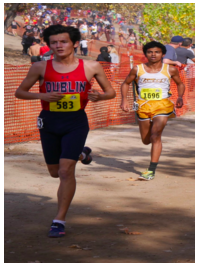 The race got out hard as it always did at this course with the front pack containing Adrian Schroeder, Gaurav Phanse, Loic Scomparin and Christopher Middleton-Pearson coming through the first mile at 4:50 and the mid-back pack containing Hunter Lampi, Kyle Morrison, and Surya Marimuthu coming through at 4:59. As the race progressed it became clear that Saint Francis High had total control and were on their way to a state title, but with the chance to be the first ever DHS boys sports team to podium (top 3) at state championships, the Gaels continued to push through the dusty and hilly course to chase history.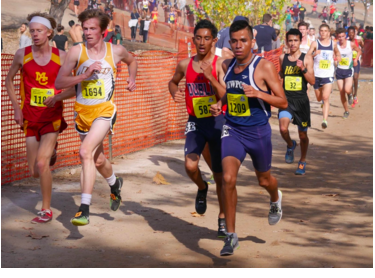 Through the second mile, Dublin's #1 guy Adrian was in the top 10, looking to be the 4th DXC athlete to individually podium (top 10) at the state meet, joining James Attarian (2007), Jeremy Grace (2007), and  Anirudh Surapaneni (2016). Meanwhile, Gaurav and Chris were holding their spot in the top 20 and with solid performances in the middle of the race from Loic, Kyle, and Hunter, the podium was only one more solid mile away. 
As the Gaels came off the rolling hills and turned towards the finish line, the runners reminisced over the constant 30-70 mile weeks, with hill repeats in  different weather conditions that have plagued Dublin this summer, and during that moment they realized what all that pain was for… This moment.  Adrian tethered the boys effort coming through in 6th place with a time of 15:26 on the 5k course. Next came Gaurav in 15th (15:43), followed closely by Chris in 17th (15:44), then Loic in 41st (16:09), when the final scoring member Kyle Morrison came in 80th (16:37) it had become very clear that while Dublin's ultimate goal of winning a state title had not been reached, Dublin High School history had truly been made.  
No boys team in any sport has ever placed this high in the state, and with a promising team including 5 of the 7 who ran this year, along with a very promising Sophomore and Freshman class full of sub 5 milers coming back next year, this team's run of dominance is just beginning.