Julia, Sesame Street's New Muppet With Autism
Hollywood has been criticized countless times for the lack of diversity in roles and for their stereotypical depiction of minorities. Though Hollywood is still light years behind in having the screen reflect reality, recent years have shown an increase in diverse roles. Freshman Annabelle Obillo commented, "It's nice to see characters out of the traditional cookie cutter Hollywood types."
A recent example of attempts by Hollywood to be more accepting and diverse includes the recent addition to the cast of Sesame Street, Julia. A shy, charming four year old with bright red hair and glossy green eyes, Julia enjoys picking flowers and painting.
However, there are some clear differences between Julia and other members of the cast. Julia has a tendency to be inattentive and to repeat the words of her friends, but she can also see things her friends don't. A sophomore with a younger brother diagnosed with Asperger's voiced that she was "grateful to be able to show her brother someone on the television screen that was just like him."
Vice President of Sesame Workshop Jeanette Betancourt explained to reporters that the idea of including Julia had been in the works for several years. This was largely due to the overwhelming number of parents of autistic children who informed officials at the company how important the show was to them and their children.
Though the inclusion of an autistic character to Sesame Street is a small step in bringing more diversity to our television screens it is part of an important trend that is bringing us closer to a more accepting, diverse Hollywood. As junior Megan Holtman jokingly remarked, "one small step for Sesame Street, a huge leap for Hollywood."
About the Contributor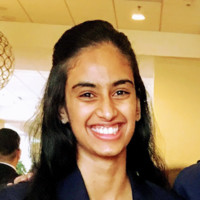 Kaushikee Nayudu, Editor-in-Chief
Kaushikee Nayudu is a senior at Dublin High and the Editor-in-Chief for the Dublin Shield where she enjoys writing articles covering a diverse range of...