Students Are Back in the Directors' Chair with the 2019 One Acts
Every January, the Dublin High Drama Department produces the One Acts, a series of short plays that are directed (and sometimes written) by DHS students. This year the production ran from January 10th to the 13th, showcasing eight one acts, three of which were original pieces written by DHS students. The subject matter varied from emotional arguments exploring everyday relationships to the escapades of a retiring Bogeyman. Overall, the most successful aspects of the show were the acting and, of course, the directing. While the plots of some of the acts were sometimes slightly lacking, the exuberance and talent of everyone involved were more than sufficient to make up for it.
"Can You Imagine?"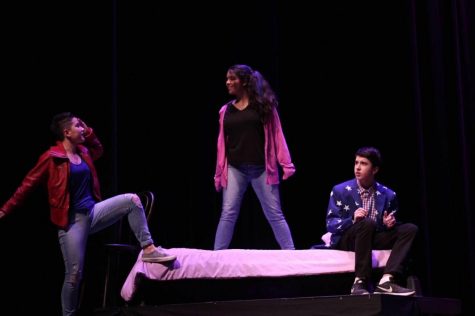 The night kicked off with an original one act titled "Can You Imagine?", written and directed by senior, Trevor Haar. It followed the story of a young girl named Blake (Willow Coughlan), transitioning through scenes of her childhood up until the years following her college graduation. Throughout her years, Blake is forced to juggle the average childhood struggles — relationship mishaps and the monstrous grammar of the English language — however, Blake's childhood is unique in one essential aspect: she is accompanied by her two imaginary friends, Alice (Daniella Barra) and Teddy (Ben Muley), who shower her with constant love and support, and, eventually, guide her to discover her true calling in life.
As an original skit, the talent and diligence required in developing such a story was undeniable. "The writing process was long and tedious, I can't say that it was easy," Trevor admitted. "There were multiple revisions, such as my main character being a boy and having Teddy carry around a little-stuffed bear with him in the original rendition of the script." The end result, however, maintained the sweet innocence Trevor originally hoped to get across. While the overarching message was somewhat cliche, and, at times, appeared a little overdone — such is to be expected with a plot as charming and honest as this one. The actors' performances only furthered the sense of nostalgic simplicity, and ultimately set the night off on an incredibly welcoming tone. "I could not have done the play with each of my amazing actors," Trevor gushed. "They all poured their heart and soul into this work and trusted me to lead them and I cannot be more proud of all of them. It was an amazing process and I'm definitely considering continuing writing these plays!"
"Out on a Date"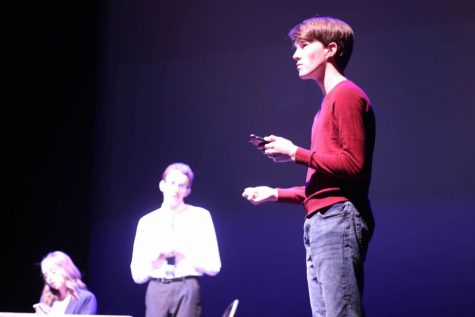 "Out on a Date", directed by senior Catherine Capretta, follows the date of Jack (Colby Parada) and Margo (Sophie Choe), a couple who's just about hit the 5-year mark in the relationship. However, tonight, the tensions are high as Jack prepares an ill-fated proposal at the exact same time Margo is concocting a humiliating break-up. Personally, the plot itself felt somewhat lacking, as there wasn't much going on beyond the couple's continuous bickering, and the ending was far too abrupt to truly wrap up any of the conflicts. However, the talent of the actors themselves was undeniable. Colby and Sophie did a spectacular job depicting an awkward couple whose relationship seemed to already be falling apart at the seams, and Jack's interpretation of the sassy waiter was absolutely delightful to watch, an effective decision on the director's part. "I've always been on stage for shows as an actress, so being a director behind the scenes was a new and nerve-wracking experience for me," Catherine expressed. "But my cast is so immensely talented that they made the whole process very smooth and easy, so shout out to them!" The skit also carefully weaved a subtle message regarding technology and social media usage — however, most likely would have gotten it across more successfully had this been a full-length play.
"Picture Books"
The second original one act of the night, "Picture Books" was written and directed by junior Connor Diaz. For the past few years, they've been married, Allan (Gabriel da Silva) and Sarah (Akhila Bordag/Angelina Amador) have been forced to rely on Sarah's earnings as a teacher to support themselves. Allan's dream of becoming a picture book artist has both, failed to yield any income as well as drive him into a self-destructive obsession with his own failures, one that blinds him from being able to logically assess his and Sarah's poor financial state. The one act takes place at the thinnest point of their stretched relationship — when Sarah enters hoping to reveal some incredible news, only to be cut off by Allan's most explosive spiral yet.
To say "Picture Books" was depressing wouldn't be an accurate acknowledgment of its incredible depth and insight. The director described it as "a story of the artist struggle", and that's truly what it was. Gabriel's portrayal of Allan was at once heart-wrenching, terrifying, and mesmerizing — he captured a man at his most vulnerable with such power it was hard to look away. Furthermore, Akhila's ability to depict a young woman in despair as she watched her husband crumble was heartbreaking. In essence, this one act was intensely raw, doing a miraculous job at placing a spotlight directly on the worst of human nature in the absence of hope.
"Getting it Back"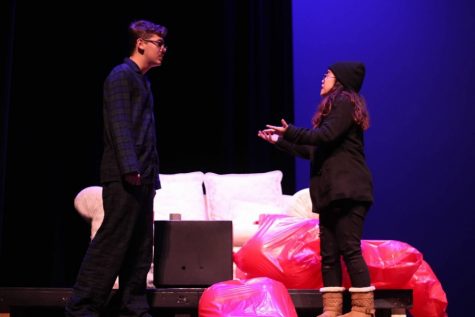 "Getting it Back", directed by senior Kaitlyn Hamman, was an excerpt from the play Almost, Maine.  The short scene depicted Gayle (Hannah Bumanlag) as she stormed into her longtime boyfriend Lendall's (Tucker Price) house with giant bags full of "all the love he gave her" and continuously insisted that he give her back all the love she gave him. The comical and sweet scene used metaphors and a happy ending to explore relationship breakups and all the love left over, but it was especially notable for its acting. Even though Gayle repeated the same line over and over again, Hannah Bumanlag delivered it perfectly every time, moving the story forward with subtle changes in tone and gestures. Tucker Price, too, managed to depict Lendall as slightly awkward in a way that was incredibly endearing. This sentiment was echoed by Kaitlyn Hamman, who said that "the biggest joy that I get out of being a director for the one acts is to be able to see the process of the actors' growth." Seeing her actors perform the scene on stage, she said, was inspirational and " just makes you feel so proud of everything that you and your cast have done together."
"Ashes Leave Stains"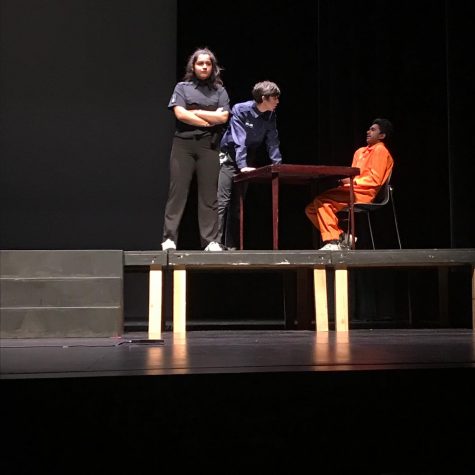 "Ashes Leave Stains", directed by Prava Punnamraju, was another original one act that depicted the interrogation and court trial of a troubled young man named Aaron (Arvind Chillarige) who is accused of committing arson and involuntary manslaughter. This poignant tale of forgiveness unfolds he is interrogated by two rather inept detectives (Charvi Sharma and Dean Marley), showing a great deal of denial and remorse.
Despite a somewhat contrived plot twist ending that may have done more to detract from the message than add to it, the production of this one act was impeccable, with especially great set design and acting on the part of Arvind Chillarige, Charvi Sharma, and Dean Marley. This is impressive considering that, as Prava Punnamraju put it, "because my play was an original, I had to completely go off my own inspirations for what I wanted the show to look like, and not based off other productions." She also acknowledged her act's comparative darkness, noting that "it was challenging to direct such a dark drama, because I wanted the audience to connect with the story while also not being overwhelmed by the heavy emotion," and she remarked that "the most satisfying thing about directing was when I got to see my play onstage with all the lights and costumes. Seeing my vision come to reality was really a rewarding feeling."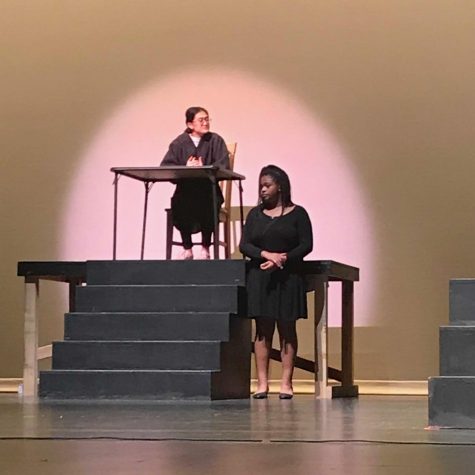 "Mint Juleps"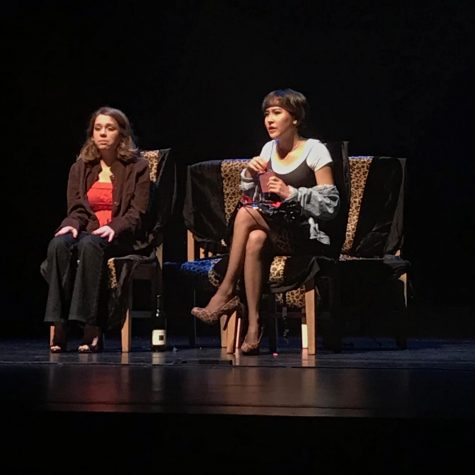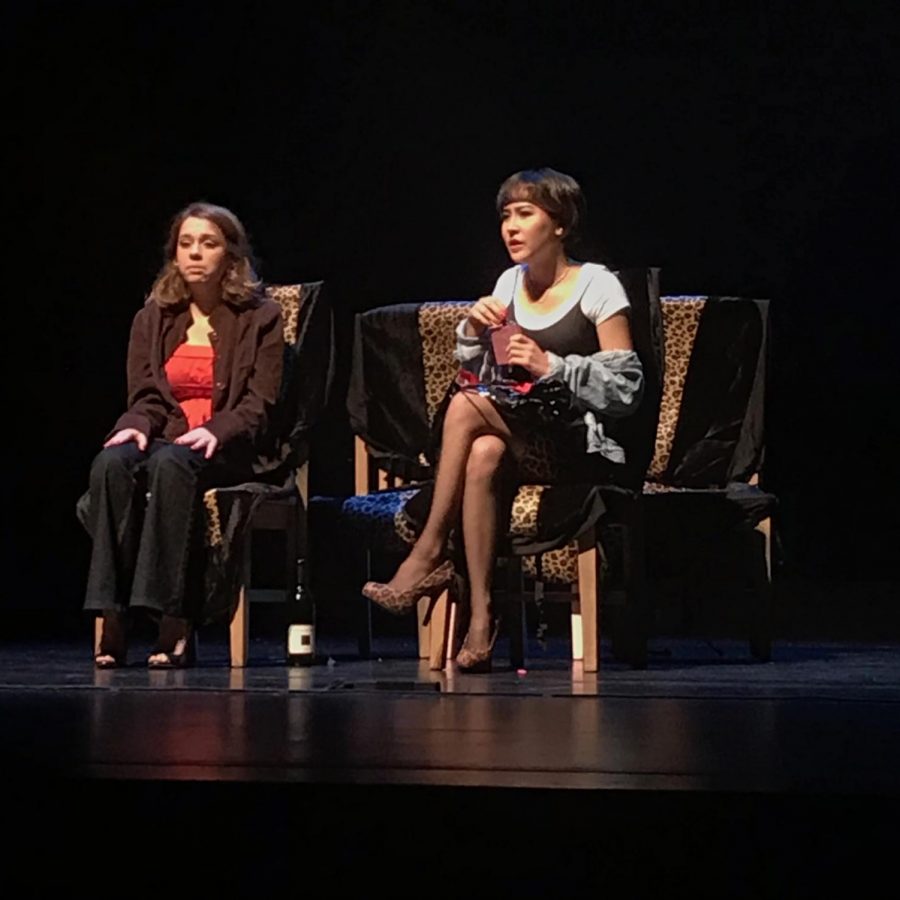 Directed by Katherine Stafford, "Mint Juleps" takes place in a car outside of a bar, in which a trio of friends are waiting to go into a party so that they can be "fashionably late". This rather shallow priority of theirs pretty much sets the scene for the entirety of the one-sided conversation between Rebecca (Emma Nelson) and Roberta (Chloe Nickels), in which Roberta spews non-stop gossip and speculation about other partygoers and insignificant problems that Rebecca couldn't possibly care about, as she is clearly distraught after the six-week run of her play received lukewarm reviews and a nearly nonexistent reaction from her supposed friends. This dynamic only heightens with the addition of Rosetta (Grace Engstrom), who clambers into the backseat and starts blabbering about her boyfriend. As Rosetta and Roberta continue talking only about themselves and deflecting whenever Rebecca tries to raise her own, more serious issues, Rebecca gets increasingly frustrated and distraught. While the acting was what made this one act shine, especially from Emma Nelson, it seemed to drag out a little in the middle — the idea of Roberta and Rosetta being hopelessly shallow and selfish had been well established, and so their conversation quickly became tiring. However, this was soon forgotten by the audience, as the abrupt ending was heart-wrenchingly vulnerable and extremely well-done.
"Lessons in Fear"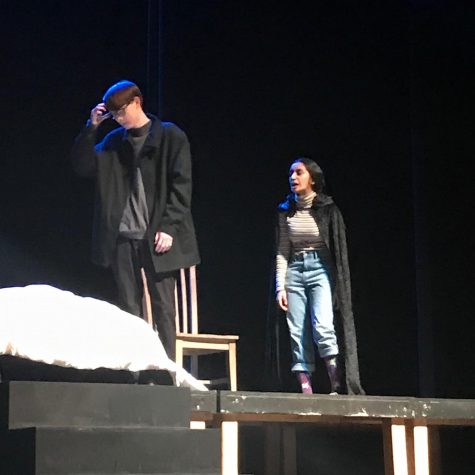 So the Bogeyman is retiring. Which means he needs an apprentice who can prove equally terrifying as he in order to replace him. What happens when the said replacement is an incompetent, scatterbrained sprite whose blood-curdling laugh sounds more as though he's choking on that particular night's dish of mashed potatoes and gravy? This was the premise explored by the one act "Lessons in Fear", directed by junior Aaron Chong. While the plot itself was enough to provoke a smirk from the audience, the hilarity  of the skit can be fully attributed to the on-point deliveries of the actors: Patrick Van Bonn's ability to depict an incredibly distressed and irritated Bogeyman, Anjali Pajjuri's hysterical portrayal of Leon that provided the Bogeyman something to be incredibly distressed about and Shri Prasanna's shameless wife-rules-all rendering that reminded audiences even the Bogeyman is afraid of something. Amusing and delightful, comedic and entertaining, "Lessons in Fear" was definitely one of the highlights of the night, providing an excellent example of the Drama Department's uncanny ability to make its audience members simply laugh.
"The Red Coat"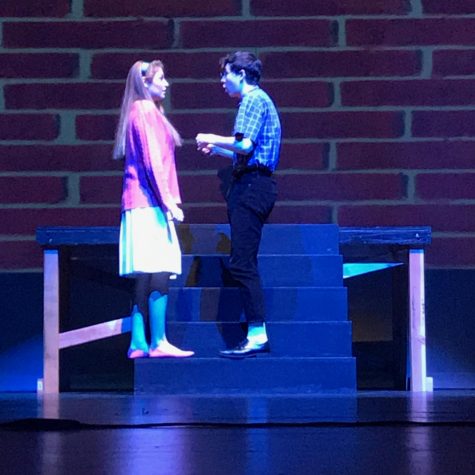 The One Acts closed with "The Red Coat", directed by senior Priyanka Kedia and starring Carson Merrick and Ellie Laurent/Acacia Tripplett in the roles of John and Mary, two teenagers who fall in love astonishingly quickly outside of a party neither wants to attend. Upon their meeting, John confesses that he's been waiting for Mary to show up, accidentally admitting that he loves her. Carson Merrick stole the scene with his rambling and awkward gestures, and the directing in this act is stellar as well, as the two characters constantly run back and forth, gesturing wildly and spinning around each other in a gratifying way. Considering that some parts of John's actions definitely cross into a stalkerish territory, and the immediacy of them falling in love is unrealistic at best, parts of "The Red Coat" are perhaps best enjoyed when one approaches it as a satire of common love stories. Regardless, it's simple and sweet, and that's all it really needs to be.
Overall, while the plots of some of the One Acts felt lacking from time to time, the performances by the actors and the directors were what really made the show shine. Katherine Stafford, who directed "Mint Juleps", remarked that "I loved being a director because I got to experience the acting process on the other side." This sentiment was echoed by many of the other directors, most of whom have experience acting in DHS productions. Their sense of pride and accomplishment was shared as well. Aaron Chong, who directed "Lessons in Fear", noted that "the process was so much fun, seeing my cast grow . . . the actors created a wonderfully funny and creative show and I couldn't be more proud of them."
About the Contributors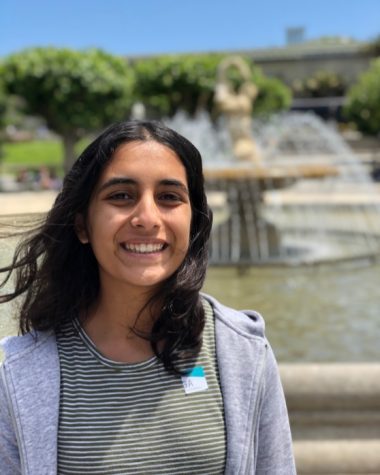 Riya Chopra, Editor-in-Chief
Riya Chopra is a senior at Dublin High and one of this year's Editors-in-Chief. She enjoys writing about everything from school board meetings to the opinions...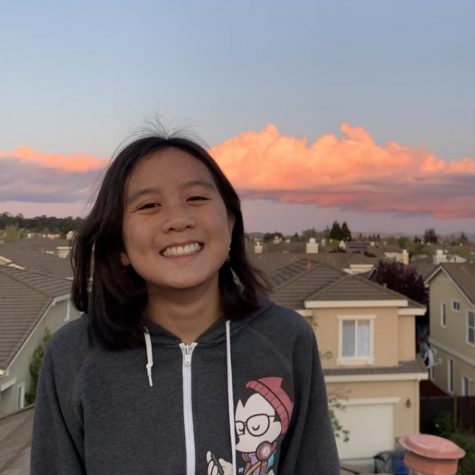 Danielle Tran, Editor-in-Chief
Danielle Tran is a senior at Dublin High and one of this year's Editors-in-Chief. She holds a deeply-rooted passion for writing, and has dreamt of becoming...