DHS Reacts: What are your thoughts on distance learning?
Two and a half weeks into the school year, distance learning still feels like an unfamiliar concept. With an updated bell schedule coming into effect on Monday (8/31), and frequent changes to Zoom and Canvas, it's hard to believe learning environments are now limited to students and their screens. 
In the past week, The Shield asked the Dublin community to rate their distance learning experience on a scale of one to five; one representing a strong dislike for distance learning, and five representing a strong preference for distance learning. Ultimately, we strived to answer one question: As the students and staff being directly affected by the pandemic, what are your honest thoughts on distance learning?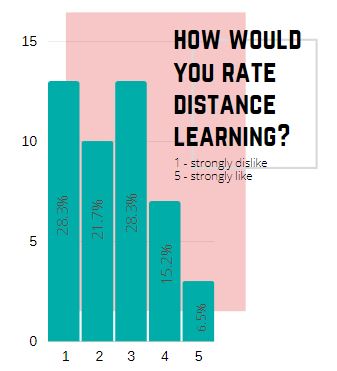 Ratings
"I can't focus and I'm having trouble finding assignments." – Colin Franklin, 9 | Rating: 1
"We like it. The lecture time is not as drawn out and a waste of time and the workload will seem better too." – Kimberly Mehr, Parent | Rating: 4
"I like staying at home and not being late for stuff, but I don't think it's as productive and I don't see my friends." – Austin Thai, 9 | Rating: 3
"My son really likes the Canvas model since all the assignment and due dates are all in one place. I think it's too soon to form an opinion yet. I am OK with school continuing the same way for health reasons." – Armita Akbarnejad, Parent | Rating: 4
"I can only really focus in dedicated learning settings, such as at school or in a library." – Ananya Varshneya, 12 | Rating: 2
"Of course distance learning has its benefits and all like waking up later, but I don't like that I have to sit in the same place all day, and I feel like if we did go back it would be better I mean we can all social distance, wear our masks, have distance in the classrooms or have some outside class time. I just want to be able to have a good senior year with memories that are not just a class through a screen." – Ashly Mejia, 12 | Rating: 1
"I really like distance but I wanna meet new people and my teachers." – Surya Ramakrishnan, 9 | Rating: 4
"Distance learning isn't to bad but i'm so looking forward to finally making it back to school! I would want to be able to interact with my teachers and peers in person, join clubs or teams, and attend dances and games which I was really looking forward to this year. As a freshman, its a bit sad that we can't experience the first year of high school in person but eventually we can get through this and be extra excited to see each other again when the time is right!" – Alisha Arora, 9 | Rating: 2
"I think staring at a screen for 4 hours is a hecka long time and some teacher's also make assignments due that day which isn't that hard but the amount of assignments they want us to do. Sometimes the teachers connection is off and we have no clue what three are saying or what to do." – Sylvie Christianson, 11 | Rating: 1
"Two reasons why I hate distance learning: -I have to stare at a screen all day and it makes me dizzy and exhausted easily. -I have too much asyncronous work." – Shawn Lim, 10 | Rating: 1
"Distance learning provides some unique opportunities that are awesome for students and families to experience. Naturally, it also comes with many drawbacks and challenges, but until it is truly safe to return to in person instruction, we can make the best of it!" – Lori Beth Eisenstadt, Parent & Teacher | Rating: 3
"Although I wish we were back to on-campus learning, I understand it's for everyone's safety. I just wish seeing my peers in person rather than on a screen." – Amanda Signo, 12 | Rating: 3
"I like that I don't waste time in my day just to drive to and from school but it is difficult switching from one set of class one day to a different set the next day, and having to remember all of my assignments and when assignments from previous classes are due. I like having longer periods to learn more and ask more questions. The 5 minute breaks go by quicker than I'd expect." – Jasmine Colunga, 12 | Rating: 2
"I don't like distance learning as much as in person school. I find distance learning to be less engaging and more confusing." – Esha Shenoy, 9 | Rating: 2
"I like distance learning because I can do everything from the comfort of my own home. I also don't have to deal with other people, now don't get me wrong I miss my friends. But quarantine really exposed people." – Anika Soto, 10 | Rating: 4
"I like it but there's so much work that I am staying up until 3 am every night." – Anya Sengupta, 10 | Rating: 3
"The lack of physical school and real life interaction make assignments, dates, and deadlines far less tangible. I find myself less motivated to learn and be productive overall." – Katie Cheng, 10 | Rating: 2
"I feel that students work better in a physical learning environment." – Anika Rao, 9 | Rating: 2
"I hate it because when I log on there is a lot of lag. I miss the social aspect of school like being with friends and see my teachers." – Dominic Totah, 10 | Rating: 1
"The structure and content of distance learning has exceeded my expectations so far this year. It is WAY better than in the Spring, which I realize was very reactionary for everyone. But, I give it a 3 because my kids would be MUCH happier in a live classroom, being able to see friends and teachers, etc. instead of stuck at home." – Jennifer May, Parent | Rating: 3
"It's pretty hard to get to know the people in your classes and make friends when everyone's on mute and staring at a screen, which isn't great since I'm new here and hardly know anyone." – Lavanya Narendiran, 11 | Rating: 2
"Asynchronous learning is a fancy term for learn-on-your own, for "homework". Some kids are fine with it, but not all. Learning minutes per day are reduced by 30% & now Wednesday's are completely student learn-on-your-own. Reality it students are only receiving 50% teacher led-learning & it's simply not adequate." – Andrea Mock, Parent | Rating: 3
"I just moved here from Hawai'i, and I would love to go to school with other people, and not just be online. I'd enjoy meeting new friends and going to school with friends from when I lived here before." – Sage Roys, 9 | Rating: 2
"It is a good think the distance learning is in place, because if it weren't for COVID-19, students would have to be home due to poor air quality. In fact, distance learning plans should have been in place a long time ago given our state's predisposition to earthquakes and fires. State's in the East and Midwest have reduced the number of closures due to snow by implementing the same plans. We need to remain prepared." – Carol Totah, Parent | Rating: 3
"I don't necessarily hate it, I'd just prefer to have in person learning and see everyone again." – Mandy Tran, 12 | Rating: 3
"I struggle focusing on my own. It's easier to stay focused when in class with teacher." – Shane Neves, 9 | Rating: 1
"It is taking some getting used to but it was the overall best choice, for now." Eboni Tompkins, Parent | Rating: 4
"My above rating means that I'm ok with distance learning as I'm dealing with issues with network on zoom meetings." – Andrew Durai, 11 | Rating: 3
"Distance learning is Awesome!!! It really helps me learn and work, I hope we stay in distance learning even after corona!" – Angad Chibber, 9 | Rating: 5
"This year is different because of distance learning. For most people it takes time to get used to it but it's not the same as learning in person. Everyone has their own way of learning things and I learn better in person. There are good things about distance learning which is that its keeping the community safe, and I don't always have to wake up early. But I miss being in a classroom surrounded by other kids and doing things hands on. I miss talking to the students and staff at DHS. I miss going to the rallies, participating in clubs and there's so much more to miss. I'm happy that I got the electives I wanted this year but I would rather be there in person to gain the experience. But I understand hat distance learning will be the only way of learning for now." – Sruthi Subbaiah, 11 | Rating: 3
About the Contributor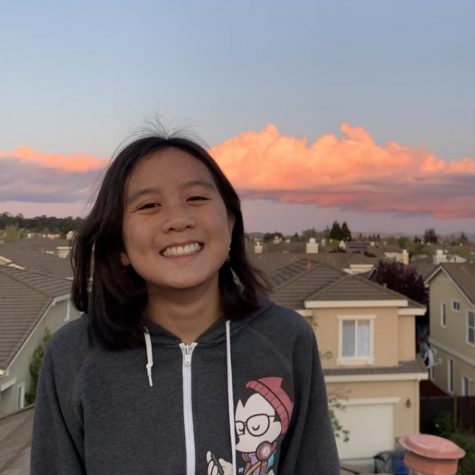 Danielle Tran, Editor-in-Chief
Danielle Tran is a senior at Dublin High and one of this year's Editors-in-Chief. She holds a deeply-rooted passion for writing, and has dreamt of becoming...