DHS Students initiate social media campaign against AAPI hate
The past few weeks have proven a tumultuous time for varying ethnic groups. In addition to the passionate response to discrimination faced by African American communities, especially in emphasis with the ongoing trial of Derek Chauvin and the recent killings of Daunte Wright and Adam Toledo, the Asian American community is taking a stand against racially-charged acts of violence. On March 26, 2021, in Atlanta, Georgia, a gunman killed six Asian women amongst a total of eight casualties—sparking necessary conversation and action against hate towards AAAPI communities. One group of DHS students resolved to be part of the movement, initiating a social media campaign to bring the mission to the local community.
"For me, the main turning point was the shooting in Georgia," sophomore Brandon Maskey, a co-founder of @EndAAPIHate, explained. Victor Thai, a sophomore and one of the founders of the organization, echoed Maskey's sentiments. "I was on a call with Ryan Lin [a fellow founder], and we were talking about the constant hate directed towards us. Honestly, [this organization] was us not waiting to put up with it anymore." 
@EndAAPIHate is a Tri-Valley organization created to eliminate hate towards Asian American and Pacific Island communities. Their current audience is modest, with roughly 50 followers on their Instagram. Maskey explained how their current efforts rest in spreading the word of their campaign, and educating the community on the history of hate towards AAPI communities. "We're going through the years," he outlined, "beginning when discrimination against Chinese immigrants picked up during the mid 1800's with the California Gold Rush. Fast forward 150 years later, there's still so much hate towards the Asian community, especially when you look at tragedies such as the shooting in Atlanta."
Additionally, Thai challenged students to examine current curriculum within their classes. "Did you learn about the Chinese Massacre of 1871 in your history class?" he demanded. "Or any acts of hatred towards AAPI communities, or even contributions made by individuals from the AAPI community?" He acknowledged how they've reached out to fellow student organizations such as the Black Student Union and the Dublin Inclusion Project to enhance their efforts. "We need to stop sweeping things under the rug," he asserted. "It's so important to learn about diverse perspectives, contributions and acts of hate towards African American communities, LGBTQ+ communities, etc. We want to make sure the history of AAPI communities is included in that, too." 
However, there remains much work to be done. "Right now, I'd like teachers to speak out on the matter," Thai firmly stated. "Having to contact teachers first is honestly disappointing. I wish more teachers would raise the conversation." Thai's plea to teachers stemmed from his understanding that the elimination of AAPI hate requires the involvement of all community members, not just those within the demographic. In a conversation with Councilmember Jean Josey, Maskey recalled a mutual understanding: "It's not just going to be Asian Americans. It's going to be the advocacy of all sides of the story: male, female, all sexualities, all ages." He translated his point to a legislative one: "[Furthermore,] it needs to be viewed as an issue in Congress. There was a bill that necessitates Congress to report these attacks. It shouldn't just be at a national level, there should also be action on the state level to combat hate towards AAPI communities."
@EndAAPIHate holds many plans for the future, including, but not limited to, hosting rallies and events regarding the issue. "We should be using our voice more," Maskey acknowledged. "There was a rally two weeks ago—local officials came out to speak from the bottom of their heart about how to combat bigotry. There's also youth action." Their goal is to expand their current educational efforts on social media to larger, more encompassing speaking engagements. 
As grandiose as their plans seem, Thai emphasized his more personal motivations. "There are attacks against elderly Asians happening all over the community," he noted. "I think of my own grandparents. If they were here right now, I would be scared for them. That is really not what I want: AAPI communities living in fear." 
Ultimately, the organization hopes to contribute change in an era where such is necessary. Like other social justice movements, they don't expect results overnight. However, step by step, day by day, they believe in their impact. "It's going to take some time, [but] it's an issue we all want to end," Maskey stated. "We just need to unite. We just need to come together." 
To those unsure how to contribute to the movement, Thai encouraged, "Don't be a bystander. Share research and information, share why [the mission is important]. We should never be saying because you're not Asian, you're not a part of this—we think everyone should be doing this. We want us to do this as one community, one whole, to fight against Asian American hate."
To support the movement, follow @EndAAPIHate on Instagram or visit the gofundme page to donate.
About the Contributor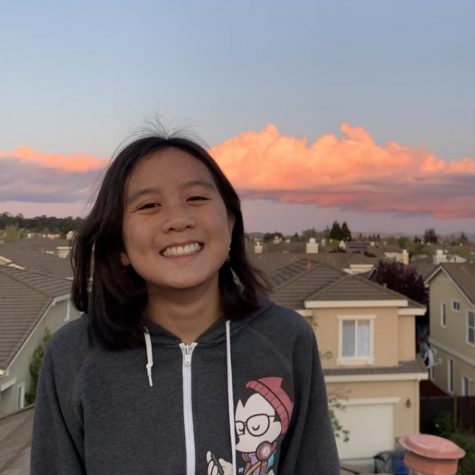 Danielle Tran, Editor-in-Chief
Danielle Tran is a senior at Dublin High and one of this year's Editors-in-Chief. She holds a deeply-rooted passion for writing, and has dreamt of becoming...