DHS Hosts the 2019 Special Olympics
Hang on for a minute...we're trying to find some more stories you might like.
On Tuesday, February 26th, schools from across the Tri-Valley gathered at DHS to participate in the 2019 Special Olympics. In light of the rainy weather, students were ushered indoors to participate in basketball games hosted in both, the old gym as well as the Sports Complex. However, the stormy conditions did little to deprive athletes and volunteers of an exciting experience as they engaged in fierce competition that undeniably strengthened the community.
For many students with disabilities, the Special Olympics provided an opportunity to be the star athlete on the court. While volunteers and referees participated in each game, they limited themselves to the role of supervisors, allowing their fellow classmates a chance to take center-stage. The fundamental tasks such as scoring and dribbling or passing the ball up and down the court were left to the students — an opportunity they took with incredible enthusiasm. "[My favorite part was when] I got to play two rounds!" said freshman Renee Wong. Following each basket, erupted in thunderous applause as each athlete received the recognition and encouragement they deserved. Perhaps the most heart-warming aspect was the fact that the applause was not limited to your own home team.
However, the Special Olympics goal of creating an inclusive environment did not limit itself to those with disabilities. All of the active volunteers would agree it was an amazing experience that they enjoyed significantly. Junior Giuli Vicente, one of DHS's newer students, explained that she found out about this event through a friend. Giuli was already enrolled in the Co-Op PE course and worked with students with disabilities on a daily basis, therefore, her PE teacher was thrilled to allow her the chance to take part in this event. "I really liked [the Special Olympics] and was happy I could volunteer," Giuli exclaimed. "It was great to see the outcome!"
At the beginning of the event, Giuli assisted with sign-ups as other schools began arriving. Towards the later afternoon, Giuli was given the opportunity to actively play with the students — running up and down the courts and passing the ball to a DHS athlete whenever she could. "My favorite part was helping out with one of the games that our school played in," she explained. While physically exerting, it was hard to deny the fun that might come out of such a task!
At the end of the day, the Special Olympics was a huge success, providing all participants an early teaser for the Track & Field Special Olympics in spring. It was an event that was, quite literally, fun and games, however, it also encompassed important themes such as sportsmanship and inclusion. "I think hosting the Special Olympics is important because it shows that we are an inclusive family," Giuli acknowledged. "We like to bring everyone together as one into our school." When asked if she would participate in another Special Olympics event, she exclaimed, "Absolutely! And I encourage everyone to take part [as well]!"
About the Writer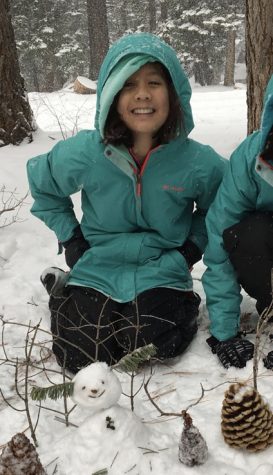 Danielle Tran, Student Life Editor

At first glance, Danielle Tran is a typical Asian girl with inconveniently uncooperative hair. On a closer lens, she is a passionate creator, and can...