DHS Engineering Team Achieves First in State Finals
"At that time, there was no better thought in my mind that thinking about winning the states, and the look on the faces of the 2nd and 1st place regional winners and everybody else looked as three freshman won the whole thing."
So are the words stated by freshman Edmund Totah, one of the team members on the DHS Engineering Team participating in the Chevron Design Challenge. In April, Totah and his teammates, freshmen Mandy Tran and Luke Doueihi, walked away with a solid third place in Regionals, solidifying their slot to advance to States. On May 5th, they entered Amador Valley High School with pounding hearts, buzzing minds, and the chance to come away as Chevron Design Challenge Champions, not to mention new owners of Lenovo gaming laptops. And take that chance they did.
This stage's challenge required students to design a roller-coaster cart for Dizzy Wallyland's latest Star Wars attraction, with the following constraints: The cart must be able to carry 4 passengers, incorporate design elements from the Star Wars movies, and be appealing to the eye, amongst others. DHS's team presented judges with The ESS Burning Star, a vehicle that included 2 blasters, a cockpit decorated with an assortment of buttons, and wings complete with the iconic rebel symbol. Totah remarked that creating the design required them to, "bring out some of [their] inner 7-year old," which enabled them to have, "a lot of fun with the design process."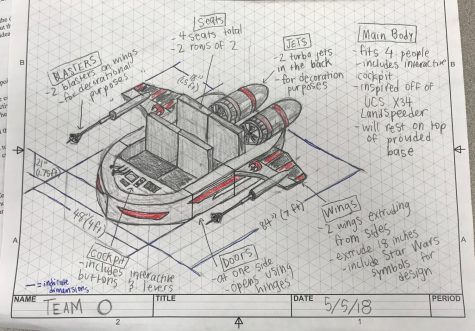 Looking back upon their growth coming from Regionals, this team would definitely agree on an evident improvement. Tran admitted, "I think if we had gone directly into States without Regionals, there would've been no way we would've won. We had a LOT of mistakes in Regionals and we took it upon ourselves to learn from them and perform our best at States. States, in my opinion, was actually easier because we already had a general picture of how the day would play out and we also knew what we needed to improve on from Regionals to earn the top spot." Totah couldn't agree more, explaining how they, "managed [their] time more efficiently" and simplified their design brief so that their, "technical drawings, exploded view, and assembly was easier to complete and […] looked better for scoring." Their engineering teacher, Mr. Adam Brown, explained, "I think they developed the most when I asked them to reflect on their strengths and weaknesses from states. Based on their responses and my knowledge of the judging I was able to help guide them in their teamwork again for states. They already possessed all the skills needed to succeed. They just needed some time to talk and reflect on how they could use those skills better as a team."
When asked whether or not they actually believed they'd win, the team had a varying range of answers. Doueihi stated, "I believed we had the drive to win the competition, [but] was nervous." Totah held a much more confident perspective, saying, "[T]here was no doubt in my mind that we had won," while Tran's answer was, "To be honest? No." She added quickly, "I mean, I thought we had top five potential, but definitely not first. I guess that fact made our success an even nicer surprise."
However, when they were announced as the state championships, the team did share a few common emotions: disbelief, shock, but above all, happiness. "As soon as I heard, 'To letter O!' (our team ID), I jumped up out of my chair screaming," Totah recalled. "I couldn't believe it! We had done it and it felt great! It took a while to calm down enough so I could smile for pictures." Tran remembered having similar thoughts. She explained, "I don't think there is any other way to describe it but happy. I was thinking: did we actually just do this? Like, two months ago we were literally trying out for the team and now we had won states? Imagine, I was so happy to make it on the team, let alone win the whole competition. I think I was floating through the whole thing, like this shouldn't be real." Mr. Brown, evidently, had much to be proud of for his students. As their main guide and supporter throughout the entire process, he was incredibly humble, saying, "I was extremely happy and overjoyed. I knew they were capable of it and I was extremely proud of all the work and time they had put into this competition."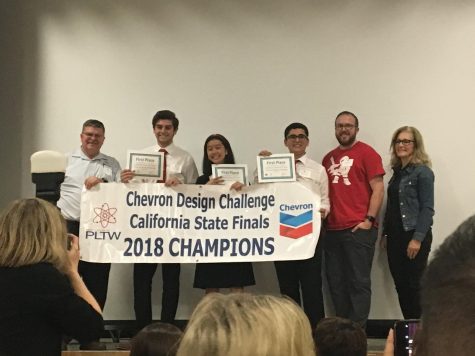 Overall, these freshmen would definitely agree this was a memorable experience that taught them a number of valuable life skills. It was a memory to be proud of, and a doorway to endless possibilities in the engineering world. This competition served to emphasize their immense potential, as long as they were willing to put the effort in. "I'd generally call myself a shy person, so this experience has boosted my confidence a little," Tran admitted. "This was actually my first 'real' competition and it will definitely encourage me to participate in others as I grow older. But in addition to competing, the experience also showed me how much I love engineering and creating things. It opened my mind to the thought that maybe this could actually be something I want to pursue in the future."
Doueihi, himself, couldn't have phrased his ultimate thought better. As a teenager who enjoys indulging himself in the occasional video game, earning a gaming laptop was unquestionably thrilling. However, he acknowledged this was not about the prize. It was about the experience. It was about coming away a champion. "I wasn't thinking about anything," he said, "but the fact that I could walk out of that place with not just a laptop, but a story of an accomplishment."
About the Contributor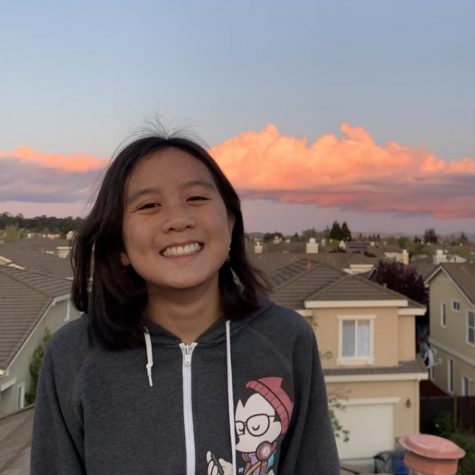 Danielle Tran, Editor-in-Chief
Danielle Tran is a senior at Dublin High and one of this year's Editors-in-Chief. She holds a deeply-rooted passion for writing, and has dreamt of becoming...