Skit Practice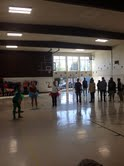 Dancing, cheering, and having the best class spirit are all parts of Homecoming week, but before we can get to the celebrations of Homecoming, there's a lot of preparation that goes into everything, especially the class skits.
"There needs to be a lot of people and ideas, we need to choreograph the dances with the music, the DJ. and we need parents to help with costumes," says junior Karina Gurusiddaiah.
The class skits are always a fun thing to watch because each class makes fun of the other classes and everyone just lets loose with craziness. This year the Homecoming theme is revolved around Disney (Seniors: Fantasyland, Juniors: Tomorrowland, Sophomores: Adventureland, Freshman: ToonTown) and you can be sure to expect some weird skits.
"My favorite part of this year's skit is the lightsaber battle," says junior, Calvin Loebrich.
Most students, except freshmen, have been in the skits before and they came back because of the great experiences they had.
"I've been doing the skits since freshman year. It brings class unity every year," Senior Kendra Clingerman tells us.
Knowing how hard students work to put these skits together is awesome because it shows how much leadership students have to create a script and dance all on their own.  What you may not know is even though there are teacher advisors for each class, the students are the main ones making the decisions about the practices and the performance. The dancing, practices, and the hard work all show how much spirit each class has. Make your class the best at Dublin High!