DHS Men's Basketball: EBAL Champions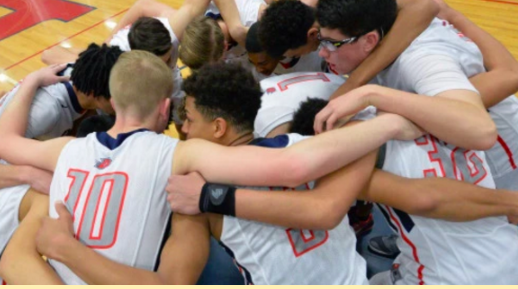 Following the loss to De La Salle on January 26, 2017, the Dublin High Basketball team vowed to avenge their loss on a bigger stage. This opportunity to call it even came around on February 18, 2017 when the Dublin High Basketball Team faced De La Salle High with a home court advantage. This was no ordinary match, as the #2 seeded Dublin Gaels prepared to face the undefeated De La Salle Spartans in the East Bay Athletic League (EBAL) Championships.
Dublin High's regular season record was 23-3 and 11-2 against other schools in EBAL, propelling them to the 2nd seed in EBAL and 29th in the state. In the playoffs, prior to the EBAL Championships, Dublin had to face off against rival school Dougherty Valley in the semifinals and blew away Dougherty Valley with a box score of 67-44.
February 18 finally rolled around and Dublin High was projected to be the underdogs for the match. Prior to the game, De La Salle had been on a 16-game winning streak and have managed to defeat Dublin High by 6 points on January 26th. Most people predicted that Dublin High would be crushed by De La Salle but they would all be wrong.
However during the first half of the game, De La Salle played like they were expected to, leading 26-19. The slow tempo of Dublin High's play style was easily tenable for De La Salle, prompting Dublin Coach Tom Costello to pick up the pace. "We just tried to brainstorm different ways to speed up the tempo a little bit, get a tempo in our favor," explained Costello. "The guys stepped up and really did a good job of doing that."
The game started to get close, with the score now altered to 51-49. De La Salle narrowly lead the Dublin Gaels at 23.2 seconds but all hope was not lost. The players picked up energy and  had a rush of adrenaline."I picked up my energy and was shooting more shots. It just came to me," said Gaels freshman player Robby Beasley. Dublin sent the ball to sophomore Grant Manning and a quick jump shot sent the game into overtime.
In overtime, Manning put up a three-pointer to give Dublin High a lead they would never relinquish. Senior Tim Falls scored 6 points to make the final score 64-60. Dublin students ran to the court from the bleachers to celebrate their victory over the #1 league-ranked De La Salle.   
The victory was certainly a surprise for all Dublin High students and a well-earned one too. The DHS Basketball Team is also currently on the verge of becoming NCS (North Coast Section) Champions. Good Luck and Go Gaels!