Quest for Glory Ends for Gaels
On Friday March 1, the Dublin High School Men's basketball team put on their jerseys to play Newark-Memorial High. They went on a bus ride to Washington High School to compete for the NCS championship.
  The final score was 74-60 and Dublin came up short, but they played a tough game. The Dublin Gaels haven't scored fewer than 85 points in any of their three playoff games and had been explosive throughout a season that saw them capture their first league title in 40 years. They also broke the single-season school record for most wins in a season.
  "Although we didn't get the win, we played our hearts out. Now we are focused on winning state," said Senior Jamir Andrews.
And that's what they did.
  On Saturday March 16, the men's basketball team went to the Sleep Train Arena in Sacramento. They played College Park at 12pm and lost 93-90 in overtime. The Gaels didn't give up in the fourth quarter by overcoming a 6 point deficit to tie it up.
With 1.6 sec left, Senior Spencer Hollie tied it up 83-83, making a layup as he was fouled; he then missed a free throw that would've put the Gaels up by 1.
 "It's time to TURN UP!" Hollie said to his teammates.
  The bleachers were filled with many screaming fans and the spirit was shown throughout the entire game.
 "The atmosphere was incredible, I've never played in front of that many people before and our Sixth Man was amazing too," Senior Devin Koeplin said. "I was disappointed with the loss, but proud of my team for getting to where we are today."
    "I just wish I could've played in the game but we made a good comeback and it definitely showed," Koeplin said. "We had bad luck at the end, but I'm still proud of our team.
Although the Gaels didn't get the win, Senior Jojo McGlaston set a new NorCal regional record with 35 points scored.
    The fans, also known as the Sixth Man, began to chant, "We are Dublin."
According to the boys, it was the best turnout of fans that they ever had in years and the team has made accomplishments that will forever be marked in school history.
About the Contributor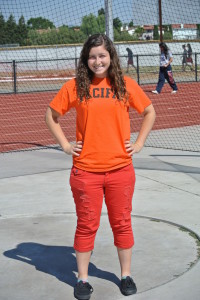 Michelle Goldstein, Copy Editor for Entertainment and Sports
Hey everybody, name is Michelle Goldstein and I am a senior in high school. What I like most about Journalism is being a part of a great team that distributes...