DHS Winter Percussion and Winter Guard family and friend's night recap
This past Wednesday, March 23, DHS Winter Percussion and Winter Guard teams hosted a Friends and Family night in the Sports Complex to showcase their 2022 performances. Teams from Amador Valley High School, Foothill High School, Fallon Middle School, and Wells Middle School performed as well. 
DHS Winter Percussion and Winter Guard teams meet outside of school between November and March to prepare for their competitions in February and March. Most members on these teams also participate in marching band or color guard in the fall, but some decide to play a new instrument for Winter Percussion.
"I think the best moment of the season had to be the friends and family show," Alyssa Miceli, Front Ensemble Captain, told the Shield. "The energy in that room is unmatched to that of any other show we get to perform at, and it's a real gift to be able to perform for our peers!" 
The night started at 7 pm with winter guard performances from Fallon Middle School, directed by Nick Garcia, and Wells Middle School, directed by Erik Bertelson. 
Maurissa DeMello, DHS Guard Captain, commented, "I coach Colorguard for Wells Middle School and Cottonwood. I was super proud of them and I love all the kids that I coach. They were just so confident and I was so proud of how they progressed throughout this year."
Following the middle school performances, Foothill High School winter percussion and winter guard teams performed. Foothill High School's winter groups are under the direction of Efrain Hinojosa.
Next, Amador Valley High School took the floor. Directed by Jonathan Grantham and Edwin Cordova, Amador Valley had two winter percussion and two winter guard performances. At AVHS, both winter percussion and winter guard have a Varsity and a Junior Varsity team.
Each high school also took a moment to recognize the Class of 2022 Senior performers in front of their families and friends. In return, students from each school recognized their instructors with posters or gifts.
"A huge thank you to all the schools for coming to perform at the show, and a special shout out to Foothill percussion's student leadership for helping me organize a few crucial things that night!" Miceli commented.
Lastly, Dublin High School Winter Guard and Winter Percussion performed under the direction of Elliot Polot.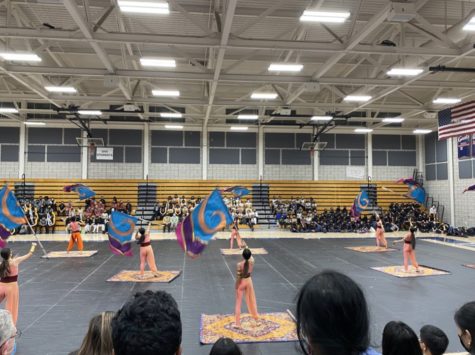 The Junior Varsity Winter Guard gave an energetic performance titled "Mysteries of Agrabah", complete with magic carpets. The Varsity Winter Guard gave a moving performance titled "In Another Life".
"Our JV show, Mysteries of Agrabah, is basically Aladdin. It uses the new soundtrack from the new Aladdin, which is super cool." DeMello told the Shield, "Our Varsity show is actually about our coach's mom who passed away when he was in middle school." 
"This part of our show hasn't been incorporated yet, but we're supposed to pick someone we perform for and dedicate the show to. I feel like this helps encompass everyone in the show. The show's supposed to make you think of a loved one that you miss and to remember them."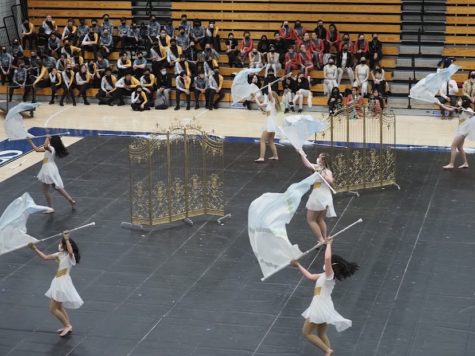 To close out the event, the DHS Winter Percussion performed their show "Ripple Effect".
"It feels amazing to finally be back to performing during winter again! At first, it was almost unreal to be experiencing the same things from 2 years ago, but eventually, we got used to it again!" Miceli told the Shield.
"Naturally with not doing this for over 2 years, some challenges were bound to pop up. Most of these were simply organizational but either way, just as the Irish Guard always does, its winter program persevered through it all!"
What else is coming up for the DHS Winter Guard and Winter Percussion?
The winter guard teams are taking their show to a championship competition on April 2.
Both winter percussion and winter guard will be having a Senior Night after spring break! This night will honor all the Senior members and will feature DHS performances.
About the Contributor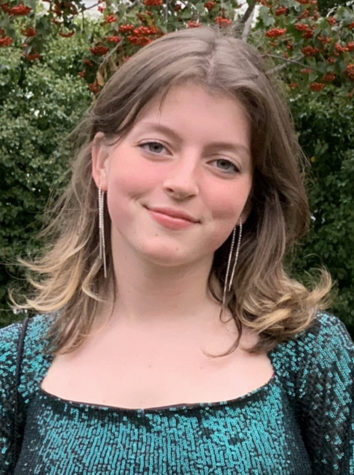 Catrina Currier, Staff Writer
Catrina Currier is a junior at Dublin High and a staff writer for Shield. This is her first year in Shield and she looks forward to exploring journalism....