The 10th Annual Irish Guard Invitational
On Saturday, October 9th, the Dublin High School Irish Guard Marching Band and Colorguard hosted ten other schools at their 10th annual Invitational field show competition. Located on the Dublin High School campus, they kicked off their field show season and welcomed neighboring bands in one of the first competitions after over a year.
Due to the COVID-19 pandemic last year, the performers of the DHS Irish Guard Marching Band and Colorguard were unable to have a typical marching season. With most students back on Dublin High's campus for in-person learning, the marching band and color guard have been able to practice regularly and prepare an eight-minute field show that they will perform at four different competitions. 
"Every fall, high school marching bands learn a unique field show that they perform at competitions for a score and a placement among the other schools. We are fortunate to host one of these events every year," reported Elliot Polot, Director of Bands at DHS to the Shield. "We want to give the visiting performers and their families the best possible experience performing their show so that they enjoy their time in Dublin and choose to return the following year."
Other schools featured at the DHS Irish Guard Invitational included Terra Nova High School, the King's Academy, Ann Sobranto & Live Oak High School, Branham High School, Mountain View High School, Milpitas High School, Castro Valley High School, Foothill High School, Amador Valley High School, and James Logan High School.
The Invitational kicked off at 5:00 PM with an opening performance of the "Star-Spangled Banner" by DHS senior and choir student, Harini Shankar. 
Many members of the DHS Irish Guard had never seen other bands perform competitively due to the 2020 competition season being canceled. 
"It was really cool to watch other competitive bands for the first time," commented DHS sophomore Elizabeth Mugambi to the Shield. "It was nice to see other band kids and how much work they put into making a great show. I was blown away by their musical skills!"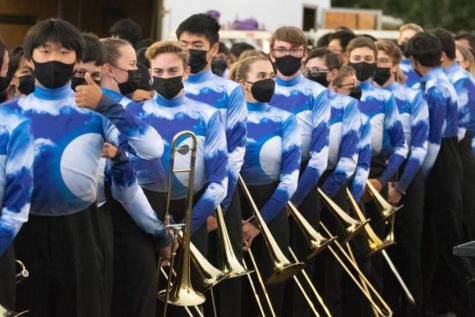 In addition to not seeing other bands perform, many of the DHS Irish Guard members had also never performed competitively before. 
"It's been a while since people have felt the rush of adrenaline from performing," said Sylvia Khouri, a DHS senior and the band's president. "Some members were nervous and some were excited, but mostly we were proud that we could finally showcase all our hard work to the community!"
The DHS Irish Guard closed off the evening by giving the last performance. Since Dublin's band hosted the competition, they were only judged for exhibition purposes. 
"The Irish Guard parents who organized the event did a fantastic job. They worked tirelessly to ensure that every aspect of the event was smooth and organized," Mr. Polot commented, reflecting on the Invitational. 
"Catering also did an incredible job cooking and packaging food for the visiting Band Directors and staff members. The Irish Guard students were kind and respectful, and the custodial crew left the campus in pristine condition. One of the most memorable moments from the event was during the Irish Guard's performance: Just as the band progressed from its slow, lyrical introduction into its fast-paced opener, an array of geese came flying overhead. It seemed like part of the show!"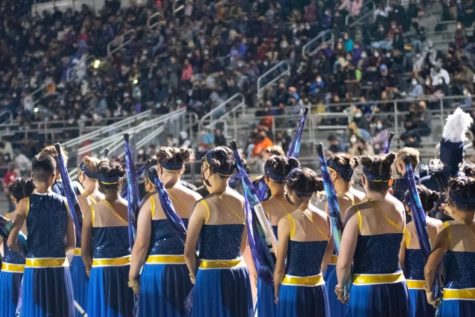 What else is the DHS Irish Guard looking forward to this season?
"Of course I am looking forward to performing more, but I am also looking forward to publicizing and sharing our music with DHS and the Dublin Community," Khouri remarked. "Now that we are back in person, people won't take this art for granted. I certainly will not take performing and all the long Saturday and Wednesday practices for granted anymore!"
"This season has required remarkably high dedication and creativity from both the students and instructional staff to meet the high standards of the Irish Guard," reported Mr. Polot, regarding the challenges the band has faced. 
"More than half the Irish Guard is brand new, and the remaining students haven't marched in almost two years. On top of this, we are in need of new instruments and instructional tools that we cannot yet afford. However, the effort we've put in this year will nurture future leaders who will take the Irish Guard to new heights!"
If you missed seeing the performance of the DHS Irish Guard at the Invitational, members of the band will be performing at a "Friends and Family Show" at Dublin High School on November 18th, 2021 at 7:00 PM. Neighboring marching bands from Amador Valley High School and Foothill High School will also be in attendance.
Click here to watch a performance of the DHS Irish Guard's performance at the 10th-annual DHS Invitational. ∎
About the Contributor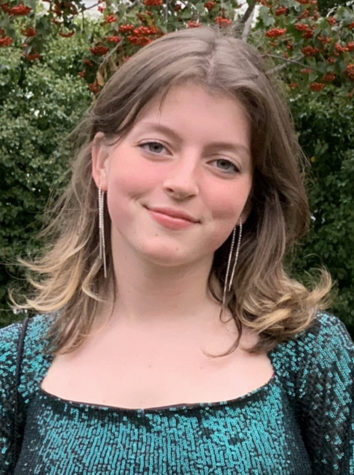 Catrina Currier, Staff Writer
Catrina Currier is a junior at Dublin High and a staff writer for Shield. This is her first year in Shield and she looks forward to exploring journalism....