Class of 2021 advisors and parent reps surprise seniors with drive-thru event
On January 13, 2020 – students arrived at Dublin High School to receive a special surprise: a water bottle with the Class of 2021 logo and boba courtesy of Kiss my Boba. Teachers, School Administrators, and District representatives were all eager to greet students.   
Between losing their prom and missing the last year and a half of their high school career, it would be safe to say that Dublin High's Class of 2021 has had it rough. With the turn of the calendar, 2021 sadly brings few changes. Since graduation is just five months away, seniors have acquired the much anticipated "2nd Semester Senior" title. However, public health restrictions prevent them from enjoying the traditional celebrations.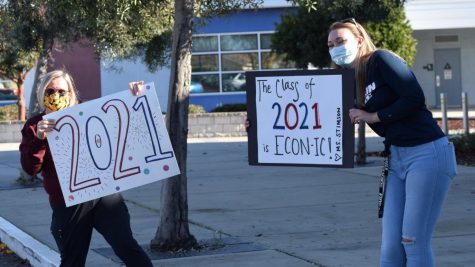 In a traditional year, being a 2nd Semester Senior calls for celebration, often filled with graduations, dances, and parties. However with the pandemic hitting record milestones, the likelihood of these events happening is unfathomable. Hoping to still celebrate the class' achievements, the Class of 2021 parents and advisors faced a difficult question- how to conduct a celebration while prioritizing the safety of the students? 
Their answer was simple: "We decided we need to kick off 2021 with some fun and planned [a] drive-by event," said Alissa Whitney – a class of 2021 parent representative. "We hoped for it to be an event where you could get out and mingle, but we made it a drive-thru event because of the Covid Numbers," added Ms.Jennifer McCort, one of the two Class of 2021 faculty advisors. 
During the three hour drive-thru, nearly 625 bottles and accessories were distributed. The bottles were produced from the company BYOG, which also made the Senior hoodies, using class funds that over the course of four years had fundraised.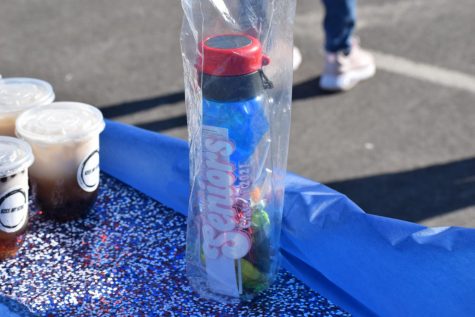 Students arrived with their cars decked out in class spirit wear, to collect a transparent water bottle, doning the Class of 2021 logo and filled with sugary snacks. Students who arrived early also got the opportunity to pick up a boba tea courtesy of Kiss My Boba, a local Boba company. Last year, Kiss my Boba was set to cater the Junior Prom at Ruby Hills (?). 
While the three flavors offered, Classic Milk Tea, Jasmine Milk Tea, and a Sourpatch Watermelon Green Tea, ran out quickly, it was the thought that really mattered. Many students had not seen their friends in person since March of last year. "[I was] beyond thrilled to drive through campus and see familiar faces after such a long time," said Nimrit Kaur, a senior who attended the event.
Over 40 teachers, parent volunteers, and district officials showed up to the event carrying signs to celebrate the Class of 2021. "The cross country coaches were cheering and bouncing up and down while ringing tiny bells and waiving posters with arrows," said Nina Fillari, another senior and member of the cross country team, who also enjoyed the experience.
Free boba and water bottles were not the only mainstays of the event – there was money to be won. On the official Class of 2021 Instagram page, students had the opportunity to enter a $100 raffle by taking a photo of themselves in their senior swag. 
"Being a senior has changed dramatically during a pandemic, but there are still ways to celebrate ourselves within this Dublin community and foster that senior culture such as this event!" said ASB President Eddie Padnos. 
"I am extremely thankful for the parent reps, especially Mrs. McMahon for orchestrating this event and giving the seniors something special to look forward to," noted Class of 2021 President Dilsher Singh. He, along with the rest of their class, would like to echo their thanks to all those involved – from the parents' reps to the class advisors, Ms. Jennifer McCort and Ms. Amy Lopez.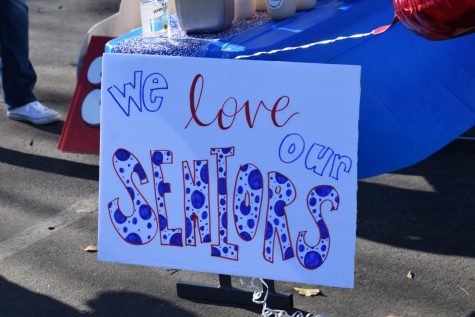 The fun and games are not completely over, in her interview with the Shield  senior class advisor Ms. Jennifer McCort, slyly noted things are in the works. The class advisors and the class parents  are reportedly meeting with school principal Ms. Maureen Byrne to plan some events on which details can not be released at this time. "We have more events planned for the remainder of the year….so stayed tuned!" echoed Alissa Whitney. 
The Class of 2021 really did miss out on a lot of things, and they might miss out on more things to come. Regardless of the lost events, the fact still remains: the close knit Class of 2021 will find new ways to celebrate – even from a safe distance.
About the Contributor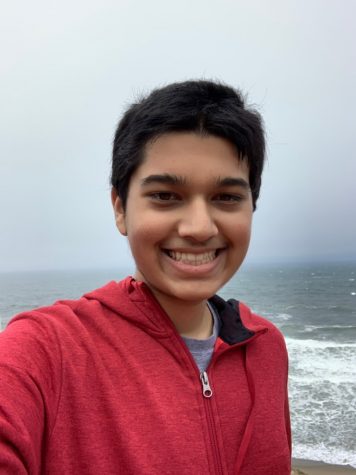 Pratham Dalal, Social Media Manager



Pratham Dalal is this year's Social Media Manager. This is his 1st year as the Social Media Manager and 2nd year writing for the Shield. He enjoys...