Notes on Notes: Student board representative candidates make their case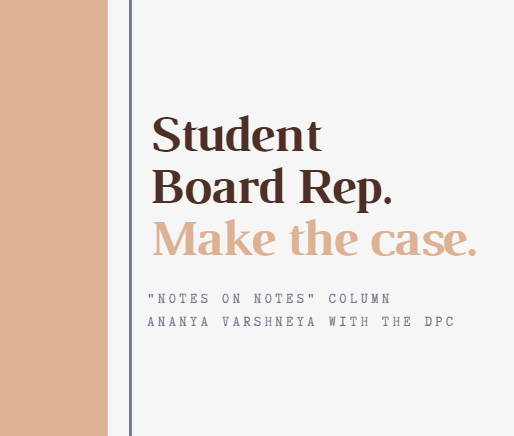 In an election year with distance learning, numerous social movements, and a growing desire for students to raise their voices, four Dublin High students are running for the position of Student Board Representative. 
These students? Anjali Pajjuri, Matthew Aini, Katie Cheng, and Aishwarya Moudgal.
The Dublin Political Coalition reached out to each of these candidates with three key questions on how their candidacy will prioritize, work for, and support Dublin students.
These are their responses.
What do you think is the biggest issue currently facing the district and being discussed by the board; what is your take on it?
Katie explained the issue of distance learning & taking student voices. 
"As many would agree, distance learning and the road to reopening is the big uncertainly that looms over DUSD and will continue to for a while. Since the COVID situation is shifting so often, it's imperative to keep stay on close watch for student feedback. This means giving students ample opportunities to voice concerns and opinions. I also understand that views vary vastly, especially on the subject of reopening, which is why I intend to consider and report all views; not just my personal view."
Anjali discussed the importance of equity amongst students, in light of COVID-19.
"The distance learning model ha[s] urged forth many vital board discussions regarding student welfare. The issue of greatest importance is defining equity and ensuring that the distance learning model promotes it. This principle gained urgency when discussing the motion to pass the Credit/No Credit policy. Amidst contention, many promoted their belief [of] the most "equitable" option. The policy's eventual passing further demonstrated the viability of true equity; when those in need of help receive adequate aid, it is not at the expense of other groups. As we discuss issues like the current distance learning model, a potential hybrid option, and the recent PSAT cancellation, it is of utmost importance to me that as Student Board Representative, I act in the interest of student welfare and true equity."
Matthew discussed the importance of equity as well, while also bringing in specifics of distance learning.
"While quite obvious with the turbulence of 2020, I think the biggest issue facing the district (and in all honesty all school boards across the country) is making sure that there is an equitable and enjoyable educational environment in spite of the coronavirus pandemic. Within this issue there are two questions that all districts have faced. 
How do we have the best transition towards in person schooling?

The first question has already been half answered with regards to the timeline for reopening as Dr. Moirao and other district staff, but the other half brings in the need for possible changes in standard.

How do we make sure that distance learning and the eventual hybrid learning in the meantime will continue to be fulfilling for the needs of students?
With regards to the second question, there are a variety of areas such as mental health and the frequency of student events and interaction that have become a great deal of concern with the pandemic restrictions. As to my take on making DUSD education equitable and enjoyable during coronavirus, I believe that it is important to prioritize listening to the students, parents, and teachers from across all schools in the district to determine where it's best to step in for district policy. Consensus building is something that is key."
Aishwarya's responses, as taken from her campaign statements and pages, show that she prioritizes mental health in COVID-19.
"Some of my priorities are mental health, wellbeing, stress management, and celebration of diversity. These things are especially important now during shelter-in-place, since we don't get to have the level of social and academic support as we do in school."
In the past, the position of student board rep has often looked very different. What do you think the position of student board rep should entail and what would that look like if you were elected?
Katie believes that the representative should be a link between students and the district.
"I believe that the student board rep should be a bridge between the students and the district. A good rep must not only stand in the shoes of their student peers, but must also be adept at translating that sentiment into viable policy suggestions and reports. To me, a board rep who takes on an active, rather than passive, stance in gathering student opinions is best serving DHS. So if I'm elected, I aim to create more accessible and legitimate platforms for students to be heard (ie. student forums). I also hope to apply my knowledge of policy and public speaking to being a rapport between students and the district."
Anjali believes the new representative must fully maintain the position's importance. 
"I firmly believe that our past Student Board Representative instituted a paradigm shift in the way not only students, but certain Board Members, view and regard the position. Amidst the pandemic, we, as students, have witnessed an unprecedented undertaking of civic engagement and political discourse; not out of expediency, but necessity. This surge in student awareness and advocacy was imperative to reclaiming the Student Board Rep. position's importance. As Student Board Representative, I have two primary areas of concern. My first is to always promote equity, and my second is to encourage student engagement. We must ensure that this surge is not momentary; as Student Board Rep., I will promote constructive discourse by digital advocacy [Instagram]."
Matthew shows the representative's power as an unrestricted voice & how he will use it.
"One thing to keep in mind is that the student board rep at times has seemed to be a ceremonial role because the board of trustees naturally take on a lot of questions that are mostly non-partisan or non-contentious. The fact that the student board rep only has a powerless advisory vote I would say is sadly limiting to a degree, I think the heart of where we've seen the student board rep position shine is in the key power that the position holds over nearly everyone in the district except for the other trustees — the power for unrestricted debate during board meetings (as shown by Tinni, prior). In that regard, a board of trustees with me as the student board rep would entail a massive expansion of the use of student voices both inside and outside student meetings. I will be a a mobilizer to place public pressure when need be to get the students viewpoints to prevail on decisions."
Aishwarya's responses, as taken from her campaign statements and pages, show that she values taking student voices & opinions.
"As your student rep, I would be here to listen to your voices and opinions as we navigate distance learning this year. Since I would be representing you guys, I will always be open to listening to your concerns throughout the year."
What would you say is your signature campaign issue, and what specific policy do you hope to implement in pursuit of it?
Katie explained that her top issue is more freedom for student credits, among others.
"One of my top issues is how students often can't get course credit from accredited institutions other than DHS and DPIE itself, despite all our neighboring school districts allowing it. In my view, this policy only hinders the potential of DHS students by holding them back. I will undoubtedly present this topic to the board, and will do my absolute best to see that very credible institutions such as BYU will earn students credit. However, that's just the academic side. Issues such as distance learning and reopening are also very important to me!"
Anjali prioritized unwavering anti-racism and strong diversity in her response.
"The onslaught of racial prejudice and defamatory language exhibited by students these past months point to a clear need for systemic reform in our district. It is no longer enough to say that we celebrate diversity and promote inclusivity; we must actively condemn and dismantle systems of supremacy by adapting Anti-Racist policy to our district. If elected, I will unwaveringly interrogate DUSD policy that has harmed historically disenfranchised communities, as well as push for initiatives that promote Anti-Racism curriculum and learning. Such current initiatives include the Diversity Ambassador Program and Dubversity, which I hope to expand and further amplify. However, to account for sustainability these initiatives must be accompanied by others; I want to utilize Instagram to seek student-led organizations fighting for Anti-Racism that can later be introduced to the board to enact tangible policy."
Matthew championed student voices, explaining his plan to advocate for and uplift them.
"My signature campaign is ensuring a heavy weight of student opinion on district decisions. This is something that I feel has the greatest potential to reach into all issues faced by the district whether that be learning style, ensuring diversity and inclusion, securing student mental health, and a great deal of other issues. The first step starts securing more time at board meetings for student lead advocacy. The two ways to do this through the student board rep are getting presentation time on the agenda and direct use of the student board report time. For example, I would love to secure time during the agenda at board meetings for Elephant in the Room to discuss with the board live on the mental health issues DUSD students deal with. The next prong of the plan is reinstating and empowering the student advisory council. To expand student influence, I would love to build consensus with members of the council to amass the voice of all students."
Aishwarya's responses, as taken from her campaign statements and pages, show that she prioritizes student mental health, diversity, and inclusion.
"I will advocate for your mental health and well-being, the celebration and promotion of DHS's diversity, and a more positive school environment with ZERO tolerance for hate."
*Some responses have been abridged for readability. 
About the Contributor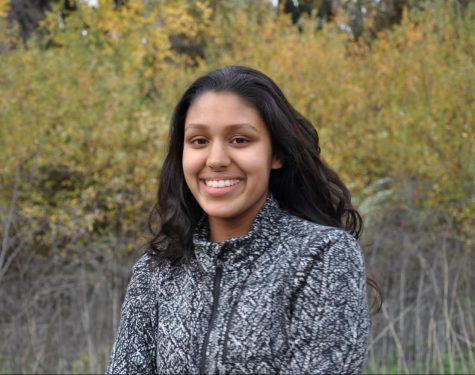 Ananya Varshneya, Columnist


Ananya Varshneya is a senior at Dublin High and a columnist for the Shield. Her column, "Notes on Notes", discusses current events, culture, and media...