2018-19 Skit Night: Exhilarating, Spirited, and … Controversial?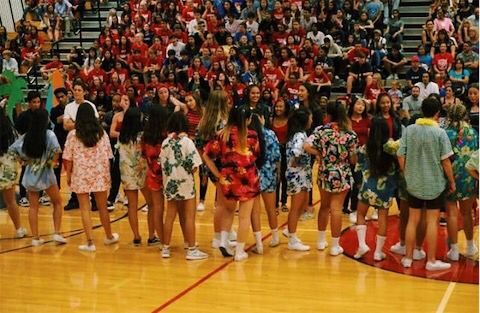 Considering the amount of spirit and dedication DHS allots for Homecoming Week, it's no surprise that class competition reaches its peak during this time of year. However, this particular Homecoming displayed previously unsurpassed levels of competition, especially in regards to Skit Night. This year's Homecoming theme was  Ben & Jerry's Ice Cream Flavors. With a senior class keen to continue an impressive winning streak, as well as a freshman class eager to prove their own talent, the gymnasium was simply electrified as audiences impatiently waited to see what their class had prepared.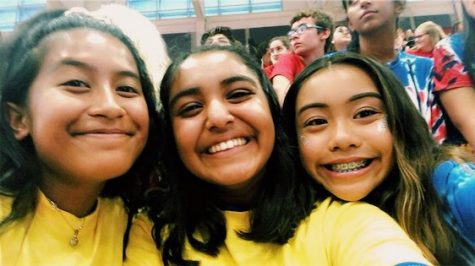 As tradition dictates, the freshmen were first to present their efforts. Centralizing around the theme "Berry Potter," their skit followed the storyline of classic Harry Potter characters (kudos to Her"minty" Granger) as they struggled to unite the four classes of Hogwarts in order to defeat Granada in the ultimate Quidditch match. "I decided to participate in the skit because I wanted to be involved in homecoming this year, and wanted to try out and see how fun it would be," freshman, Suvan Shangle exclaimed. "It was a lot of fun!" While it wouldn't have hurt to make slight adjustments to their dancing, the freshman did an exceptional job. Earning an impressive second place in the skits category, the freshman class established themselves as a force to be reckoned with in future years. "I do think the final skit placements was fair because no joke, the seniors were amazing," Shangle commented. "And I do think the freshmen were next in line because I felt that ours was just better than sophomores and juniors."
Congratulations to Suvan Shangle and Ale Remolina for being awarded Freshmen Prince and Princess!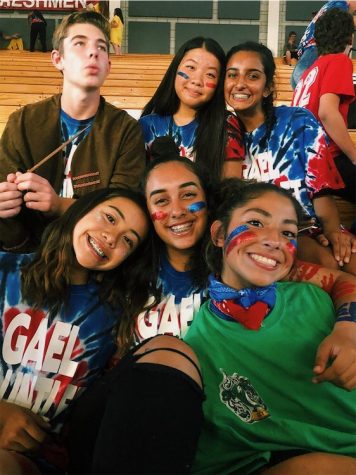 Following the freshmen were the sophomores, who rekindled the idea of tropical sunny skies and aquamarine coastlines. Selecting "Coconutterly Fair" as their theme, the sophomores brought to life Disney's Teen Beach Movie, incorporating intense duels between the sun-glazed surfers and boisterous bikers. "I decided to participate in the skit because I wanted to become involved in my community and my class," sophomore, Megan Nguyen stated. "I was not that nervous [to perform] because I performed last year, but I was really tired after because the hip-hop performance was right after the sophomore skit, and it didn't help that the gym had no AC." However, the sophomore skit was criticized for its lack of storyline and originality, as they failed to tie the plot back to DHS and implement their own dance moves. While this could have contributed to their somewhat disheartening third place in skits, Nguyen responds to this by saying, "I think that the skit judgment was fair because each class did their best and our class just didn't do the best. I think we deserve the place we got."
Congratulations to Aaron Batra and CJ Cahambing for being awarded Sophomore Prince and Princess!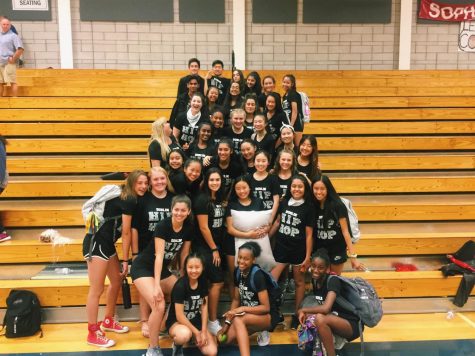 The juniors presented their skit next, with outfits that reflected an exotic jungle. As their theme was "Chunky Monkey," their storyline followed four DHS students as they struggled to collect a number of relics in order to earn their freedom. Unfortunately for the junior class, they experienced technical difficulties which resulted in the audience's inability to fully comprehend their dialogue. When asked about the message audiences would have been able to take away had the audio worked, junior Aaron Chong stated, "To work together. Things can only be accomplished if you work together." However, despite earning fourth in the skits category, the excitement and simple enjoyment of being able to participate in the event was evident as the juniors geared up for their skit. "Honestly, I only decided to participate in the skit because my friend asked me to," Chong admitted. "It was a fun, enjoyable experience, although also really stressful because lots of people didn't show up."
Congratulations to Ronin Borja and Kiara Beltran for being awarded Junior Prince and Princess!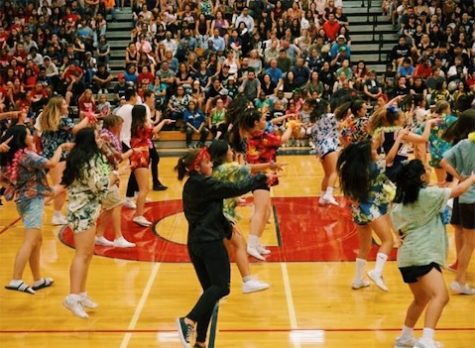 Finally, the skit that had garnered the most anticipation arrived. Using their theme of "S'mores," the seniors presented a plot centralizing around the final days of summer camp, with a group of counselors symbolizing their departure from DHS, and the campers as the grade levels below them. The skit itself offered immense doses of sentiment and definitely served to pull a few heartstrings, earning the seniors first in the category. "It was my last year of high school and I never really participated in any school activities, especially during homecoming," senior, Veerawan Tontiwattananan stated. "We had practice twice a week but honestly it was worth it. I love how I got to know the storyline before most people! It was different because now I'm not just sitting on the bleachers. During the skit, I was really nervous because I was afraid that I was going to mess up. Everybody who was in the skit had a role that was equally significant. I was able to bond with people that I didn't know before and I really enjoyed it." However, there were some who believed there was, in fact, too much sentiment and not enough storyline, earning the seniors a certain amount of backlash from the lower classes. In response to this, Tontiwattananan stated, "Our purpose about our storyline was to inform other classes that we will genuinely miss the experience that we had in high school and for them to enjoy it before the next chapter of their lives. It was more memorable for us to do something that was different and sincere. This was our last homecoming and we wanted to express it from our hearts."
Congratulations to Sal Martin and Isabella Remolina for being awarded Homecoming King and Queen!
Overall, despite the controversy surrounding Skit Night, it was an important opportunity to remember Homecoming's original purpose: to bring the school together in a time of unity, spirit, and joy. DHS pride was represented throughout the entirety of the night, with stellar performances from DHS's Song, Cheer, and Hip-Hop teams. Events such as the Carnival, football game, and dance followed only a few days later – events in which the student population was able to celebrate under the same mascot. Because despite the campus's incredible diversity, every individual shares a common attribute – being a DHS Gael.
About the Contributor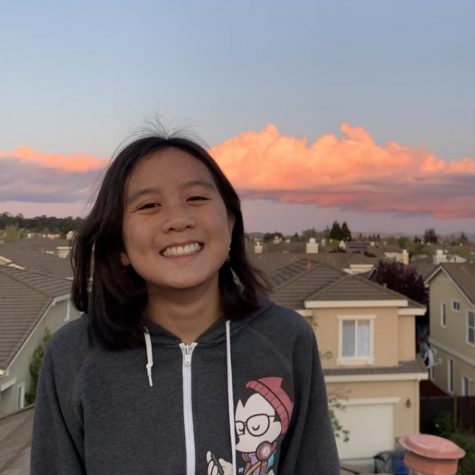 Danielle Tran, Editor-in-Chief
Danielle Tran is a senior at Dublin High and one of this year's Editors-in-Chief. She holds a deeply-rooted passion for writing, and has dreamt of becoming...