DHS Trans Rights Protest Rally – A Symbol of Support at a Time Where it's Most Needed
"The thing is that when you threaten to take away the rights of people who already have so little, you're just poking a sleeping bear. Kai Llamas, Senior
Having been raised in the United States my entire life, the idea that each individual deserves to feel accepted by both, themselves as well as their community, has been an ever-present aspect of society for as long as I can remember. The idea that, despite one's ethnicity, background, or sexual orientation, everyone deserves a future they have the ability to pave. However, whether or not such an idea is actually enforced is a different question altogether.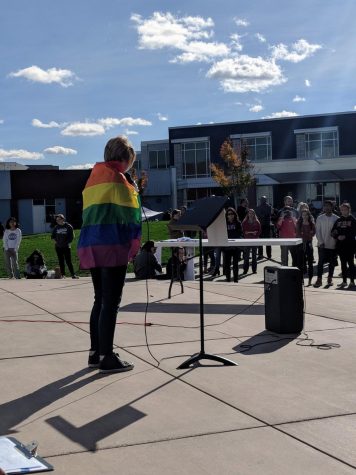 Around late October of 2018, the Trump Administration announced its consideration of defining gender based upon one's biological sex, which, upon enforcement, would unravel the Obama Administration's efforts in implementing a much more lenient definition of gender. This statement was published following numerous other reports attempting to deprive transgender individuals of their rights, including their ability to serve in the military as well as their access to health care. Understandably, Trump's actions sparked outrage amongst the LGBTQ+ population and among their allies. "When I first heard the news, I was completely devastated," senior, Kai Llamas recalled. "My entire life, I've been told that I couldn't be who I was. By friends, complete strangers, my own parents, and now my government. … In that moment, it felt like all hope had been lost."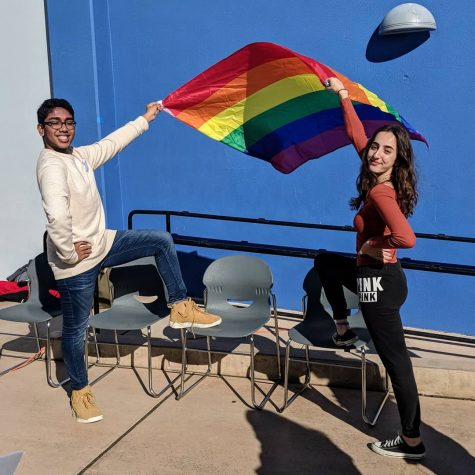 However, Llamas quickly decided that oppression couldn't and wouldn't be the answer. While the tragedy left them reeling in a much more personal way than many of us could imagine, Llamas resolved to spur their passion into tangible action — by organizing a Trans Rights Protest Rally for DHS students to participate in. "I started working almost immediately on this rally, getting Eli and others involved," they explained. "People were giving up hope beginning to prepare for the worst. It was heartbreaking. But I also saw people fighting, [and] it only took me a few hours to join them in the fight. The thing is that when you threaten to take away the rights of people who already have so little, you're just poking a sleeping bear."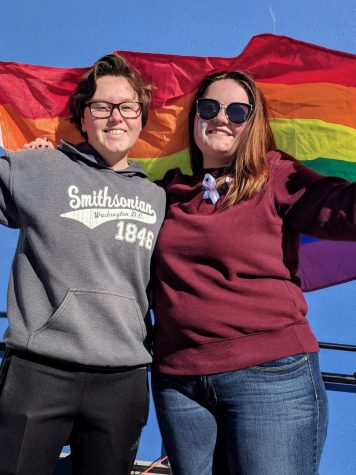 While originally scheduled to take place on Friday, November 16th, the rally was forced to be postponed to the Friday following Thanksgiving Break, November 30th, as a result of the poor air quality. However, this setback did little to hinder the overall impact of the event. Featuring activities ranging from face painting, poster-signing, as well as inspiration speeches from those directly impacted by the Trump Administration's memo, it offered a variety of simple yet meaningful options for students to represent their support for the peers. And, while the event itself lasted no more than an hour, Llamas hoped to instill a permanent impact — one fostered by the education of the community, and furthered by their unwavering support.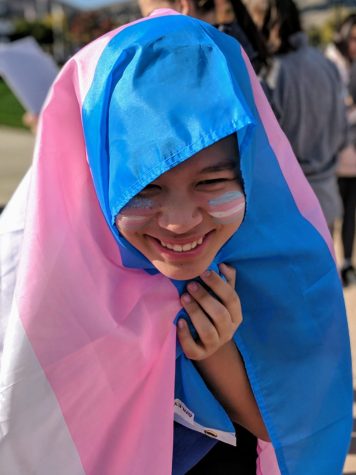 "We aren't here just take a stand. We're here to educate," Llamas stated, firmly. "I truly believe the reason that things even got this bad is because a lack of education. I hope that moving forward students will educate themselves about the community and become an ally. I hope that the rally has given some insight on what we have to face as trans individuals, and that it's inspired people to find ways to help. It doesn't have to be anything big at all. I really want to have more things to educate the students on campus, so those who don't know where to start can have a place to begin."
Ultimately, the least this event is asking for is acknowledgement regarding this issue, and support of those struggling through it. Reaching the point in which the LGBTQ+ community is accepted by the entire community will, admittingly, take extensive effort and time.  "I do think that the protests bring more attention to the community and our problems we face, as it allows people to get involved and support our side — it just might take longer," Llamas acknowledged. "[However,] it's a start and my only hope is that it will get better." In light of the movements they've already managed to fuel, it's evident that DHS students certainly don't lack the ambition to contribute to doing precisely that. And, while temporary, if such a rally could have changed even the life of one transgender individual, it would undoubtedly mean the world.
About the Contributor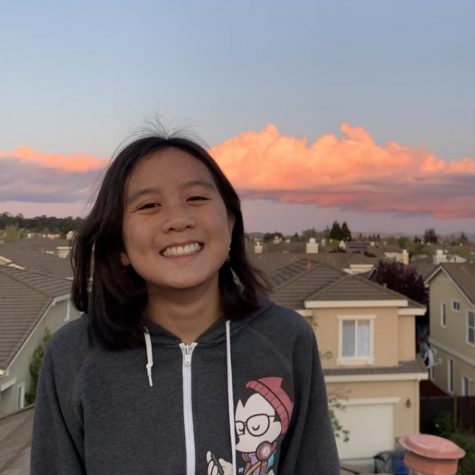 Danielle Tran, Editor-in-Chief
Danielle Tran is a senior at Dublin High and one of this year's Editors-in-Chief. She holds a deeply-rooted passion for writing, and has dreamt of becoming...