The Inheritance Games and its brand new sequel. Is it worth all the hype?
Action? Thrill? Mystery? A little dash of romance? Do any of those words call to you? If they do, run to your nearest bookstore and purchase The Inheritance Games. 
I first heard of The Inheritance Games when casually scrolling through TikTok. Out of curiosity, I decided to borrow it from the library. One of the best decisions of my life. 
Last year during quarantine, all of us bookworms had a chance to catch up on some of the best and most trending books. I'm not sure about you guys, but I read a lot of books last summer and the summer before that. One of those was The Inheritance Games. When I tell you, this book constantly had me at the edge of my seat, I mean it. 
Another author, Katherine Mc Gee, couldn't have put this book's potential in better words. "A thrilling blend of family secrets, illicit romance, and a high-stakes treasure hunt set in the mysterious world of Texas billionaires. The nonstop twists kept me guessing until the very last page!"
The Inheritance Games: A Brief Rundown
Let's break down the title: The Inheritance Games. In short, the book centers on the inheritance that a teenage girl, Avery, receives following the death of billionaire philanthropist, Tobias Hawthorne. One moment, Avery is almost broke, living in her car. And the next, she's on a private jet to Texas where the Hawthornes live. However, Hawthorne has no relation whatsoever with Avery. The game is to discover why she receives the highest amount of inheritance, even in place of his own family. 
Now, this can't be so easy, can it now? Tobias also has 4 grandsons, who each have their own secrets and strengths. These Hawthornes may look pretty and harmless. But, some flowers are beautiful on the outside, yet they end up deadly.
Avery has to live in the grandiose house while surrounded by jealous Hawthornes, who take every moment to take the money. Now, Avery must solve puzzles created by the master of games himself, Tobias Hawthorne, to piece together why she received the old man's inheritance. At the same time, she must avoid potential threats and attempts at her life (along with a little dash of romantic attractions).
Now, Is It Really Worth Reading?
During COVID, life was honestly pretty boring and monotonous. At times like these, books just like this one are all we need for a distraction. This first-class book is authored by Jennifer Lynn Barnes and has a page count of 400. 
Now, let's come back to the title of this article. Yes, I personally think that Inheritance Games deserved every moment of hype and more. I constantly felt engaged during this book and it was "impossible to put down" (Buzzfeed). If you enjoy the perfect mix of genres like action, romance, and thrill, then this is the book just for you. The sequel, The Hawthorne Legacy is just as delightful and surprising as the first. 
"I'm so glad that I was recommended this book. It was so good and thrilling. Every page was exciting and I finished the book in less than a day. I'm so excited to read the second book" commented DHS freshmen Nikitha Baruvoori.
So, I'm calling all bookworms here. If you haven't read it yet, give this book a chance! You won't regret it.
About the Contributor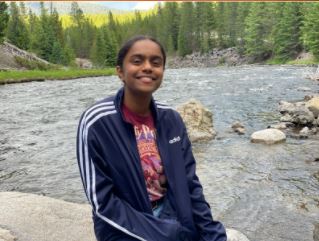 Sravya Govindaraju, Staff Writer
Hi! My name is Sravya and I am a freshman this year.
I highly enjoy writing and try to keep up with it as much possible. I was in the Creative Writing...