Three Easy Recipes for People Who Burn Water
Everyone needs to know how to cook at some point, but overwhelming steps and rules can make it unapproachable. For many of us, an embarrassing experience is admitting that we have no cooking knowledge, despite the people around us (somehow) being qualified enough to go on Food Network.
The following 3 recipes can be made by anyone, and I mean anyone. So, put your aprons on, and get ready to finally have an introduction to the cooking world — written by someone who can barely make ramen!
Panzanella Soup
We're starting off strong with a recipe for soup where all you need is a blender.
For this recipe, you'll need:
410g can chopped tomatoes
1 green bell pepper, seeded, chopped
1/2 telegraph cucumber, peeled, seeded, chopped
1 small red onion, chopped, plus extra slices to garnish
1 tbsp extra virgin olive oil
6 black olives, pitted, sliced
1 tbsp salted capers, rinsed
2 tbsp small basil leaves
Toasted croutons, to serve
This may look overwhelming but bear with me on this. All you'll have to do is add your tomatoes, bell pepper, cucumber, onion, garlic, vinegar, olive oil, and tomato juice into a blender — and get this, blend! Add just enough water to get it to a thick consistency, and top it with olives, capers, basil leaves, and croutons. 
And there you go, a quick go-to recipe when you're in a pinch and you need a meal. Remember, cooking isn't all about rules, so change it up once you get comfortable!
Honestly, warm Panzanella soup is both delicious and a great way to get started on cooking, especially since it's been getting colder recently.  As you work through this recipe, don't be embarrassed about imperfection. Everyone starts somewhere!
Potato Wedges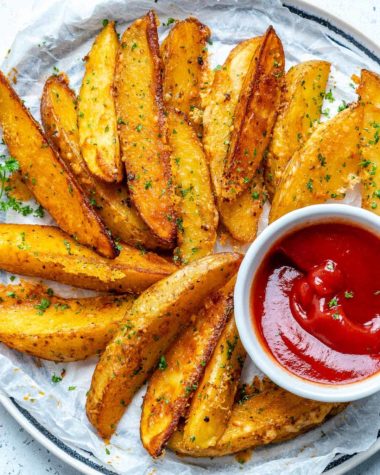 This recipe is an absolute classic, with its taste being loved worldwide! With its crispy, garlic-y outside and soft inside, there's no wonder why it's impossible to hate.
And best of all, it's simple! If fourth-grade me was able to make this, the recipe is arguably achievable — even for the most inexperienced of us.
The ingredients you'll need are: 
1 tablespoon garlic powder
1 tablespoon dried oregano
½ cup vegetarian parmesan cheese
The first thing you'll want to do is preheat your oven to 400 ℉. During this time, wash and cut your potatoes into wedge-shaped pieces. Then, add the wedges to a bowl — alongside your seasonings and oil — and mix well. When ready, place your wedges, with the skin side facing the bottom, in an aluminum-foil lined tray. Bake for around 40-50 minutes. 
This is honestly the hardest part of the recipe because of how good these look while they're cooking. It literally drives you crazy. Make sure you check on them often, and when you take them out, you'll have the most flavorful, crispy potato wedges in town! 
All you'll need to know is how to cut and mix. Just set aside some time to practice! Serving people is a great way to practice cooking too. Seeing other people enjoy your food is a big motivation of mine when it comes to trying out cooking, and maybe it could be yours too.
Salmon Rice Bowl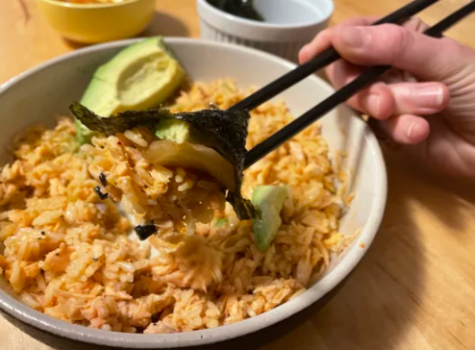 This viral recipe, originally created by TikTok creator @emilymariko, has taken the app by storm. When I saw this, I fell in love with everything about it, but especially the simplicity of it all. 
The dish is a beautiful blend of salmon, rice, spice, mayo, and side dishes like avocado, kimchi, and seaweed!
Your ingredients for this recipe are:
Optional: Avocado, Kimchi
Start by placing your mashed-up salmon at the bottom of your bowl, and cover it with your rice. If using leftover rice, set an ice cube in the middle of your bowl and microwave for 1-2 minutes. Once warm, add your other ingredients (soy sauce, kewpie mayo, and sriracha). Mix it all up, and you can eat it with a side of seaweed, avocado, and kimchi! It's easy, it's tasty, and you don't even need a pan!
I love how easy this recipe is – it uses a microwave, after all. Personally, one of my most-used excuses is that clean-up is too time-consuming, or prep-time takes too much work. With this recipe, you finally get a quick, easy introduction to cooking where you can start experimenting with flavors. Understanding that is a great way to get interested in cooking. 
And there you have it, three of the easiest recipes to start your cooking journey! I wish all of you the best of luck, and just remember: practice makes perfect!
About the Contributor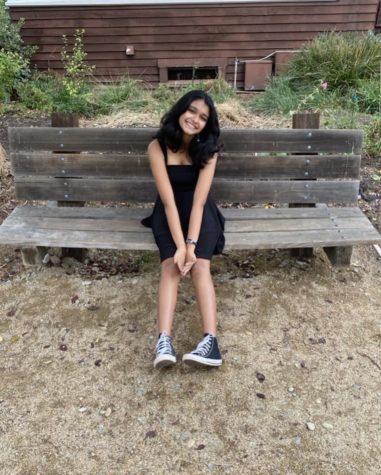 Shivani Krishna, Staff Writer
Shivani Krishna is a freshman at Dublin High School and a staff writer for the Dublin Shield. Always having an interest in writing, she decided to try...