Ralph Breaks the Internet and the Box Office
We were first introduced to Ralph, a burly arcade game character sporting a set of unkempt overalls and oversized hands, in Disney's Wreck-It Ralph, released in November of 2012. However, we quickly learned to love him, falling for his honest personality as he struggled to lead a heroic life despite playing the role as villain in the arcade's popular game Fix-it Felix!. By the end of the film, not only had he gained genuine contentment with his life but also a friend in the adorable Vanellope Von Schweetz, whose dainty figure and high-pitched voice do little to deny her fierce character and fiery passion for racing.  
Ralph Breaks the Internet, Wreck-It Ralph's highly anticipated sequel, was released on November 21st, 2018, and opens directly in the plateau of Ralph and Vanellope's friendship. With both of their games safe from the Cy-bugs that had threatened to consume the arcade in the previous film six years prior, the two settle into a sluggish lifestyle revolving around daily routines in their respective games, and nightly hangouts in Root Beer Tapper's tavern. While Ralph remains perfectly content with their lifestyle, Vanellope begins to grow rather weary of it — admitting to overall boredom of their uneventful schedules. When Ralph attempts to satisfy Vanellope's adventurous thirst, he instead sparks a chain of rather unfortunate events that results in the unplugging of her game, leaving Vanellope and all of Sugar Rush's citizens homeless. Thus begins Ralph and Vanellope's exhilarating adventure into the Internet, as they try to rescue Sugar Rush while simultaneously adjusting to the 'wonders' of the great wide web.
Perhaps the first aspect worth mentioning is the sheer creativity, and, ultimately, graphics, required in creating such a film. Granted, the concept behind Wreck-It Ralph was fascinating enough. Personally, the avatars in virtual games have always behaved so convincingly it's difficult to accept that they aren't legitimate individuals with lives and personalities. Being able to take this idea, and foster a world to accompany it, provided Wreck-It Ralph the necessary boost to what otherwise might have been another cliche film centralizing around a character's journey of finding his place in the world despite the local boundaries. However, Ralph Breaks the Internet furthers this concept with an ever-important quality — making the film relevant to audiences. Integrating social media apps, some of the internet's largest corporations, and a few games fostered from imagination, the Internet is any modern-day teenager's utopia. Here, humans of the physical world are represented through peculiar square avatars that are completely unaware of the massive paradise surrounding them. Instead, it's characters such as Yesss, video sharing site BuzzzTube's chief algorithm, and Shank, the daring leader of the violent video game Slaughter Race, who really run the show, providing internet-goers the ability to like, play, and obsess over pretty much all of the Internet's offerings. Ultimately, the creativity behind the film's storyline, as well as the incredible graphics harnessed, definitely makes us reconsider the innovation that brings our computer screens alive, no matter how ludicrous such ideas may seem. Our inner child implores it.
However, no matter how vibrant the setting, a movie requires storyline to drive itself forward — a quality Ralph Breaks the Internet certainly didn't lack. Disney has always been widely appreciated for creating distinctly magical worlds that are poignant heart-wrenchers at their core: whether it be Inside Out, which offered a unique perspective on the importance of sadness as a part of a healthy routine, or Incredibles 2, which reminded us to acknowledge the lives beyond our screens. Ralph Breaks the Internet nudges audiences towards similar themes, however, the primary message, and, personally, the one I found most refreshing, had much more to do with friendship. Now, we can all admit to the film that emphasizes the importance of friendship. The importance of friendship whilst one maintains a relationship, the importance of friendship in providing as an essential support system in accomplishing one's dreams — it would suffice to say that we've seen it all. However, Ralph Breaks the Internet provides audiences a theme one might not consider as often — in the circumstance where a friend hinders the other's chance in pursuing their dream, to what extent should the former have to let go? The idea is a simple one: While a friend certainly shouldn't consider their relationship to hold more worth than their individual futures, following separate paths doesn't necessarily mean separation. As cheesy as it sounds, a valid friendship survives hardship, the overall message both Ralph and Vanellope were forced to confront during the film. And a message, I'm sure, most of us will encounter, especially now, as the first chapter of our lives approaches the end.
Ultimately, while Ralph Breaks the Internet didn't necessarily surpass the original, it would be unfair to interpret it as a disappointment. Featuring a respectable cast, obtaining an impressive 88% on Rotten Tomatoes, and already garnering much discussion in regards to awards, I would highly recommend the film to both, audiences seeking a poignant film with an emotional theme, or audiences looking for the more comedic aspects and simple feel-good entertainment. At the end of the day, you'd merely benefit in all facets.
About the Contributor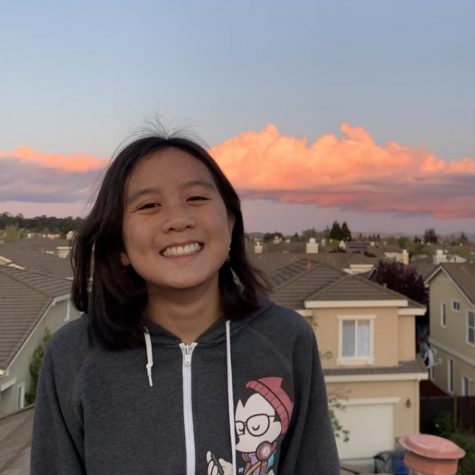 Danielle Tran, Editor-in-Chief
Danielle Tran is a senior at Dublin High and one of this year's Editors-in-Chief. She holds a deeply-rooted passion for writing, and has dreamt of becoming...