Mamma Mia! Here We Go Again Fails to Live Up to its Predecessor
Ten years following the release of Mamma Mia! The Movie, Universal Pictures has presented audiences with a highly-anticipated sequel: Mamma Mia! Here We Go Again. Fans of the original as well as any fans of the popular 70's pop group, ABBA, were certainly excited to catch a glimpse of the latest installment, which included performances from Meryl Streep, Amanda Seyfried, and newer cast members, including Cher, and Lily James. Since opening day on July 20th, Mamma Mia! Here We Go Again has already gained much success, garnering nearly $170 million worldwide and earning a 79% approval on Rotten Tomatoes. However, while the film succeeded in fulfilling its primary intention – instilling a feel-good experience for audiences, the film ultimately failed to live up to the original, lacking in qualities when it came to emotion, sentimentality, and plot.
Mamma Mia! Here We Go Again offers us the opportunity of viewing a number of beloved characters under a new lens. While Mamma Mia! The Movie centralized around Sophie and her quest to determine who her true father is, the sequel presents us with storylines from the past as well as the future. The film opens first with Sophie, who is busy organizing the grand re-opening of a freshly remodeled Kalokairi hotel – a dream that had originally been her late mother's. However, Sophie finds herself facing more and more pressure as her plans go awry – her marriage to Sky is under an incredible amount of strain as he is in New York, and both are reluctant to leave the opportunities in their current location. Furthermore, two of her fathers are unable to make the ceremony, and a brewing storm threatens to completely destroy her efforts. Meanwhile, decades in the past, a young Donna Sheridan has just graduated from Oxford University and has her mind set on discovering her place in the world – despite the fact she has no idea where that might be. Unbeknownst to her, she is about to encounter three dashing yet very different men, all of which will play monumental roles in her and her future daughter's life.  
While the premise of Mamma Mia! Here We Go Again is enticing, the film ultimately fails to fully captivate the audience. There were numerous places where the plot was simply lacking, and at one point it seemed as though the director was trying to tie a number of events together, but wasn't exactly sure what to tie them with. Furthermore, the motivations of the characters were poorly represented. While Sophie's desire to premiere the hotel was understandable as she was trying to preserve her mother's legacy, Donna was iconized for reasons she did not live up to. She was constantly referred to as incredibly brave when really that came off as impulsive – and expected to be sympathetic with heartbreak, but she had literally walked into it. Donna's character failed to connect, and, as a result, failed to give the desired, sentimental effect. In addition, Ruby Sheridan, Donna's mother played by Cher, was simply disgraceful. Early in the film, she'd been portrayed as a horrible parent who neglected her daughter repeatedly – even refusing to attend Donna's graduation – yet, when she dramatically appeared at the party dressed like the diva she is, she got away with everything, even winning her past lover's heart – no apology necessary. A number of critics claim Mamma Mia! Here We Go Again is one more reason to love Cher. However, I respectfully disagree, as her character was unbelievably shallow, unlikable, and poorly developed.
Despite the major flaws, the film managed to offer audiences a chance to reminisce songs they'd grown up listening to. Granted, a number of the movie-goers were those of older generations, but they certainly had no problem enjoying themselves – at certain points during the movie, a few stood up and started moving around to "Dancing Queen". It's difficult not to get swept up in the rhythm of a musical, and this was one quality that allowed the sequel to be enjoyable. One can only regret that the plot was so lackluster, because in another scenario, Mamma Mia! Here We Go Again would've proved to be a very tough competitor for its predecessor.
About the Contributor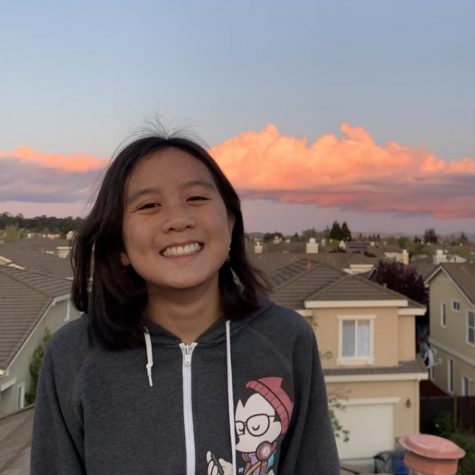 Danielle Tran, Editor-in-Chief
Danielle Tran is a senior at Dublin High and one of this year's Editors-in-Chief. She holds a deeply-rooted passion for writing, and has dreamt of becoming...