Solo Has Discovered the Price of Mediocrity
Ever seen that movie poster to the right? Yeah, neither have a lot of people.
On May 24, Disney and Lucasfilm released Solo: A Star Wars Story, advertised as the backstory of beloved Star Wars smuggler Han Solo – that is, when it was advertised at all. Following in the steps of 2016's Rogue One, Solo is another one-off adventure designed to fill in the gaps of Star Wars canon as fans wait for the next "real" Star Wars movie. That is, however, where the similarities between Solo and Rogue One end. Whereas Rogue One was applauded for its unique and daring story, Solo has been met with entirely lukewarm reception.
Projected to make a total of $400 million globally, Solo is likely to be the first Star Wars film in history to lose money. The reasons for the flop are plentiful: a lack of enthusiasm on the part of Lucasfilm and Disney in promoting the movie, the fact that it hasn't even been six months since the release of Episode VIII: The Last Jedi, meaning audiences aren't exactly starving for another Star Wars film at the moment, and the release date. For whatever reason, Disney decided to release Solo less than a month after not one, but two popular and much-awaited Marvel blockbusters hit theaters: Deadpool 2 and Avengers: Infinity War.
Most detrimental to the reception of Solo, however, was the lackluster movie itself. Far from the shocking and divisive new directions that Star Wars has been taking in the likes of The Last Jedi, Solo reads more like a filmmaker somewhere was checking off items on a list. An action sequence here and there; a few obligatory one-liners thrown in (though to be fair, Solo does succeed in its humor); and, of course, the troubled my-father-didn't-love-me backstory. While no part of the movie is truly bad, the opposite can't be said either. The end featured two plot twists, one that ended up being entirely predictable and another that was more shocking than meaningful. Many fans were forced to turn to Google upon leaving the theater to make sense of a cameo that relied on the assumption that all Star Wars movie fans have watched the animated Clone Wars television series. Surprise! They haven't.  
At its best, Solo is a humorous heist film with a decent if predictable plot. Han Solo escapes his troubled homeland, firmly ensconced in a life of crime in the hopes that he can one day return to find his lost love. This turns into a race to replenish a crime lord's stock of valuable fuel. Its only real hook is that it's a Han Solo backstory – unfortunately, this new, unfamiliar version of Han Solo doesn't quite do the job. Alden Ehrenreich had enormous shoes to fill, as he was expected to portray an already-beloved character with the same charm and sarcasm as Hollywood legend Harrison Ford. However, at times it felt as if his failure to meet those expectations was just as much the fault of the script and its lack of personality, as it was the fault of the actor. Ironically, Solo ends up being the least interesting character in his own backstory.
If you're a die-hard Star Wars fans, Solo is certainly a must-see, not because it's really worth watching but because you kind of have to. That obligation is probably the only reason that it has even grossed the amount that it has. Solo is, after all, the definition of a mediocre movie: it's not so boring or cringe-inducing that you'll become actively upset, but it's likely that you'll leave the theater feeling unsatisfied.
After all, part of the thrill of Star Wars was always the unknown – exploring far away galaxies and time periods and seeing new planets and creatures come to life before our eyes. Solo's main fault lies in its familiarity. It's predictable to the point where we feel as if we've seen it all before, but this time it doesn't even have the characters who we've come to love. Instead, it's all just a poor imitation.
About the Contributor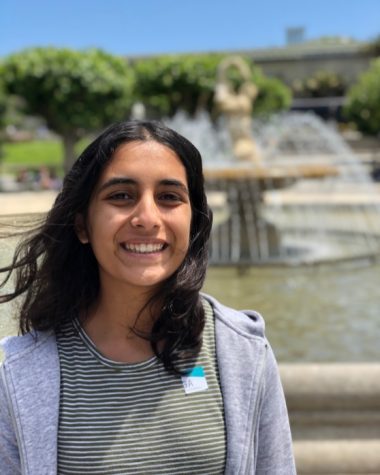 Riya Chopra, Editor-in-Chief
Riya Chopra is a senior at Dublin High and one of this year's Editors-in-Chief. She enjoys writing about everything from school board meetings to the opinions...