Wonder: A Movie That Lives Up to Its Name
RJ Palacio's Wonder, has been touching fans around the world since its publication in February of 2012. It became an instant #1 New York Bestseller and won a variety of national awards. In fact, Just eighteen months after its release, the novel sold over a million copies.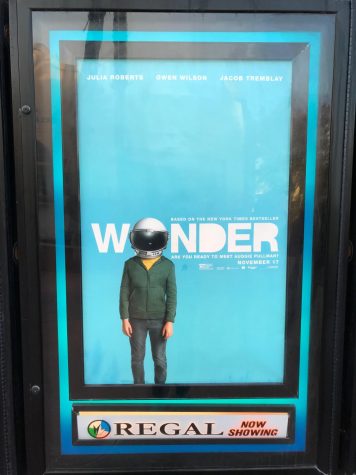 Mandy Tran
In light of the novel's major success, movie director Stephen Chbosky decided to take it to the next step by adapting the story into a major motion picture. Officially released on November 17, 2017, the movie has already been entertaining fans nationwide. With a positive 85% on Rotten Tomatoes, 8.1/10 on IMDB, and ⅘ on Common Sense Media, Wonder is currently being shown in at least 3,000 theaters across the USA. As of November 26, 2017, it has grossed over $70,000,000, which is well over the expected numbers. The film stars Jacob Tremblay as Auggie Pullman, Owen Wilson and Julia Roberts as Mr. and Mrs. Pullman, and Izabela Vidovic as Via Pullman, Auggie's sister. Perhaps the most unique element in the creation of this movie is Auggie's face. Designed by Arjen Tuiten, Tremblay's costume consists of a skull cap, a face, ear prosthetics, and a wig. Unsurprisingly, the whole project takes an entire hour and a half to apply.
The story follows August "Auggie" Pullman who has suffered from a facial deformity since birth. Due to his physical differences, Auggie is homeschooled and leads a secluded life. But when his mother decides to enroll him in a public school for the first time, Auggie is caught in a whirlwind of new experiences. At first, Auggie does not adapt easily to the new education system, as he is bullied by a few, and neglected by most. However, as the year progresses, some students push aside his appearances and decide to get to know Auggie as a person. This allows Auggie to engage himself in common fifth-grade activities, such as the science fair and the end-of-the-year camping trip, ultimately establishing himself amongst his peers.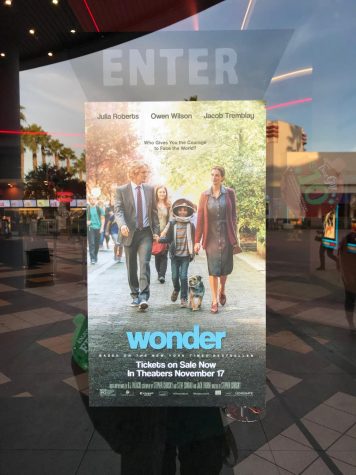 Mandy Tran
Wonder is a movie with a few tweaks and flaws, but is still able to beautifully affect its audience. Not only is it sure to get viewers crying and cheering for the entire cast, it also focuses on an essential topic that can be found in every community. It shows that while not every child or adult faces the same facial deformity as Auggie, it is not uncommon to find someone who is experiencing similar emotions. People are often disrespected and overlooked, sometimes for their appearances and other times not. But in truth, everyone fights their own internal battle, even if it may seem otherwise. In reality, these conflicts are occasionally overlooked, but films such as Wonder are able to indicate and remind audiences of the problems that exist in their own community. While these issues cannot be solved instantly, people still have the ability to take small steps in order to get closer to the solutions. One important step we can all take is front and center in Wonder, and that is simply to "be kind."