Bombs Away! Sheppard's American Debut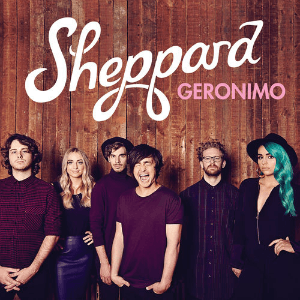 Turning on the radio is a popular way to listen to music and discover new favorites. One song in particular made listeners search up its lyrics, the artist, and everything else about it, more often than almost any other tune on the radio. Sheppard's new hit single "Geronimo", written by band members Jason Bovino, George Sheppard, and Amy Sheppard, has swept the charts this year in various countries, including the U.S., peaking at number 10 on Billboard charts. The hit song has made Sheppard, an Australian indie pop band, more popular and favored not only in their own country, but in countries all over, including Italy, the Netherlands, and the U.S.
Sheppard's "Geronimo" is now an international hit, which recently hit American Top 40 radio stations, making Sheppard the third Australian group to impact Top 40 in a whole century. The song gives listeners an exciting new insight on love, with the title itself being a word that soldiers shout as they jump out of planes to indicate that they are fearless. The quick, syncopated beat and the upbeat tune adds to the spirited and vibrant song, making listeners wanting more.