Disney World vs. Universal Studios
   Orlando, Florida is home to several theme parks. But two of the most prominent ones would be Disney World and Universal Studios. Located just 15 miles apart, each theme park offers something different for visitors. Due to financial reasons and time management, it would be difficult to visit both. So if you ever find yourself having a hard time deciding which one to visit, here are a few things to consider.
   Disney World definitely brings out our inner-child. It's a great place to visit with families, and no one's really too old for Disney.
   "Disney was a magical place where I could rekindle childhood memories," says Junior Cassidy Knight.
   It has four different parks: Epcot, Magic Kingdom, Disney's Hollywood Studios, and Animal Kingdom, so if you really want to make your stay worthwhile there, it would be better to stay for at least two to three days.
   Universal Studios has two major parks: Universal Studios Florida and Islands of Adventure (which won Best Theme Park). If you find thrill rides to be more enjoyable, then Islands of Adventure would be the place to go if you can only visit one of the parks.
   "It's hard to say which is better, but if you want more of an adventure type experience and roller coasters, then Universal Studios. If you enjoy more of a fantasy atmosphere, then Disney World," says Senior Reed Sights.
   They also have the famous Wizarding World of Harry Potter at Islands of Adventure, where visitors can actually pass through the Hogwarts Castle and explore the classrooms, passageways, and even Dumbledore's office. There are also shops like Honeydukes, Zonko's Joke Shop, Ollivanders and more.  It also offers exciting rides such as the Dragon Challenge, Flight of the Hippogriff, and Harry Potter and the Forbidden Journey.
   "I definitely think that Universal Studios was more worth it," says Sonia Fajardo, who visited both theme parks. "The lines were more tolerable, there were more shades to stay under and places to sit, the rides were more enjoyable, and even the food we had was better."
   "I would recommend for visitors to buy the express ticket, since it really is worth your money if you want to avoid long lines for the rides," she adds.
   Disney World does offer exciting rides as well, like the famous Space Mountain. Although an average wait for this ride would be about an hour. They hold shows and performances, and have parades as well.
   With the hot and humid weather in Florida, Universal Studios has more cover from the sun; unlike Disney, which is a very open area. But it still depends on what time of the year you visit.
   When asked which he likes better, Former Florida-resident Lucas Hernandez claims, "Disney World, well because it's Disney  World…"
   Universal Studios is also easier to navigate, there are signs to help visitors out and it's easier to go on all the major rides in just one day. Disney World on the other hand is a bit more crowded.
   In the end, it comes down to whether you're an adrenaline junkie or a kid at heart.
About the Contributor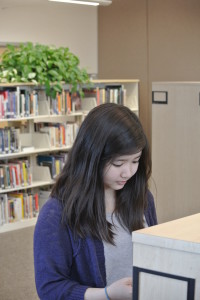 Ana Cruz, Entertainment Editor
My name is Ana Cruz and I'm a senior at DHS. I feel lucky to be a part of The Dublin Shield since it serves as a platform and outlet for me to write...