On August 25th, over 350 people congregated in the Fallon Middle School MPR to hear a talk titled "How to Survive the ChatGPT Invasion," given by Professor Po-Shen Loh.
Professor Loh is a math professor at Carnegie Mellon University and the coach of the United States International Math Olympiad team. He is currently on a speaking tour around the country.
Fallon PFC President Trinh Tran introduced the talk by saying, "ChatGPT has been a big part of our lives, and for a teacher like myself, it has been really helpful yet challenging at the same time". 
Professor Loh's speech covered not only ChatGPT, but also proposed an innovative new method for teaching math."
He began the talk by opening  ChatGPT and having audience members suggest prompts. ChatGPT was able to solve simple quadratics, but was unable to solve an equation involving absolute value, until it was told it was wrong, at which point the AI got the problem correct. The AI wasn't really solving the problem – it was testing approaches to see which one worked. 
ChatGPT was tested with questions that gradually increased in difficulty, but solved most of them, including a problem asking the AI to find a derivative of a complicated function and a problem asking if a 10 x 17 grid could be perfectly tiled with Tetris tiles. 
Where ChatGPT failed was the unconventional problems. Problems from MATHCOUNTS, a middle school math competition, for example, elicited incorrect solutions. The AI simply only knew how to solve problems that used textbook approaches; in other words, it couldn't think.
Po-Shen Loh analyzes ChatGPT's inability to solve unusual problems (Photo by Ritam Adhikari)
Professor Loh described his approach to surviving the ChatGPT epidemic in two words: Create value. As he explained, most people only want to get things. They want to get into college, get scholarships, get a good job, etcetera. However, he said it is more important to create – to come up with ideas, to help other people, and more. 
He emphasized EQ, or emotional intelligence as important, and especially focused on empathy. 
As an example, he described an encounter with a woman who approached him after a talk he gave. She worked in the elite profession of "corporate restructuring," known to most as firing people. She told him that what he said about creating value resonated with her, as when her team looks at employees to figure out who to fire, they look at who brought more value to the team than others.
Afterward, he discussed his method of teaching math online. Professor Loh started by identifying several problems. One, his university, Carnegie Mellon, has an excellent theater program which every year churns out many talented actors, but many of them looking to get roles in Broadway shows need part-time jobs to support themselves after college, as they do not have a way to make money until they get a part. Two, many middle school students want to learn advanced math, but their schools don't offer the courses, and three, many high schoolers excel academically but lack charisma. His approach solves all of these problems.
He solved these issues by having a pair of high school students teach online math classes to the middle school students, while simultaneously getting real-time feedback from an actor. This system benefits everyone. The actors get paid, the middle schoolers get interesting math classes, and the high schoolers get valuable help for college applications and job interviews.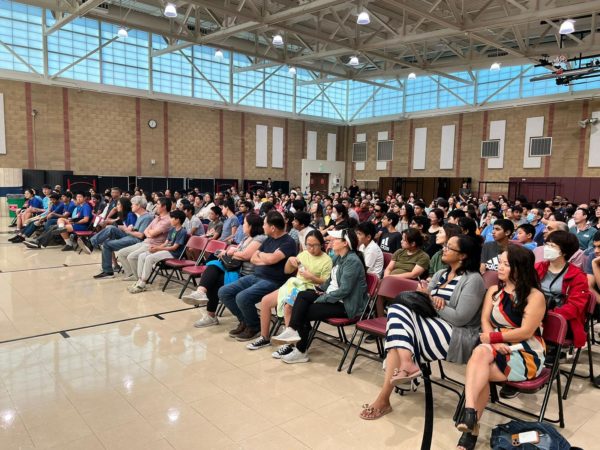 The event had a large turnout. (Photo by Ritam Adhikari)
The event was well-received. One parent said, "This is a fantastic event! I really appreciate Professor Loh for coming to Fallon and giving the speech!", while a student said, "I was in attendance yesterday at Professor Loh's presentation and really enjoyed it."More information about Po-Shen Loh can be found at his website, poshenloh.com.