Your Body Buddy: awareness about body image issues from social media 
In preparation for the State Leadership Conference (SLC) hosted by California HOSA in Sacramento, three Dublin High juniors part of the Biomedical Academy—Na Yeon Kim, Diya Madhavan, and Avani Nerella—presented their community awareness project, Your Body Buddy, to three DUSD middle schools: Fallon, Cottonwood, and Wells. In total, Kim, Madhavan, and Nerella were able to reach an audience of over 750 middle school students across the three schools.
Growing up in a digital age when we are constantly surrounded by social media, many young kids suffer from body image issues due to how easy it is to edit or filter images and videos on social media. Additionally, many social media users are more likely to be exposed to these perfectly filtered images due to the social media algorithm favoring images closer to "perfection."
The presentations by Your Body Buddy intended to raise awareness about these body image issues and insecurities caused by social media, as well as its inaccurate portrayal of fitness and nutrition/diet culture. For a more hands-on experience, the creators of Your Body Buddy had activities planned such as a simulation game to learn the TikTok algorithm. The middle school students sorted pictures of dogs and filtered them out by different characteristics, to show how TikTok filters out different content based on physical characteristics to fit the beauty standard online.
E27D067C-5953-4127-8C4C-7E9A88136622.png
Caption: Students at Fallon Middle School playing the dog picture simulation game to learn about the TikTok algorithm. Photo taken by Mr. Lamonica.
Additionally, Your Body Buddy spreads awareness about all the different reasons why pictures of bodies online should not be trusted and used to compare with bodies in real life. "Most students do not know all the different factors that [go] into how someone's body looks online, like genetics, photo editing, or steroids. When young kids see a 'perfect' body online, they don't think about these factors and it makes them feel insecure about themselves," explained Nerella.
Because all three creators behind Your Body Buddy suffered from insecurities about their bodies in middle school, they decided that the best fit audience for their project was middle schoolers, who may also be going through the same issues that they once did. "We all went through similar experiences regarding body image in middle school. We were insecure about how we looked because social media showed us only one type of body," replied Madhavan when asked about their motivation behind the specific topic of body image issues caused by social media.
Finally, the creators behind Your Body Buddy also presented on the topic of false marketing in healthy diet/workout plans online. "So many of these fitness influencers promote products and workout plans to young children, giving them false hope and misinformation when they want to live a healthier lifestyle" says Kim.
Many fitness influencers promote products that they may not have even tried yet or workout plans that are ineffective for their followers, often consisting of impressionable preteens. These preteens are then persuaded to follow along with their favorite fitness influencers. Then, when they don't see the same results as are advertised online, they develop insecurities, which could lead to long-term body image issues.
After the presentation ended, the middle school audience was asked to fill out a short survey about Your Body Buddy. According to the Google Form survey, 81% of students learned something new from the presentations, and were empowered to not believe everything they see on social media. "This presentation made many people, including me, more confident about my body" answered an anonymous middle school student.
About the Contributor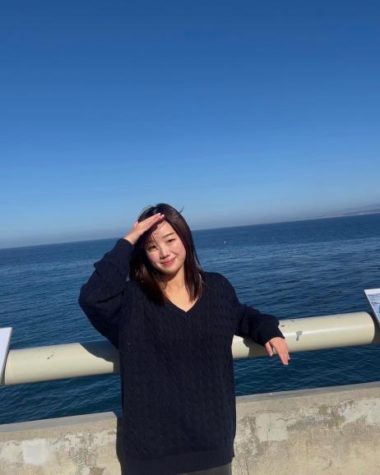 Jessica Wang, Managing Editor



Jessica Wang is a current junior at Dublin High School, and this is her third year with the Dublin Shield. She has loved writing and art ever since...